Conversational Taboos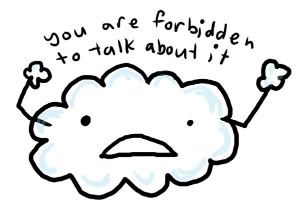 I've always found it interesting what is and isn't appropriate to talk about in certain company. I don't talk politics with my extended family since they're all republicans and I'm a staunch liberal. When I made a joke about Jesus being gay at a party thrown by a devout Christian friend, he stopped talking to me. My roommate Ironman was adamant that I not use gay in the pejorative, which was a sharp shift from what I was used to growing up in Boston. Whatever the situation, there seems to be a protocol for what you do and do not speak of.
Politics and Religion –
One of the most common things I hear people say is that they don't discuss religion or politics at the dinner table. To me, this seems silly. Why not the dinner table? Does that extend to other meals eaten there? And why not religion and politics? Of all the topics people can discuss, religion is perhaps the most telling. Their belief in a higher power or lack thereof is defined by experiences that have supported their decision. If they subscribe to a religion, it can be an instantaneous sign of insanity or intelligence or compassion or helplessness, depending on what religion is named. As long as no one is deriding the other's point of view, there's no reason not to discuss religion.

Politics, however, can be a little hairier. It's often relevant even to the atheists among us, and, like religion, it can be telling about a person. Though debates like gay marriage generally comes down to a religious argument and can lose rationality, talking about foreign policy, the war in Iraq, school vouchers, or even local tax hikes to fix roads are great ways to see what someone truly believes. The downside to politics is that a heated argument is even more likely than with religion. In addition, while everyone has a religious view of some sort, not everyone pays attention to politics. There's always a risk of alienation, but I don't think it's any higher than trying to discuss baseball with someone who doesn't know anything about baseball.

The Ex – It's pretty common knowledge that you shouldn't discuss former relationships with a prospective one. It's not like I have a whole lot of these to discuss, but I think the challenges I've experienced and the ways in which I've reacted can be very telling of who I am.It's true that it's a bad idea to pine over an ex on a date, but why not tell the anecdote about how I won the giant stuffed bear at the amusement park only to find out she had acute melissophobia? It's a funny story, and it involves an ex. I think the key here is to avoid seeming hung up, but given that I still have warmth in my heart for every girl I've ever loved even a little, I see no reason to hide it.
Racist or Sexist Jokes – So a priest and a rabbi walk into a bar, and while sitting there, they overhear me tell this terrible Jew joke. It angers the rabbi so much, he gets up and slugs me, to which the priest comments that it's not in the spirit of Judaism to be violent. Catholics, however, are all about beatings, he says, and promptly begins wailing on me.There's nothing funny about a situation like that. Nor is there anything funny about offending the people I'm with. That being said, if every conversation feels like I have to walk on eggshells, I don't want to bother. I'm an offensive person. Perhaps not to the level of Tucker Max or even Bill Hicks, but as my friend Prince Valiant said, I walk around life looking for lines to cross. I want to challenge people, and if it starts a conversation about racism or sexism or some other ism, all the better. The primary point of humor may be to make people laugh, but the best humor is that kind that makes people think and discuss as well.
Depressing Topics – Death, war, famine, the horrors of the world–all of these are difficult subjects to broach. Much like watching the evening news, they can be sobering and sad. I have several friends who would rather talk about something upbeat, to the point that they interrupt conversations and request something happier. As much as I'd like the world to be a big ball of happiness, it's not and it never will be. I see no reason to beat around the bush and ignore the difficult issues.The trials we experience in life flavor who we are. My emotional connection to the holocaust is important to me. I despise the idea of others suffering and of causing suffering. These are important things. It may be a depressing topic and perhaps it's not going to lead to a lot of smiles or laughs, but that's the way things are. Avoiding the subject isn't going to change that. In fact, it'll probably make it worse.
Work – When outside of work, you don't talk about work. It's kind of like Fight Club in that way. But while I have meaningless soul-sucking day job, many other people do great and important things. If I'm hanging out with a documentarian who's exploring Haiti, I want to hear about the devastating economic crisis he's covering. At the same time, if he doesn't want to talk about it, that's fine, there are other things to discuss, but if someone's passionate about their work, it shouldn't be an issue.I can understand the desire to keep work time and play time separate, but sometimes you can't avoid it. I'd much rather discuss someone's work than sit silently as they seethe, needing to vent about it. If I were doing something fascinating and creative, I'd want to talk about it. And despite the fact I'm always worried about what other people think of my work, I'm always better for discussing it.
Sex – Personally, I'm in the TLC camp: Let's talk about sex. But there are lots of people I won't talk about sex with. Like my grandparents. They're going to die soon. I don't want to hasten the Reaper by giving them sordid details. And though there are plenty of ways to talk about sex that don't include sordid details, I still don't think there's a pertinent one when it comes to my grandparents.Sex, however, is an excellent topic to discuss. Especially if there's hope for more with the person involved in the conversation. Maybe you want some fire and ice play, but he or she's much more vanilla. Perhaps you have a funky rash (which is not something I'd likely volunteer unless I had to). Regardless, discussing sex is a way to learn the needs, beliefs and desires of the other person. What could be more useful?
It seems like the safe topics are all small talk: background, hopes and dreams, hobbies, education, favorite things. Yes, they're useful to know, but it's like listening to a stat sheet.
In Esquire last year, A.J. Jacobs wrote an article about Radical Honesty. It was my first introduction to the movement and it's not a movement I could truly subscribe to since it bans even the little lies and half-truths that pepper my sense of humor and good will. Still, the idea of complete honesty appeals to me. It always has. And though I find it challenging to avoid omitting truths or avoiding topics that might paint myself in a bad light.
So my question for you, what are your favorite topics and why? And which taboos do you subscribe to?