Dichotomus the Hippopotamus
Though she had obviously been beautiful once, her collagen infused lips tilted cruelly as she stared down her nose at me.
"Is there anything I can help you find?" I asked, wincing at her icy glare. She didn't respond, choosing instead to snort, flip her fur stole over her shoulder and turn away as I weren't even good enough to be breathing the same air as her. I watched her hastily wander the department, snidely and purposefully overlooking key items she was so obviously above. Thus I began to consider the strange connection between inner beauty and physical beauty.
There's a certain warmth and radiance a beautiful soul emits that can overcome even the worst scars and physical deformations if given the chance. And no matter how handsome a man or beautiful a woman, malevolence and ego cannot hide beneath the surface if any scrutiny is given.
So often, there seems to be an inverse proportion when it comes to a kind soul and a beautiful body. There are, of course, exceptions to this, perhaps far more often than I'd care to admit, but the trend remains prominent enough that some of you were probably nodding your head in agreement at the previous statement. The question is why this correlation exists.
The Curium Cowboy, one of my coworkers, is one of the sweetest men I've ever met. He almost certainly was an attractive youth, having played semi-pro baseball and maintaining his slender frame even now. But years of smoking, manual labor, and standing out in the sun have wrinkled his face far beyond his actual age. With a smile and a slight twang in his voice, he kindly pals around with anybody willing to stop and chat, content to enjoy their company and conversation without any expectation. There's a purity to him that only visible if you look passed the undulating skin and into his soft green eyes.
Perhaps those of us who are not up to physical standards endure enough torment at the hands of our peers that a deeper sense of empathy and understanding for those like us is born. When we look at the meek, the ugly, the downtrodden, we choose to look at their personality, their intellect, and their abilities because those are the qualities we value in ourselves. It's often said that the things we hate about ourselves we hate even more vehemently in others. Perhaps the corollary is true: those things we admire in ourselves, we admire in others. Whatever the reason, it is empathy that allows us to overlook that initial physical judgment and see beyond the meat casing we so hopelessly reside in.
I watched woman work her way toward the corner, carefully taking each step with determination not to brush any of our display. As she moved passed another customer, she bumped him, her shoulder firmly shoving him toward the rack he was examining. I wondered at her choice not to twist in the slightest and slide by. The jostled customer glared at her as she passed, but she ignored him as she continued her privileged strut.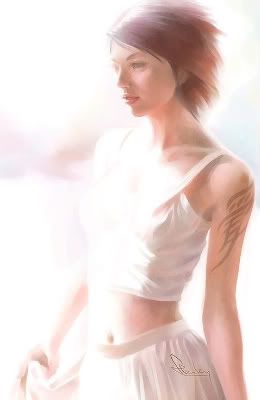 Beauty is a gift many of us have, but due to the social standards in place, it's only recognized in the few who conform to the current Adonis placed on the collective pedestal. Thanks to the media, this standard has never been more present, helping to push eating disorders, plastic surgery, and worse upon those not naturally blessed with the perfection they so desire. Perhaps the deference shown to those of us considered beautiful–the metaphorical silver spoon granted to the pretty–causes a sense of narcissistic pride that separates us from the unwashed masses. Of course, eventually the ravages of age force us to reexamine the standards we've lived by–or, at the very least, seek to sip from the waters of the fountain of youth.
She truly was beautiful, though the majority of the social scourge of the high school tried to argue it. She had a near-perfect body, long legs, and perfectly straight blond hair. And thanks to the nose job her parents had gotten her, Mindy's Aryan perfection was complete before she had even finished growing into a woman. We loathed her for her beauty and her popularity. My friends would pass me pictures of women being violated in every whole with her name scrawled across it, an arrow pointing to the subject, and they would laugh.
Through the peer leadership program, I spent time chatting with Mindy, learning about how she ticked. Despite the hatred and rumors that ran rampant among us underlings, she was a kind and sweet soul. She genuinely cared and was more intelligent than the Barbie doll physique would imply. Perhaps we're wrong about her, I would wonder. Perhaps she felt like we did before the surgery. But no matter what I said to my friends in her defense, their petty anger couldn't be swayed.
Those beautiful people who are gifted with empathy often seem to be ugly ducklings turned swans. Or, just as often, still suffer from self-esteem and self-image issues. My friend Sarah often complains of not being attractive, of needing to lose some weight, despite being beautiful in ways other women only dream of. Yet no matter what we say, she's convinced that's the case. Still, her understanding and caring are readily apparent, even within that lovely shell, and, much like Mindy, I wonder if her insecurities helped breed her kindness.
When I was picked on or bullied in school, I developed an ability to fight first. When that was chided and punished, I learned that a self-deferential sense of humor could get me out of most situations. Finally, I learned that having others supporting you meant you'd be left alone. Perhaps empathy is a defense mechanism to bring like-minded others together. We are stronger as a group, there's no doubt in that, and how could we congregate without empathy to break down the utter existential ennui we experience as we develop a sense of self?
"Will that be all, ma'am?" She sighed and flipped her credit card toward me, her annoyed glare shifting from one point off in space to another. "Okay…" I mumbled, sliding her card and getting on with it.
I looked at her, wondering if she'd ever be happy again. Perhaps her youth was so grand that nothing could ever live up to it. Perhaps she woke up each morning from dreams of being young again, only to find that age was already upon her. Does she even like herself, I asked myself silently.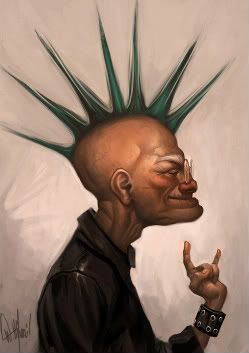 "And there you are. Have a nice day," I said, forcing a smile onto my face and trying hard to hide the pity I felt for her.
"Whatever," she said, snatching the CD from my hand, her acrylic nails clacking against the hard plastic.
Last year, the Washington Post published an article saying the elderly have a lot of sex. My first thought upon seeing this was, "How can they find each other attractive?" My second thought was, "How can I be so shallow?"
As people age, the differences between the physically beautiful and the ugly begin to fade. Perhaps this allows for an easier time overlooking our physical flaws, as everyone becomes more physically flawed and more people work out the kinks in their personality. No longer are the urges of nature to procreate, but rather to enjoy life with good people.
This would be a better theory if I could speak from experience, but sadly I'm still in the midst of my shallow minded youth. Much to my own shame, I still can't quite overlook physical beauty for inner beauty. And though I'm not proud of it, I can't deny that looks make a difference in my preference. I can only hope that as I age and grow wiser, my subconscious grows to understand beauty in the same way I do.
Until then, I'll keep staring at youth and physical beauty with desire that's quickly replaced by aloofness when any conversation reveals personality deficiencies I can't overlook.
I sat there, my beer frothing at the tip of the glass, the din of the meat market echoing over the slightly too loud music.
"To beauty," I said quietly, raising my glass to my own reflection behind the bar, "and to the ability to someday overlook it for what's inside."