The State of Baseball 2007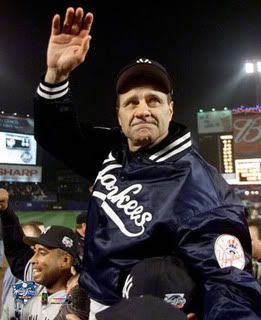 Before any of you immediately disregard this little essay as another Red Sox fan gloating about winning the 2007 World Series, I'd like to say this actually has little to do with the Red Sox at all. In fact, if I were to say anything about the World Series, it would be an apology offered to Rockies fans and fans of baseball everywhere. As happy as I am with the Red Sox winning this World Series, there was simply something off about the entire thing. It wasn't a competition, and ultimately, as a baseball fan, that's really what we want. We want a compelling story; a competitive series; an edge of our seat roller coaster ride of emotions, from hope to despair to elation. I was more impressed with the Rockies ride to the World Series than with any other story in baseball this year. Still, this isn't what I really want to talk about.
In the past three weeks there's been a changing of the guard. Slowly but surely, the Yankees have taken steps to dismantle their evil empire status.
First, they let Joe Torre, perhaps the greatest manager of the modern era, walk away. Despite the Yankees not winning a championship since 2000, Torre is deserving of every penny he asked for. The man is a consummate professional and understands players and the game better than almost any manager. It's unfortunate that players like Bobby Abreu, Jason Giambi and Alex Rodriguez could help the organization turn against one of their most important pieces. Which isn't to say that Joe Girardi wouldn't be an excellent replacement, but no manager can bring the same things to the table that Torre did.
Second, in typical Scott Boras fashion, Alex Rodriguez opted out of his contract during the early innings of Game Four of the World Series. Not only is this a classless move for detracting from the importance of the fall classic, but it's a sure sign that ARod is now the second biggest blight on Major League Baseball after Barry Bonds and the steroid scandal. Buster Olney wrote an excellent piece about his selfishness while Jemele Hill actually claimed the selfish and self-important Kobe Bryant isn't nearly as disappointing a player as ARod. In many ways, Hill's article exemplifies my distaste for ARod.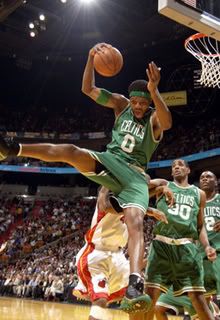 When it comes to the NBA, my favorite player of all time is Walter McCarty. His stats are pedestrian: 5.2 PPG, 1.2 APG, 2.6 RPG. There's not one thing on his stat sheet that stands out. Yet for years, he seemed to me to be the heart and soul of the Boston Celtics. As the 6th man, not even a starter, when he stepped on the court, you could see every ounce of effort he put out there. He worked his ass off, with little reward or recognition. To me, this exemplifies the type of player I respect and love: the player who plays hard and leaves it all on the court win, lose, or draw.
ARod is the exact opposite of Walter McCarty. He carries amazing stats, but he coasts. He's a prima donna who seems to work just hard enough. In many ways, this isn't much different from Manny Ramirez. So what separates the two? Attitude. Manny being Manny became a catchphrase because he's a happy go lucky guy. He doesn't care if you like him or not. He just wants to go out and play the game he loves. ARod, on the other hand, seems obsessed with praise. When he plays hard, it's because people have begun to boo, not because he wants to or thinks he needs to. Thank god Derek Jeter is the heart and soul of the team.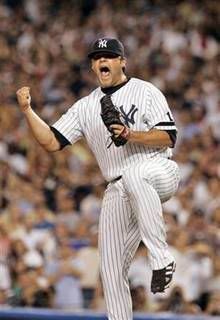 Finally, the Yankees have always been vilified for their mercenary approach to baseball: buy the best players and you can buy the championship. Thanks to outstanding youngsters like Robinson Cano, Joba Chamberlain, Phillip Hughes, and Melky Cabrera, the Yankees seemed poised for a philosophical change that GM Brian Cashman has pushed for for years. This season, you could see the fun and youth reinvigorate the Yankees. Suddenly, they lost their business-like veneer and looked like ball-players again. If Cashman gets his way, which he almost certainly will, the Yankees are on the verge of redefining their place in the current baseball hierarchy.
Echoes »