Silence of the Womb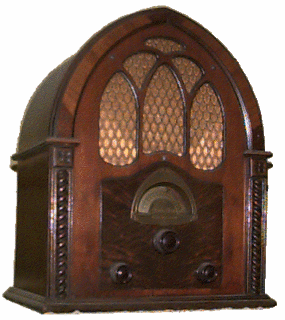 The day I was born, my father wandered around the corner from the hospital and bought a teddy bear for me. Simply calling it a teddy bear doesn't do it justice. The bear was built with a rectangular plastic pack in the center that, when connected to an 8-volt battery and turned on, would imitate the warbling of the womb. The slow purring was meant to soothe newborns to sleep. From the moment it was placed in my tiny grasp, that bear and I were inseparable.
I don't actually remember ever sleeping with the sound on. Then again, I don't actually remember sleeping with stuffed animals either, but the effects of Battery Bear on my psyche are still apparent today. By the time I first remember my sleep patterns, around age 6, I was listening to the radio to lull me to sleep. Generally, it was some cheesy easy listening station whose smooth vibes penetrated the silence and coaxed me to bed with choruses of "Somewhere Out There" and other like-minded songs. Sometimes, I would use the sleep feature on my simplistic clock radio, hoping that I'd fall into deep dreamscapes before the hour-long grace period ended and the radio silenced itself. Usually, I'd wake up wary of the silence an hour or two after it shut itself off.
Despite the youthful propensity for sleepovers, they were rare. Even with the radio barely squeaking out the basest of notes, as was necessary for a restful night, most of my friends wanted silence for sleep. When they did happen, I would wait until my friend was soundly sleeping before gently tapping my radio on. Meanwhile, at summer camp trips in which we slept in the great outdoors, I tossed and turned for hours, massaged continuously awake by my own thoughts. Counting sheep never worked. Listening to crickets helped, but the punctuating buzz of other bugs instilled me with fear.
Sleeping in new locations, even if it was a move from one apartment in our tiered Victorian to another or simply a new bed in the same room, shocked my system and prevented a good night's sleep for quite a while. By keeping the background sounds from varying, it helped ease this transition. Any time I shared a room, be it a sleepover or camp or some other strange situation, I always warned my roommates of my need for music. Most didn't seem to mind. A few even said they required the same gentle sleep aid.
In high school, I began experimenting with various stations. Radio in the early 90s had finally been commercialized to the point that ads and sweepers between songs could jar me awake with sharp transitions and staticky "PAY ATTENTION" sounds. I surfed the dial trying to find the right balance of music, volume and commercial-free airtime. Eventually, I discovered Harvard radio (WHRV). The beauty of Harvard radio was that it played indie music as I fell asleep (10 PM-2 AM) and good jazz when I awoke (from 5 AM to 10 AM). The downside was that it played experimental and thrash music in between, which often punctuated my nights with a brief interlude to slip out of bed, wander across the room, and flip the station.
Several years ago, I began torrenting my favorite hard to find TV shows. Every few nights, I found myself tossing on a playlist consisting of my favorite episodes, crawling into bed, and falling asleep with the screen still flickering. Much of the time, this was fine, as I often fell sleep with the TV on when ill. Yet I found that most nights my sleep wasn't as restful. I worked my way through playlists of Home Movies, Looney Tunes, NCIS, Foster's Home for Imaginary Friends and occasionally random shows that punctuated the regulars. Oddly enough, nights where friends shared my room or my bed and I switched back to music for their sake, I had difficulty ignoring the lack of flashing light glowing gently on the back of my eyelids.
A few months ago, I resolved to permanently switch back to music. It took me a week, but the transition had finally sunk in until yesterday. I know my restlessness has more to do with the cold I'm nursing, but I find myself breaking back to wakefulness when certain artists or songs slip passed my somnolent defenses. Last night, I placed my old Looney Tunes playlist on and rolled over, dropping into dream thanks to a combination of Bugs Bunny and NyQuil.
Tonight, however, sleep simply won't come. Regardless of what stirs the surface of my aural and visual receptors, I find myself inundated by random thoughts, and waking up and the merest motion in my bed. I can't bring myself to take any sleep aids (read: NyQuil) because of how early I need to be functioning for work. At one extreme my mind is wrestling with ideas for the second Ace Harmon story, whose plot I finished at work last night, LiveJournal entries, and creative collages of language and art. At the other are doubts, fears, and depression about my financial and employment situation. All I want is a good night's sleep.
I wish a few simple tunes could bring me the sleep a need.
« Practice Only Matters If You're Planning to Play