On God, a Purpose, and Free Will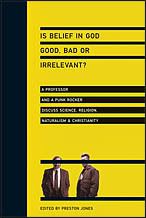 A few weeks ago, Entertainment Weekly had a feature on seminal punk band Bad Religion's new album. Though it was hardly the point of the article, a small sidebar featured information about a small textbook entitled Is Belief in God Good, Bad or Irrelevant: A Professor and a Punk Rocker Discuss Science, Religion, Naturalism & Christianity. The book, edited by Preston Jones, featured a lengthy email correspondence between Jones and Bad Religion frontman Greg Graffin. Perhaps it's an odd thing to pick up, but after finding out that Graffin is a PH.d in Zoology and did his dissertation on atheism and religion among evolutionary biologists, I found myself pondering what the book could contain.
At only 140 pages and relatively large print, it's a quick read. While no topic is really taken into depth, so many interesting points are brought up that the book is a beautiful overview of naturalism and the ways in which science and religion conflict. Jones, who's a professor of History at a Christian university, comes off as not only extremely intelligent (as professors should be), but also as very open minded and empathetic. The beauty of the discussion is that it never gets antagonistic or verbally violent. It's extremely well thought out and even lighthearted at times.
Which brings me to my other post. First, I'd like to thank all of you who responded. Generally speaking, the question of whether free will exists seems to die with a belief in a higher power. Simply put, if a God designed the world with a purpose, then we cannot help but act in the way he designed. The only way to superimpose free will on such a system is to assume that God either then died, left, or allowed us free will purely for his own amusement. The last of these three options completely negates any possibility of a benevolent God, a possibility I'd rather not even consider. Christianity, a religion made up nearly completely of contradiction, argues that God gives us free will to a small degree, but not on a larger scale. Amazingly, most Christians reject this idea outright (Calvinists excluded), claiming that we must act in accordance to God's law in order to reach Heaven and the rewards we'll receive. Of course, if God has a plan, then everyone should be predestined for Heaven or Hell, since there would be no need to judge if all actions are already known.
As most of you know, I am, for all intensive purposes, an atheist. I see no evidence of God and enough evidence supporting the idea that there is no God to wipe the idea out of my mind. In addition, if there were a God and this was the world he/she/it allowed, then I wouldn't be able to bring myself to acknowledge such a petty deity anyway. Though it annoys me severely, used my explanation for God in his comment, "it's like Santa Claus for adults." Much like 's explanation, to me God is a man-made construct used to explain the unexplained, keep the masses morally in line, and educate children on the mores of our society. Once we grow old enough to be able to formulate our own morals via our own experiences and memories, God becomes a flimsy and useless figure that we cling to purely out of fear, anger, and desire.
The major upside to atheism, besides being grounded to fact and science as truth, is that free will becomes a non-issue. Without a predestined path, we can make whatever choices we want. Without fate, we can hold men responsible for their actions. Without a definite future, the possibilities are endless and in our grasp. At least, this was my perception.
In the last two thirds of the Is Belief in God Good, Bad, or Irrelevant, Graffin poses an explanation for why he doesn't believe in free will. Simply put, every choice and decision we make happen not because of us alone, but because of our experiences, the ways our neurons fire, the natural order of things, the time of day, etc. Every little detail in the universe in some way flavors our choices. So is it us that makes these choices, or is it the confluence of events that surround the decision combined with our own experiences? Looking at it scientifically, the latter seems both reasonable and accurate. In such a case, free will would be a construct imposed after the fact in order to satiate the desire to think we have control, when we truly don't. It's the ultimate rationalization.
After several days of mulling the issue, I finally threw into the latter camp. In some ways it bothers me. I'd love to know that my choices are truly my own, but I just can't ignore the ways in which our biology and experience affect us. And yet I don't find a lack of free will disarming or depressing, since it does not prove or support predestination as much as it does the randomness of nature and circumstance.
If you read the short story "Minority Report" by Philip K. Dick (and I do mean read, since the movie fucks up the majority of the story and its philosophical implications), the idea of predetermination is a scary one. In the story, three psychics are used to predict the future and arrest criminals before they commit their crimes. The main character is an officer of the bureau and flips out when a report of a murder with him as the culprit appears. Ultimately, its his knowledge of his act that gives him the choice of whether or not to commit the crime. In essence, the only true free will we have is that which we receive when we know the future.
This brings us to my final point: the future can never truly be known. Assuming the postulate that our choices are a collection of circumstance and nature, we can imply that, at some point, we'll be able to predict everyone's course of action a short way into the future (other future events inherently changing that). That knowledge, if given to those involved, will then change those circumstances and change the course of action, especially considering man's desire for free will. Therefore, every time we predict the future based on our knowledge of nature, circumstance and the ways those affect choices, the future will change, forever staying a step in front. To me, this is ultimately reassuring.
No matter how hard we may try, the future will be forever unknown; and no matter how much we may want it, the only gods we will ever find are the ones we create ourselves.