Desperate Measures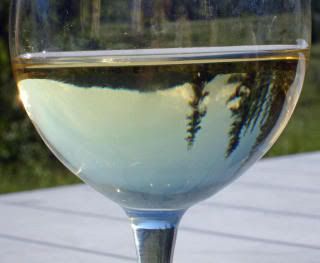 Her Pinot Grigio bloomed red as particles from her lipstick washed into the glass.
"Marry me," I said, my eyes diving toward my own glass in fear.
"I'm sorry?"
"Don't say you're sorry. Say yes."
"To marrying you?" I could see her hand shaking slightly as she set the glass on the table.
"Yes." I lifted my head, meeting her measuring gaze.
"Why? Do you love me or are you just desperate?" My jaw dropped at the question.
"I love you. Would I be asking if I didn't love you?" She didn't respond, her eyes probing me for the truth she felt I was hiding. I looked away, hurt.
"Are you sure?"
"I was."
"But you aren't?"
I glared at her, trying as best I could to show exactly her the pain she inflicted. "Would you be?" She didn't flinch.
"Yes, I would be." I wiggled my glass in my hand, trying to decide if I should take another sip. She leaned over her plate, her elbows caressing the tablecloth on either side. She wound her hands together, gently placing her chin on her makeshift pedestal. "Maybe I'm just a phase to you."
"You're not just a phase," I snapped, quietly stifling my anger and slouching to avoid her gaze. "Even if you were, I've never had a phase last this long."
"How old are you?" I grimaced at the rhetorical inquest. "And how many phases have you had?"
"Enough."
"Too few. You're just latching on because you're afraid of being alone." Her eyes twinkled like a mall Santa Claus promising a child her most desired gift. "We've only been together for a month and a half. Admit it. You're desperate."
She had raised my ire. I slammed my hands into the arms of the chair, skidding the cast iron piece back along brick floor as I stood up. "I love you!" I yelled, the restaurant deadening with silence. "And if that's not good enough, then fuck you." I scrambled for my wallet, fumbling it in frustration. I threw down a couple twenties. and stormed toward the balcony entrance.
"Yes."
I stopped dead in my tracks, my hand frozen only inches away from the doorknob.
"Yes, I'll marry you." I turned around and glared at her. She smiled wickedly and reclined, as if our entire conversation could be brushed off. "I just wanted to make sure you meant it; that you were passionate." I stood there, anger, relief, confusion all rippling through me. I closed my eyes and took a deep breath. Thoughts of a nice house, her on my arm, drink in my hand and kids running around playing in sprinklers appeared as if on cue. It was idyllic.
I opened my eyes and smiled at her, the tension gone. "I love you." She smiled back. "But fuck you. That ship has sailed." I watched, elated at the way her jaw dropped and fear appeared in her eyes. "Now you know how I felt," I said. "Only I'm not bluffing."
I didn't look back as I left the veranda. The obscenities echoed through the restaurant drawing people to watch me waltz through, my soft whistling out of place over the din.
"I'm sorry for the disturbance," I said to the maitre d, slipping him a twenty as he headed for the balcony. He nodded and patted me on the shoulder before heading out the door. Her screaming dulled as the door swung shut on our relationship.
« Anti-Semitism Is Alive And Well And Living In Boulder