Cole Slaw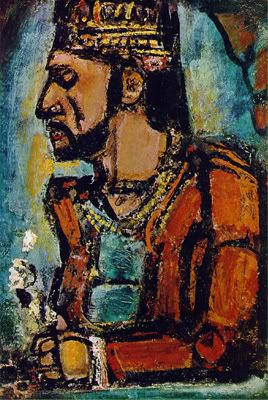 Old King Cole, the big man of the kingdom, was a merry old soul. This, my friends, was a primary part of his entire essence, for yes, a merry old soul was he. Now, ordinarily, Old King Cole wasn't necessarily a merry old soul. In fact, a while back, he was quite an regular soul just like you or I.
But Old King Cole found that he had some sweet shit at his disposal. Thinking about what he could do to merry on up, he called for his pipe, courtesy of the local glass blowers. Shortly thereafter, he spoke to the local moor about picking up some of that good shit, you know, the Turkish gold. The moor, of course, pointed out the nearest phone and gave him a number so he could call for his bowl. Before you knew it, Old King Cole was sitting there, ripped, just chilling, finally a merry old soul.
But, of course, that wasn't enough for Old King Cole. He wanted some wicked good tunes. Old King Cole got on the horn with David Grisman, Jerry Garcia (who wasn't dead back when Old King Cole was around), and Tony Rice, three great bluegrass musicians, not one of which I've ever heard pick up a fiddle. Old King Cole, though, was stoned and didn't know the he called them his fiddlers three. And then they all rocked out.
Whatever Old King Cole was on, let me tell you, that was some good shit.