Evil Under Your Fingernails
Tonight I watched the documentary Jesus Camp. By ten minutes in, I was disgusted and scared for the future of humanity. It's not because of the fervor these kids show, but rather the fervor the adults guiding them show.
Before I get into the meat of the film, I'd like to comment about it as a film, since it deserves at least that much. The film follows Becky Fischer, a Pentecostal minister, and several of her devout child followers as they travel the country and attend the "Kids on Fire" summer camp in Devil's Lake, North Dakota.
SIDE NOTE: Hmm… That name and location don't exactly inspire Christian ideals…
The film itself, while certainly left-leaning, is good enough to leave interpretation of the entire ordeal up to the viewer. I can see how it could be easy for a Christian fundamentalist to watch this and say, "yeah. They captured the feeling and importance of this and showed how stupid and idiotic liberals are about it." At the same time, it feels designed for a left wing crowd. The music is ominous at times and plays up to the eeriness of this reality. The film, in many ways, is shot like a horror film, using many extreme close-ups, wide angles and long, sustained shots. I wouldn't say the film inspired anger or hatred at all, but rather a resigned sadness and fear.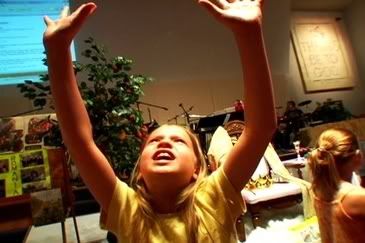 It's said that Judaism and Catholicism are built on a foundation of guilt. I can attest to the way guilt is used in the Jewish family and have often lain a good joking guilt trip on friends, but I have never seen so much guilt as was thrown at these kinds in the opening moments of camp. These children–these poor children–are slapped and beaten mentally. They're told that everything they feel and see around them is evil and they are sinners and are going to hell. Ms. Fischer tells them they MUST repent, they MUST accept Jesus in their hearts, they MUST believe or else. "You're one thing when you're at church and you're another thing when you're at school with your friends. You're a phony and a hypocrite… We can't have phonies in the army of God," she says to them.
The camp itself is only a small portion of the film. Other portions show a protest field trip to Washington and a trip to a "megachurch" in Colorado Springs run by the Reverend Ted Haggard. In a post-sermon interview, he tells us that the reason kids love evangelism is because it accepts them; in a world in which they are floundering and lost, it gives them hope and tells them god loves them and needs them and offers a purpose. I'm sure people feel that way. At the same time, it doesn't feel as though it's love holding this community together, but fear–a deep-seeded galvanizing fear. Ms. Fischer even tells radio host Mike Papantonio, "I don't think any child gets anything by choice… I would like to see more churches indoctrinating."
Politics was a surprisingly heavy-handed theme. In camp, the kids pray to a cardboard cutout of George W. Bush in front of an American flag. They're given a sermon about abortion that coopts Dr. Seuss, the speaker quoting, "a person's a person, no matter how small." Theodore Geisel's widow has even protested using this quote for anti-abortion/pro-life purposes. In addition, a preacher tells his radio audience to pray for the appointment of Justice Samuel Alito to the Supreme Court. I have to say this scares me. Then again, that was the point. "Some extreme liberals, they have to look at this and start shaking in their boots," Ms. Fischer said. "The intensity that you see of these kids, there is no doubt that they've to be watching this and go, 'Oh my goodness! I didn't know this was possible. What are these kids going to be like when they grow up?' It's like, animal rights people eat your heart out."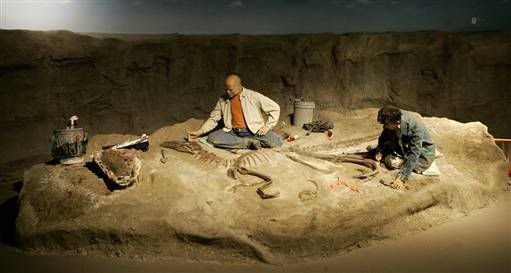 Two archaeologists examine a fossil, relying on a science textbook
and the bible respectively and coming to different conclusions.
Levi, one of the children the film focuses on, is featured prominently, as he's a future preacher and does so already. He is, of course, home schooled. Much like the Creation Museum, his mother attempts to use science and doubt to decry scientific fact. She doesn't teach him about warming trends, but instead teaches him that "it's only gone up by .06 degrees" and that's not evidence of global warming.
While writing his sermon for camp, Levi tells us that when he's up there preaching it's like God speaks through him. If ever you've been on stage, you'll know this communal energy is common. As a musician, when I get up there I'm scared and nervous, but as I calm down and the crowd starts digging the music, it's an adrenaline rush. When it's over, it feels as though it wasn't me up there. Perhaps it's not God in him that he's feeling, but that ecstasy. Then again, perhaps I'm projecting and it's really God in me. How ironic would it be, God choosing a devout atheist as a vessel?
By far the scariest portion of this film are some of the views Ms. Fischer espouses. For that, I'll leave these quotes on their own as there's nothing I can say to add anything:
"Anyone who does any work with kids knows it's because the reason you go for kids is because whatever they learn by the time they're seven, eight, nine years old, it's pretty well there for the rest of their lives."

"I can go into a playground of kids that don't know anything about Christianity, lead them to the Lord in a matter of, just no time at all, and just moments later they can be seeing visions and hearing the voice of God, because they're so open. They are so usable in Christianity."

"Where should we be putting our efforts? Where should we be putting our focus? I'll tell you where our enemies are putting it. They're putting it on the kids. They're going into the schools. You go into Palestine and I can take you to some websites that will absolutely shake you to your foundations and show you photographs of where they're taking their kids to camps like we take our kids to bible camps. And they're putting hand grenades in their hands. They're teaching them to put on bomb belts. They're teaching them how to use rifles. They're teaching them how to use machine guns. It's no wonder, with that kind of intense training and discipling, that those young people are ready to kill themselves for the cause of Islam.I wanna see young people who are as committed to the cause of Jesus Christ as the young people are to the cause of Islam. I wanna see themas radically laying down their lives for the Gospel as they are over in Pakistan and Israel and Palestine and all those different places, you know, because we have… excuse me, but we have the truth!"
If you're interested in seeing Jesus Camp, Blockbuster carries it. If you don't want to spend the money, it's available on Google Video here.
« If All Your Friends Were Jumping Off The Aquagate Bridge, Would You Do It Too?