If All Your Friends Were Jumping Off The Aquagate Bridge, Would You Do It Too?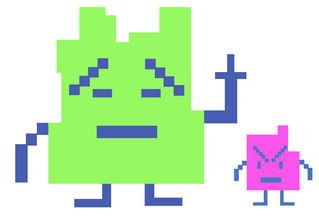 "I hope you can see this. Because I am doing it as hard as I can." – Ignignokt
As most of you have heard, several days ago Boston was brought to a standstill by an apparent terrorist plot involving those lovable Mooninites from Aqua Teen Hunger Force. When LED signs appeared under overpasses and in tunnels, timed to only light up at night with an image of Ignignokt flipping the bird, the Boston Police reacted by shutting down stretches of highway and calling in the bomb squad.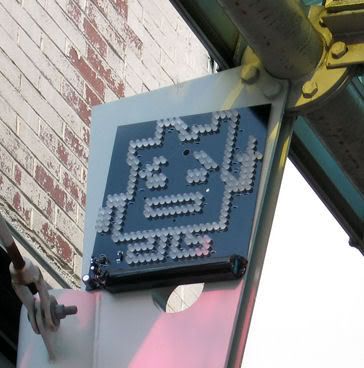 It was quickly revealed that the signs are part of an ad campaign for the new Aqua Teen Hunger Force movie. While Turner Broadcasting has already apologized for causing a ruckus, Boston politicians are crying bloody murder for being made fools of. Boston Mayor Thomas Menino called the campaign appalling and, with the support of other Boston officials, has decried the situation as borne of corporate greed.
My roommate Guillermo Magnifico has already joked that the police were only looking for overtime, but the two men arrested trumped even that, completely lambasting the media as well as the Boston Police. From CNN.com:
At a news conference after the hearing, [Sean] Stevens and [Peter] Berdovsky stepped to the microphones and said they were taking questions only about 1970s hairstyles.

When a reporter accused them of not taking the situation seriously, Stevens responded, "We're taking it very seriously." Asked another question about the case, Stevens reiterated they were answering questions only about hair and accused the reporter of not taking him and Berdovsky seriously.

Reporters did not relent and as they continued, Berdovsky disregarded their queries, saying, "That's not a hair question. I'm sorry."
This is no surprise to me. Reporters are dependent on police and public officials to help them get the scoop. Therefore, they have to take it seriously or face pissing off some of their biggest and best sources. Stevens and Berdovsky on the other hand are going to milk this for all the publicity it's worth.
Even more amusing is that fans of the show have started a T-shirt campaign. Already, all over Ebay, you can find shirts emblazoned with Ignignokt and the slogan, "UP YOURS BOSTON." I think I need to get me one.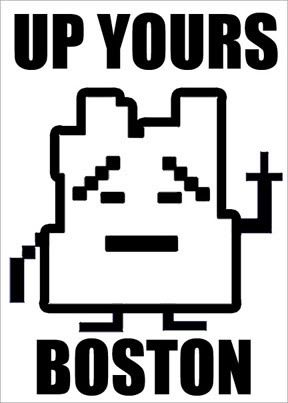 « My Power Animal Says, "Glide."