My Power Animal Says, "Glide."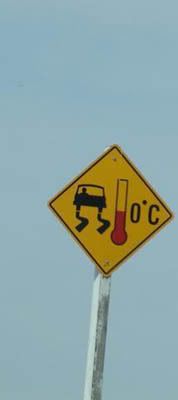 I'd like to think that as I began my graceful glide the entire world slipped into slow motion. My wheels spun delicately upon the pavement, each tire whooshing with a deep baritone rotation as rubber planed across the thin ice. Passers-by blinked and turned their heads to watch as my headlight blinded them upon the sidewalk, staring at the silver streak swiftly sailing past. Snow floated up from the tread as the wheels spun helplessly. My knuckles slowly blanching as blood flowed from my fingers and my grip tightened. In a single slow-motion blink, my eyes switched from a glazed autopilot to stern determination. And, if it were possible, the camera hanging high above filmed the thin pasty trail my car left behind, beautifully curling like a little girl's "L," the rotation perfectly synchronized with the gentle orchestral swell.
Unfortunately I can only think that's how it was.
Instead, what the two gawking drunks really saw was a beat-up silver car screeching through an intersection, my eyes wide behind the driver's seat in that deer-in-headlights look of grim fear as my knuckles tightened around the steering wheel like a rope around a dangling Iraqi fascist. About midway through the intersection, I noticed that my passenger window had been repainted in an art deco style with marinara by my leftover pasta and gave up hope of surviving the night unharmed (I take my fettuccine very seriously). By the time my car had come full circle and somehow gripped the road at just the right angle as to put me back on it properly, I was already half-way to decrying my new found faith in God I had so anxiously attached to in my moment of trauma. Needless to say, I and my car have somehow made it home in one piece and I'm so thankful I stayed out late simply because I avoided any other vehicles on the iced over road.
Moral of the story: When I brake, you can break my spirit, but not my car.
If All Your Friends Were Jumping Off The Aquagate Bridge, Would You Do It Too? »