It's Adam and Eve, Not Adam and GGGBLAAAAGGH!!!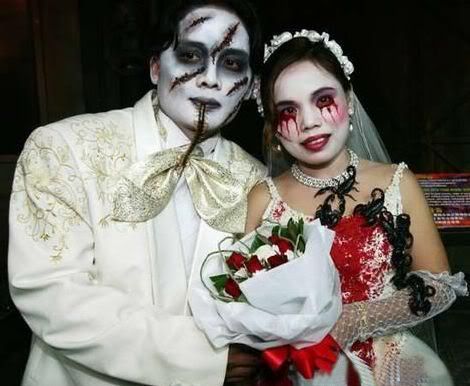 It's come to my attention that we have a grave problem in America today: Zombie Weddings. You see, despite the fact that being a zombie is a mortal sin, people continue to be zombies without ever considering what sort of effect this might have on our children. San Francisco has become a haven for zombies with an entire district of bars and clubs where zombies can gather and, in the most ungodly way possible, eat brains, drink blood, and gallivant across the city in full view of families and children.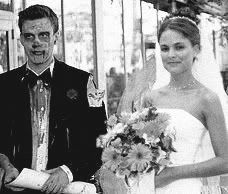 Recently, local activist judges have taken it upon themselves to attempt to aid the zombie cause by legalizing zombie marriage. It's long been known that zombies have, in the past, married fine upstanding men and women of the community as a way to hide their chosen way of life (as seen to the right, here). Occasionally, these are good faith efforts attempting to integrate into proper society, but try as they might, they cannot hide their their secret desires.
In several areas across the nation, our cause to end zombiism and protect the sanctity of marriage has come together to in some wonderful programs. Recently, Colorado Springs based Focus on the Family has championed the anti-zombie banner for years and has recently begun funding special anti-zombie programs aimed at youth. Founder John Dobson lent his support at an anti-zombie rally in August of 2006. "A plague is sweeping across this country," decried Dobson, "and the only solution is to make sure our children understand what being a zombie means to us, to this country, and to lord himself."
After a 2006 pro-zombie march in Cambridge and Somerville, Massachusetts, captured for posterity at Sushiesque, representatives of C.R.A.N.I.U.M. (Citizens Raging Against Nefarious, Inhuman, Undead Monsters), including the entire Westboro Baptist Pirate congregation and several Vulcans, protested the zombie infestation of Boston and attempted to drive these liberal scum from among the good people of our country. Protests like this are becoming more and more common every day, with communities in Lake Placid, Sacramento, Pismo Beach, and even Aurora, California playing host to thousands of protesters against these awful affronts to the American way of life.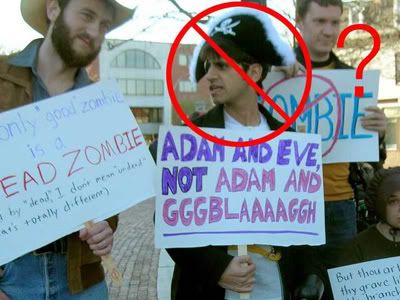 Ultimately, this growing unrest with the status quo comes in response to a much larger problem. You see, now, not only do we have to deal with the different levels of death each person experiences, but with the amounts of undeath they experience as well.
SIDE NOTE: "What?" you say. "There aren't different levels of death, are there?" Oh yes, young sirs and madams, there most certainly are. The other day, a friend asked me whether Cary Grant was deceased. "Very," I replied. "How can he be very dead?" she asked. There a plenty of ways you can be dead. Firstly, you have people who think they've died, even if they were only dreaming or in a coma. Sure, they'll swear to it, but it's hardly dead by any means. Secondly, you have people who are dead, but only momentarily, and if you get to them, you might be able to use some heart panels or CPR to resuscitate. Now don't get me wrong, dead is dead, but there are plenty of states of death that aren't definitive despite being absolute. There are cases of people who go into suspended hibernation and then wake up in their coffins, claw their way out and scare the living beJesus out of people. Then there are people on certain drugs who end up cold and lifeless only to wake up a few days later. Next we get to the actually dead, and it's less about them and more about us. For the first couple weeks someone's dead, people may still try and call them or prepare them food as if they were alive since they're not that dead. After that, you have people who think the dead person is alive because they're clinically insane. They're all, "It's 1950 and you're a blueberry and Cary Grant's still alive I just saw him down at the drive-thru you silly blueberry, you." So that's pretty damn dead, but until you get to be dead for 100 years or more and no one who actually knew you is alive are you as extremely dead as you can be. And even then, until you're a 2000 year-old mummy that nobody can even recognize by the crappy hieroglyphics that have worn off your tombstone are you as dead as you can be. This isn't even accounting for the metaphorical states of death you can be in.
There are many cases of zombiism that aren't treatable, but through certain reprogramming clinics, we can often reach many of these lost, brain-lusting souls. Does not the Bible say, "If a descendant of Aaron has an infectious skin disease or a bodily discharge, he may not eat the sacred offerings until he is cleansed. He will also be unclean if he touches something defiled by a corpse." (Leviticus 22:3-5) The lord has deemed anything these zombies touch as defiled. Only by curing them of this terrible disease can they reintegrate into society.
So please, if you know a zombie, do your part. Try and help them, and if that doesn't work, sever the head or destroy the brain. Only in this way can we stop zombiism and save the sanctity of marriage. We can't allow zombie marriage to continue unchecked. For the children.