Auschwitz Wineries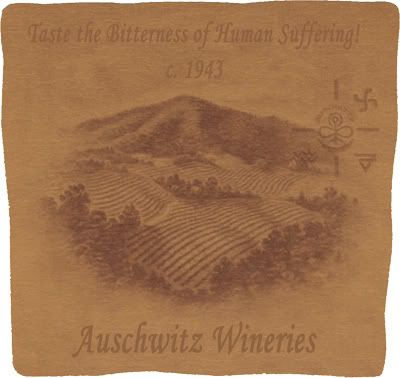 The first Auschwitz Winery label.
In 1942, as part of the labor camp movement, Auschwitz was endowed with a slave-labor run winery that produced one of the best Nazi vintages known. In addition to a wonderful Aryan Blanc that made their name, Auschwitz Wineries also produced a solid assortment of Chiantis, Rieslings, Ports, and a short-lived but delicious Merlot. They even produced a wonderful Champagne that was used to toast far more events than the ovens did Jews.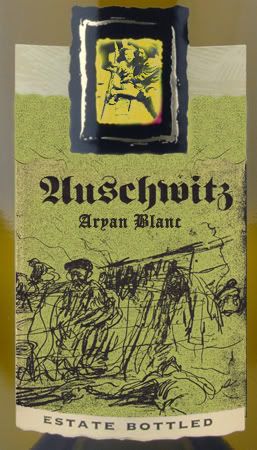 Though the loss of the war in 1944 and the liberation of Auschwitz shut down production for several years, anti-semitic investors brought it back to life in the late 80s, hoping to capture the Aryan market using old-world techniques and recipes. The following excerpt is from a promotional pamphlet published in 1988:
Nestled in the hills outside of the Polish city of Oświęcim, Auschwitz Wineries is dedicated to creating the best wines Europe can dream of.

Using a vast resource of organic fertilizer carefully cultivated since 1939, each grape grown on the premises is hand-picked at its perfect ripeness for proper wine-making. No pesticides are used thanks to a quaint wire fence carefully dividing our vineyards from the surrounding lands, helping keep unwanted animals from destroying our crop. In addition, years of careful Eugenics has helped us pick only the best grapes to make the next generation of Auschwitz wines.

From the vineyards to the casks, our entire facility was hand-crafted by German engineers and local peasants, helping make sure that no lesser elements appear in our fine wines. Each bottle is certified by our own sommelier prior to shipping to your local wine store.

Recently, Auschwitz Wineries has been proud to introduce an old recipe not used since the Third Reich fell. Our very own experts have found a way to perfectly carbonate using the latest in Zyklon B and other technologies. Refined enough for even the most discerning wine lover, Auschwitz Elite is inexpensive enough for even the lowest Jew to drink at your next celebration.
Though Auschwitz wineries made a killing using cheap labor, the reborn vineyard fell unto hard times in 1997 when protest groups around the country successfully encouraged a boycott. Despite the local love of the wine, the use of guard towers and barbed-wire fences to keep animals out upset members of PETA. Allison Jacobs, PETA member, was quoted in a New York Times article on Auschwitz Wineries as saying, "It's one thing to kill people in mass genocide, since we're the ones [messing] up the environment and could use some , but when you start slaughtering defenseless insects and animals in the name of good wine, that's simply unacceptable."
In 1998, Auschwitz Wineries unveiled a new label (shown below) in an attempt to take a step back from protesters, activists, and environmentalists. In addition, Auschwitz Wineries made a major concession by hiring of Alex Lalooshka, a gypsy, to be an environmental counselor to the company and help clean up their act. After five months on the job and several assurances of major upheaval and change, the protests ceased and Auschwitz was back in business.
Several weeks later, Lalooshka disappeared, never to be heard from again.
In 2001, after three years of lackluster sales, Auschwitz Wineries closed its doors forever citing financial woes. "Bottles of vintage Auschwitz wines now sell for more than all the Jew-gold in Switzerland," says Former Auschwitz Wineries CFO Tomas Kreiger. "Still, I'd rather drink my collection rather than sell. There may never be another wine with quite the combination of rich flavor and human suffering captured right in the bottle."