We Wish You an Anti-Semite and a Happy Jew Year…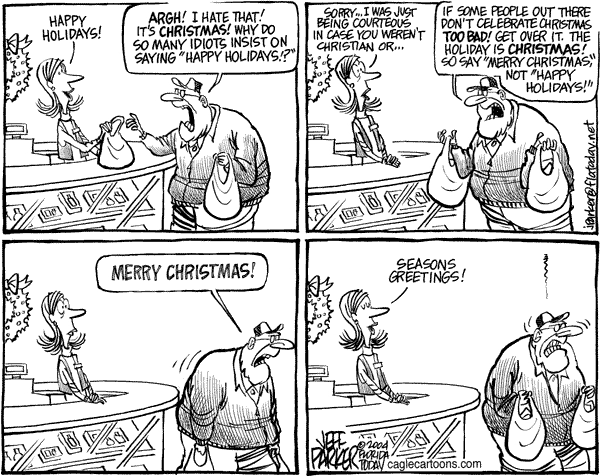 Why is it that people can't help but discriminate against us Jews during the holiday season?
I went to The Sink for lunch the other day with a couple of friends. Besides getting some of the worst service I've ever received, on my way out I was greeted by one of the rudest, most ethnically insensitive remarks I've ever heard. Here we are, just days away from Christmas, still in the midst of Hanukkah, and as I walked out, the lady at the counter said, "Thanks for coming. Have a…" and she paused, looking at me closely before continuing, "happy holidays."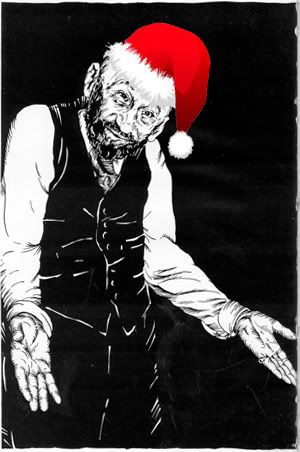 I was shocked. Does my shirt say "KIKE" on it in huge lettering? Does my nose set off Jewdar in goys and shiksas alike? Obviously, the fact that I only spoke Yiddish and paid the bill in shekels and agorot means I'm a filthy heeb. It's bullshit that I'm not worthy of a Merry Christmas.
As a Jew, I'm treated as a second class citizen. Everyone else is offered a Merry Christmas, but to me they offer the lesser Happy Holidays, as if I simply don't deserve to be treated equally. When the little girl comes around offering people sugary Christmas cookies, her mother softly grabs her shoulder and whispers, "Remember to wish him a Happy Holidays and warn him the cookies aren't kosher." Fuck that. I want my fucking Christmas cookies.
I'm standing there, surrounded by beautiful women, mistletoe hanging over me, and no one's giving me a kiss so I ask why? "Umm…" they say, searching for an answer that isn't "You're a Jew. Mistletoe doesn't count for Jews. It's a Christmas thing." I know they're thinking it. You know they're thinking it. Fuck that. I want my fucking Christmas kisses.
And how the hell am I, as a Jew, supposed to enjoy a nice Christmas ham? It's like people got together and asked, "How are we going to keep the Jews out of our Christmas? Oh, I know. We'll have milk and cookies AND ham be integral parts of Christmas food! That'll show those dumb bastards!"
Each night of Hanukkah, I light my hanukkiah like a good little Jew. When it's early enough, a crowd would gather in the street to watch. Suddenly, my second-class citizenship is apparent as I'm not their neighbor, I'm a fucking sideshow. "What's he doing," asks a little boy to his father. "He's celebrating his Christmas," the dad replies. Oh yeah, cause Hanukkah is the Jews' Christmas. It's so watered down, it takes eight nights, and instead of a tree full of lights, we have our meager little candelabras.
Jews deserve a merry Christmas as much as anyone, but instead, we're relegated to a mere generic Happy Holidays. Hell, Christmas isn't even a Christian holiday. It's a capitalist holiday. And let me ask you, who's more capitalistic that the diamond-loving, money-usuring shylocks that we Jews are?
And anyway, Santa owes us. Did you know it was his gift of coal to Hitler that inspired him to build giant Jew-burning ovens? Though it's never officially been documented, every Jew knows that upon completion of Auschwitz Hitler told Heinrich Himler that with chimneys that big, they were sure to get lots of presents.
So consider these things when you want to wish your chosen friends season's greetings this holiday season. This is my heartfelt request. In this time of year so concerned with wallets, JEWelry, gifts, and good will, help stop the discrimination and wish everyone a Merry Christmas, regardless of race, color or creed.