Personal Ink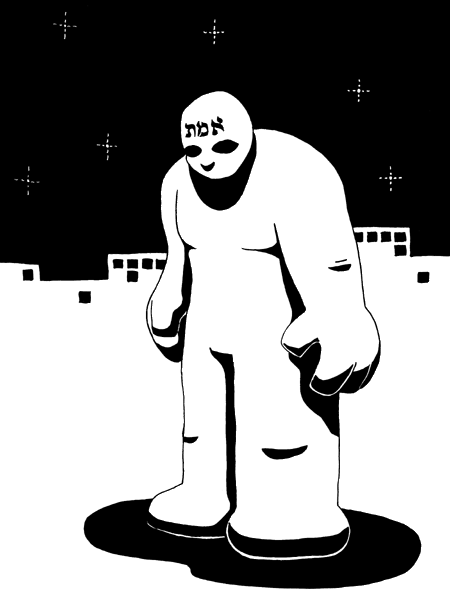 The other day, Stout and I headed down to Twisted Sol in Denver, which is where I got my first tattoo . Stout had finally decided to get his ear pierced (double cartilage on one ear). I very nearly got my cartilage repierced, but decided at the last moment that I didn't have a good enough reason. The only reason why I would get it done then is on a whim, and that just doesn't cut the mustard. Instead, I hung out in the lobby looking through the various artists' portfolios. I learned from the nice young lady at the desk that Jason, the artist of my first tattoo, had moved on to San Francisco a few months after I got mine done. This got me thinking about my next tattoo.
Initially, when I began thinking about another tattoo, I was considering making it religious. There's a certain irony to a Jewish tattoo, as Judaism doesn't allow body modification of any kind except male circumcision. Even piercing one's ear lobes is only allowed for women in non-orthodox Judaism. In addition, because there really isn't a visual image I seriously associate with Judaism (and don't say six-pointed star because that's not original enough), I just couldn't envision a Jewish tattoo.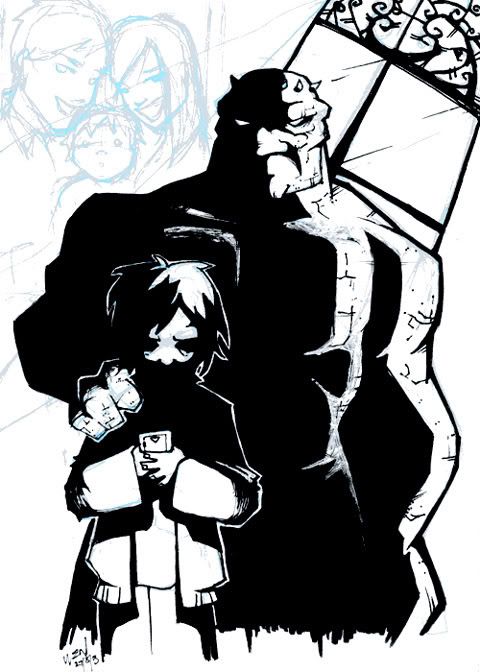 Soon, I started thinking about mythology. It's a subject I love that has beautiful imagery, hence my first tattoo being a combination of symbols of Athena and Artemis. I first got interested in mythology when I read The Egypt Game by Zilpha Keatley Snyder. Though the book was fantastic, it caused me to really begin to delve into Egyptian mythology with a fervor. My love of cats certainly helped me find more interest in the subject than I might have otherwise had. Since Greek and Roman mythology came later in my personal history, I began exploring the idea for an Egyptian tattoo, perhaps around Osiris or Anubis, two of my favorite gods. Still, nothing quite clicked into place in my mind.
While I was at Twisted Sol the other day, looking through these amazing collections of epidermal art, I started to take note of all the Aztec, Incan, Mayan and South American derived designs and inspiration finally hit me. It wasn't the origins of these designs that caught be, but the use of stone. Mythology is still a key element of my next tattoo, but so is religion, ethnicity and Jewish history.
For those of you unfamiliar with traditional Golems, they're simple beings. They're formed out of clay or mud in the shape of a man and holy words placed in their mouth grant them life, but not free will. They are meant as simple servants and in the oldest texts they were seen as gift of wisdom and holiness to the pious. In the Mishnah (or commentaries on the Torah) and in modern Hebrew, the word Golem is often used as a term for a buffoon, fool or simpleton, and its root comes from the word for raw material or earth, as in the raw material that god made Adam from. In essence, Golems mirror man in many of the ideals that god laid out in the Torah: they live only to serve their creator and they are only able to perform tasks that their instructions lay out for them. The two major differences between them and man are that they don't have free will and that they're completely amoral.
Of course, the image of the Golem is not always one of simplicity. In the 16th century, a Rabbi in Prague was said to have created one to protect the Jews. It maimed, killed, and destroyed anyone who threatened the people of the ghettos. This was, of course, at the bequest of the Rabbi, but it turned the Golem from a symbol of simplicity and pious servitude to one of strength and monstrosity. It's this image that was captured in the amazing silent film The Golem. In it, a Golem rebels against its master and goes on a rampage. A little girl ends up saving the day when she removed the magic words (in the film a star) from his chest and deactivates the creature.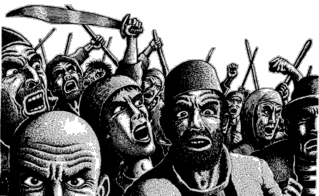 Ultimately, the Golem is much like Frankenstein. Its humanity is misunderstood and it is summarily vilified. In many modern tellings of the story the word emet (truth) appears on its forehead, granting the Golem life. By erasing the first letter, making emet simply meit (dead), the Golem could be deactivated.
It was this point in my thought process that the metaphor truly came into view. If the Golem is representative of all Jews, and the words are representative of the Torah and morality, then the torch carrying mob is representative of the suffering and persecution to which we've been subjected through the centuries. Yet the only way to be rid of the Golem was to take away the words that granted it power: the truth, the Torah.
Perhaps you can see where I'm going with this now. I want a tattoo on my upper arm of a Golem kneeling or standing, its red eyes glowing, perhaps with a child standing in front of it, and ringing my arm behind it, glowing torches.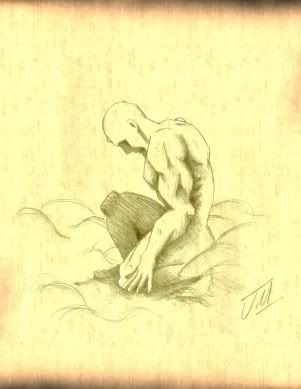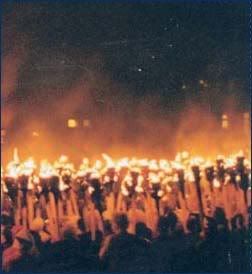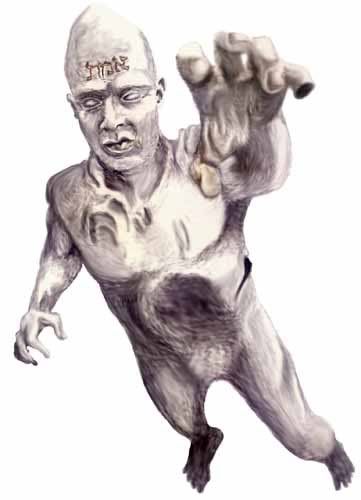 EDIT:
nbassist: I just hope making you party to my deviancy won't come back to bite me in the ass… or wherever else I get tattooed
Klezmer Komodo: is THAT where you're getting it done?
nbassist: no
Klezmer Komodo: oh, your arm
Klezmer Komodo: right or left?
nbassist: probably left, since that way, when I'm pitching to batters, the Golem can stare at them.
Klezmer Komodo: ROFL!
nbassist: 🙂
nbassist: and the real question is whether I actually thought about that when I thought about placement
Klezmer Komodo: DID you?
nbassist: I don't know
nbassist: ok, fine, a little bit
Klezmer Komodo: heh