Employment Rest Stop
As some of you may know, I recently started working at the corporate bookseller Barnes and Noble. There was a certain excitement when I got hired. Aesthetically, the store is a great place to work: the music's not bad, the decor is nice, the dress code is classy, good people work there, and I do love literature, music, and media.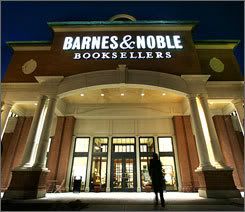 But slowly I've come to realize that despite its pleasurable veneer, there's a certain insidious quality to it.
My first caveat is with terminology. There's no doubt in my mind, nor in most people's, that the job we do is a menial one. Our role is on the lower end of the service industry, along side other retailers but slightly above dishwashers, janitors, and grocery store clerks. This isn't to say that's a bad thing, but each job carriers with it a certain class in the socioeconomic structure of society. But beyond the obvious status we accept in taking this job, our employees attempt to make our tiny tasks grandiose by imparting import to their titles. The act of adjusting a stack of CDs so they aren't leaning forward is entitled "a pushback." Checking to make sure damaged merchandise hasn't been hidden is called "a sweep." Fixing a row of books which has becomes slightly sloppy and askew is called "straightening." Reading these titles alone doesn't do justice to elevation these acts receive in the eyes of the managers and employees. The creation of this specialized corporate jargon is intended to make us, as the menial employee, gain ego points that allow us to purport our tasks and ultimately our job as far more essential than they actually are. Because we have a distinct set of terms specifically for our job, we can look down on other jobs of the same class as if they were actually of a lower class.
SIDE NOTE: Just because jobs do come in classes is no reason to discriminate against those below where we are. Often, high class business executives look down on the menial laborers who, in fact, are far more essential to the proper functioning of our economic system. The "lowly" waiter will often work harder than the real estate agent who makes fifty times as much. Sadly, employment class is based more on salary and less on effort required than it really should be. That's not to say that a real estate agent's job is easy, as it does take far more training and preparation than being a waiter, but the amount of work one has to do for each dollar earned is essentially a complete inversion. Because of this, it absolutely distresses me when I see someone making a goodly amount for doing essentially nothing looking down on the trashman, the construction worker, the dishwasher, and others who work so hard just to stay afloat. Perhaps most sad is the intellectual snubbing of public school teachers, social workers and civil servants, who do far more for society at a menial price than we could ever repay them for. Despite my recognition of this problem, I too am prejudiced against some menial jobs. The other night I realized I'd find myself embarrassed to be working fast food or even just hanging out with fast food workers in their uniforms. Despite this, I've had several close friends who, despite being far more qualified than for that job, chose to work their simply for the money. Now, instead of being embarrassed for them, I'm embarrassed at myself for being classist due to such superficial terms.
This isn't to say that it's the corporation's fault, but rather an unintended consequence of their efficiency-expert-suggested ways of improving the bottom line.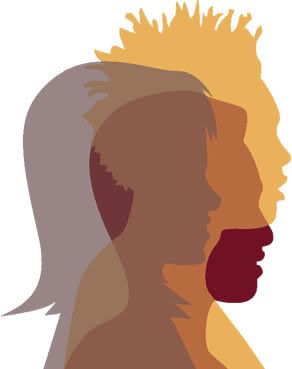 My second issue with the job is a lack of individuality. I understand and completely approve of the need for a dress code. Workers still have the opportunity to express individuality, if at a much smaller scale, in their dress. It's fine that the corporate issued music playlist is intended to improve sales and promote the music from the store (as well as filter out unfamily friendly language). I really don't see the harm in adding some good music to their often bland and boring selection of in-store music, especially when it's by a musician who isn't ASCAP bound. As an employee, sitting when there's no one in the assigned section is unacceptable. Each break is scheduled to the minute, albeit to prevent too many people from taking time off all at the same time, which is understandable. But down time, if a worker has any–which workers often do–is regimented with unnecessary, superfluous, and redundant tasks. If a worker does complete the assigned tasks, they're required to do it again and again instead of relaxing or patiently waiting. Even the military allows soldiers to relax during their downtime. If a worker has a good suggestion for improving the look, feel, or day-to-day success, the company really doesn't care since employees ideas are no longer part of their business model. And while expressing an opinion about an item in stock isn't necessarily frowned upon, the rigidity with which they watch and listen is absurd. A worker could be doing a bang up job, but if he or she isn't doing it their way, it's no good. Good business is getting the most out of all employees, not forcing employees to waste precious time and energy simply for control's sake.
Despite these anti-corporate sentiments, the worst part of working there isn't rules and regulations that make each work day a struggle, but the sad feeling that every person that works in stores like this one is there as last resort. I look at my coworkers, and, with a few exceptions, working here was settling for less than their value. When I walk into movie theaters or fast food restaurants, there are always a few of these people, but the majority are fresh faces at their first job or after school workers. Here, we have twenty somethings who couldn't make it in their chosen fields, older men and women who work because their pension and social security won't pay the bills, middle age people who are passing the time between careers or until retirement, post-grads who realized their big name college degree isn't worth the paper it's printed on in Boulder, the most overeducated city in the US. I look around and I see exactly what I don't want to become and what I fear I've already become.
As the end of each month nears, I start stressing where my rent's going to come from; will I have money in my bank account? If I do, will it be enough? Will my parents bail me out again? Will I have something other than ramen and mac and cheese to eat? Will I be able to make the minimum payment on my credit card, my cell phone, my debt to my friends who have so graciously bailed me out and covered for me in the past? And generally, the answer's been no. Even with this job, I don't even make enough in a month to cover rent. And every day I walk into work and do my job, I look around and worry that this is what I have in store. When I look into my coworkers' eyes, I feel lucky if I don't see dejection, failure, and unhappiness written there. And that, among my personal gripes about the job, is why I know I won't last.
I may be living beyond my means, but I would gladly take a pay cut for the satisfaction I desire; the satisfaction I will never find in the depression and fear sitting just beneath the surface of this employment rest stop.