Reflections on Murder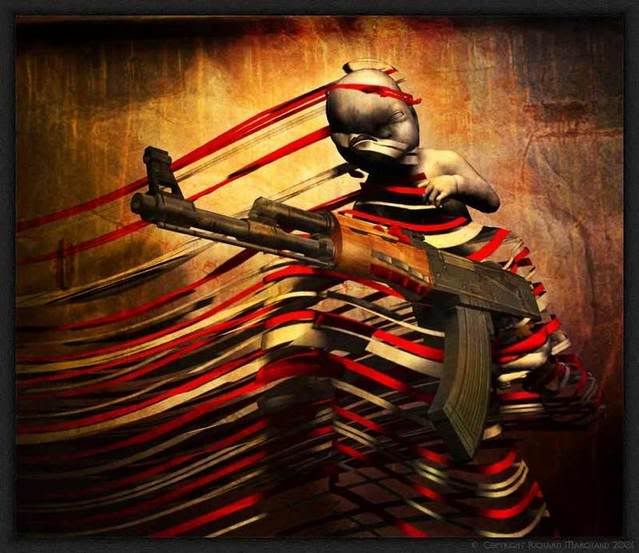 Image by
Richard Marchand
With the Amish School Shooting atop all the headlines, Stormy felt compelled to talk with me. Honestly, neither of us feel very connected to the event–we don't know anyone involved, nor do we know anyone near the area involved–but like any tragic and illogical event, we both feel very disturbed.
"It really bugs me that someone could go out and shoot some random person," Stormy said. "There must've been warning signs, yet no one around that person noticed something was wrong or did anything about it."
"Well, who's to say it was a rational act?" I asked. "When you notice something is a little off with a friend, how often do you get a straight honest answer without spending some serious time poking and prodding. Usually, even if you notice something's wrong, you aren't going to be able to do anything about it."
"I'm sure he reasoned it out a million times, not that that matters," Stormy retorted. "It's extremely rare that someone is plagued with that many issues–the 20 year revenge thing–and can completely keep all those feelings to themselves until shit finally goes down. With the amount of planning that went into it, someone should've seen it coming."
"We can only hope it gets spotted beforehand. Regardless, it does happen, and it's likely a few little things that set it off over time. The point being, that even if he was disturbed, there are plenty of ways to avoid getting seriously noticed," I stated. "When being abnormal becomes something for people to fear, we'll be in bigger trouble than if bad things like this happen occasionally."
"I doubt there'd be a huge epidemic of people shooting random people because they are tired of life. But still… it's easier to stomach people killing people they know," said Stormy.
"For whom? To us as bystanders, perhaps. If you were the killer," I continued, "would you rather have good reason to think you killed out of insanity, or out of personal desire? At least with a random victim, there's no personal attachment. If I kill someone I know, I'll have a justification and logic to the act. I'll rationalize it and commit murder in complete sanity, knowing full well I've come to this decision. That's not something I'll ever be able to forget or forgive myself for, nor do I think I'd want to. I would be without remorse. By killing a random person I have no connection to, it would allow insanity to be a possibility."
"I mean when there are reports of murders… When people kill people they know, it's over disputes, relationships, insurance claims, and so on. I'm not saying it is any less heinous, but someone going out and killing a random person is beyond disgusting. There's no rationality to it. I mean, it's different for everyone because some people would rather kill strangers like you said, but some would rather kill people they know when they've been wronged. At least with people they know, there's rhyme and reason to the act." Stormy paused, almost shocked at the twist the conversation had taken. "Anyway, I did mean as bystanders. When we know there's a reason for a crime, we can understand it and write it off. When it's seemingly for no reason or when it's against a perfect stranger, it fills us with fear."
"It's certainly sad, regardless."
With that, the conversation ended. We sat there, contemplating the roles of killer, victim and bystander, the connection between the three precariously intertwined. In the end, there's no winner, no matter how scenario had played out.