The Sixteenth Century's Worst Pick-up Lines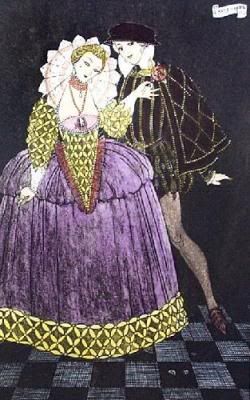 Sirs and Madams, I graciously welcome thee to the Live Journal Theatre for this dramatic reading of classic lines of the boudoir employed by the likes of famously foul lovers of the Sixteenth Century. Failure, my fiendish friends, is naught but a genesis for dastardly attempts at courtship so humorously enjoyed in a more recent fashion. Therefore ladies, gentlemen, knights and knaves prepare, for a grand dereliction of taste and fortuitous cachinnations await!
Madam, I assure you that pale though I may be, I am a Moor in the trousers.
Miss, doth thou wish to devour mine loin?
M'lady, Shakespeare's grandeur of pen compares not to the grandeur of mine manhood.
Madam, I am a colonist. Doth thou wish to be colonized?
Art thou Shakespeare? For you've aroused a tempest in my pants.
Miss, it is not since my travels on the dark continent of Africa that I have hoped for such miracles as an alphabet with the letters U and I beside one another.
Oh, but for a muse could I imagine thine milky skin like finest leather sheathing my blade in its velvety folds… What, doth thou not care for poetry?
Madam, wouldst thou find interest in retiring to my chambers to share several fleeting moments of physical ecstasy and a serving of Turkish Delight? Thou canst be disheveled on Turkish Delight!?