Pot Smoking for the Anal-Retentive Homeowner (Or Renter)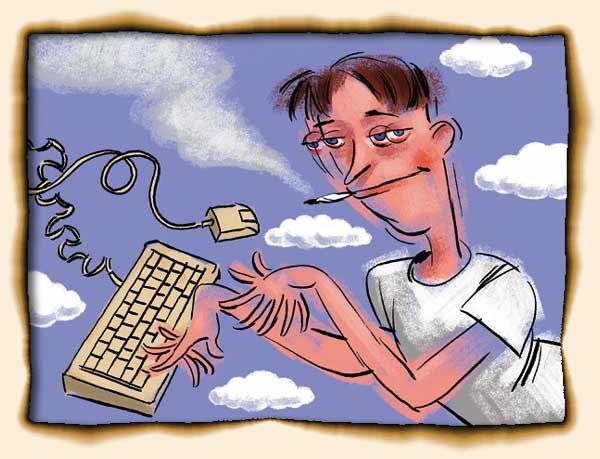 Obviously if you've been intrigued enough to pick up this pamphlet, you're wondering what Pot Smoking for the Anal-Retentive Homeowner (Or Renter) is all about. Well, as a professed stoner myself, I realize that there are plenty of instructional booklets out there on how to use, cultivate, cook, and sell marijuana. In addition, there are plenty of booklets on why not to use drugs at all. This pamphlet is designed for the cannabis user that wants to keep a clean, respectable home.
We've all seen your typical stoner dens: black light posters, ash strewn across tables, dingy windows and walls, bong water soaked carpeting, and, perhaps worst of all, disgusting looking, smelling, and tasting pipes, bongs and hookahs. Luckily, while this is the average stoner's home and lounge, it doesn't have to be yours. In fact, you can have a place even your uptight grandparents will love. If you follow these simple rules, your home could be the envy of every Martha Stewart wanna-be.
Having a Happy Home While High
Go Outside.
The first step to keeping your hash haven clean is to avoid using inside whenever possible. Obviously, it's not always possible to go sit on your porch, balcony or veranda to smoke from your pipe of choice, but going outside during the summers and on warmer winter days can save you hundreds in smoke damage and stench repair.
Isolate.
If you do have to smoke inside, make sure to relegate an appropriate area. Depending on whether you're a solo stoner or a social stoner, choose one room in your home or apartment to be the smoking room. By doing so, you will keep the smell and damage to a reduced area. This will make it easier to clean up after as well, since everything you use will be in a single chamber. Many apartments have large shared spaces such as kitchen/dining room/living room areas. While designating one of these may make your getting high more comfortable, it's best to avoid common areas used for entertaining all guests, such as parents, grandparents, professors, and officers of the law.
Store Properly.
This tip goes both for your ganja itself and for your pipes and papers. Often, marijuana smells quite strongly. To keep this to a minimum, and to preserve the moisture inside, keep your weed in an airtight container. Though Tupperware is wonderful, finding a container the right size is often difficult. Small baby-food bottles work almost as well. If you live in a dry climate or experience problems with your pot drying out, attempt putting a few pieces of fresh orange peel in the container with it. The peel will dry out, but it will keep the pot moist. Refrigeration or freezing is not a bad option either, as long as it's not for an extended period. Much like tomatoes, long stays in frigid temperatures will break down the cellular wall of the marijuana and may cause THC loss.

As for your pipes, emptying your pipes of ash and liquid after use is essential to good maryjane hygiene. It's easy to get stoned and forget that there are things you need to do, so make a habit of it. If you're using a bong, bubbler or hookah, dump out the water shortly after use and rinse with warm water once or twice. If you leave the water in for too long, the piece will get stained, stinky, and generally funky. And no, that's not George Clinton funky I'm talking about, but dirty gym socks funky. A quick rinse does wonders. This will also keep you adding new water each time you smoke, giving you a cleaner and tastier high.

Often I'll forget to rinse soon after use. If this happens, use a little dish soap and give a nice thorough cleaning. Most pipes are hard to get down into the insides because of the size. Therefore, it's easier to keep things clean than to let them wait. If your pipe gets especially dirty, a little soap won't do any good. Try bathing your pipe or bong in rubbing alcohol or a professional cleaning solution. The alcohol helps dissolve shmutz and other grime that collects in your piece. Make sure it's completely dry before using it again. You don't want to find yourself huffing bad fumes.

Clean Up.
Perhaps the hardest rule to follow is to keep your areas clean. If you keep your pot restricted to pieces of paper or trays, you won't have any bud lying around your smoking space getting ground into the floor rather than being smoked. The last thing you want is ashy floor. If you do spill some pot or soot on the floor, attempt to pick it up immediately. What you can't salvage, you'll be forced to vacuum up. It's always nice to have a small hand-held Dirt Devil around just in case.

Try designating an area to keep your piece when not in use. You can cut down on unwanted spills and drops if it's kept out of the way and off the floor. Certainly, it's sometimes easier to set your piece wherever you are, but it's far less likely to get flipped or dumped accidentally if there's a designated safe zone. In addition, when you are sober enough to remember to clean it, it'll be right where your think it is.

Lastly, keeping your home clean doesn't just go for the pot and its modes of transport to your body. The most common aftermath of smoking is the munchies. Outside of a spill, this is the fastest way to dirty up your nice home. Think about alternative snacks like fruit or cheese instead of chips. They may not be as fun to crunch on, but they're cleaner and better for you. If you do go with crumbly messy foods, clean up soon after. For drinks, consider lighter drinks. Soft drinks like Pepsi and Coke clean up relatively easily, but grape soda or cranberry juice can leave a real mess. If you do spill, get on it right away. Remember, dab, don't stroke when cleaning a messy liquid spill. Keep carpet cleaner around just in case. Just like any meal, it's easier to keep your home clean if you tidy up as soon as you can.
It may seem like a chore at first, but if you cultivate a happy home, you'll be a happy stoner. And remember, there's nothing better than a nice home to keep smoking in style.
For other hints and tips on proper etiquette and smoking habits, see SmokingWithStyle.Com.