A Tale of Too Shitty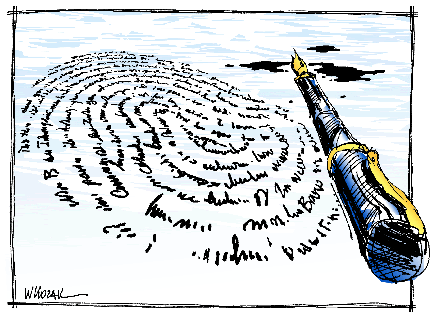 It was the best of times, it was the worst of times, it was the age of wisdom, it was the age of foolishness, it was the epoch of belief, it was the epoch of incredulity, it was the season of Light, it was the season of Darkness, it was the spring of hope, it was the winter of despair, we had everything before us, we had nothing before us, we were all going direct to Graduation, we were all going direct the other way–in short, the day is so weary that I find myself forced to plagiarize, satirize, and play homage to the Dickens I wish to return life.
You see, the fates have conspired against me. A normally calm gentleman, I found myself recently in a painful situation lacking any foreseeable remedy. Certainly, my yarn is not completely a conglomeration of negative facts and events. Rather, just as I did, I shall begin with what I might describe as the greatest complement I have ever received.
As many of you know, my extended tenure at this university is soon to end. As such, I am required, as most graduates of any significant alma mater are, to divine a place of employment within the true world. Despite my best efforts, several promising opportunities have closed themselves due to one poor twist or another. Despite this, my confidence that I shall find employ has been steadily waning, especially considering the time frame within which I must work.
My search took a fortuitous turn when I received a personal electronic letter requesting my application at a broadcast publication in the nearby metropolis. It seems an editor for the Columbia Broadcasting System was looking for an apprentice. Under normal circumstances, such a request would be made en masse to my entire cohort, but to my bemusement and surprise, this request was solely for mine own person. At once, my brow furrowed. It dawned on me that I was sorely lacking several application materials necessary for even the most brief commencement of such an application.
After bandying my situation to several of my most amicable acquaintances, I decided the only course of action appropriate would be the use of the Edison telephone system. Early one morn, I was patched through to my potential employer. He relayed to me several surprising facts of note. Primarily, there were only two competing suitors, neither of which were attending my program. Much to my chagrin, he referred to my professors as recommending me highly; so highly, I was the only recommendation. Such flattery generally comes from scullery maids and other lesser personages, but to receive such high praise from my masters, t'would think the world revolving counter and my soul sold. The conversation turned to the body of work on which my laurels rest, and I admitted the unsurprising lack of examples. A kindly soul, he was, as he informed me of the expectations one normally is forced into.
As I placed the receiver back in its cradle, I began to swarm with uncertainty. Over the next few days, I slaved in the laboratory, slicing, stitching and weaving a tapestry of work that would aptly represent me. Soon, I realized that despite my desire and effort, I would come up short of the mark.
It was early in the morn when I rode my carriage past the commons in Denver. The light splayed across the streets and the cacophony nearly overwhelmed my moderate sensibilities. I was in such a state of excitement that I arrived nearly three quarters of an hour prior to the time of engagement. Laden with this knowledge, I wandered the allies of Lincoln avenue in search of subjects for my digital camera obscura. I came upon a pair of youths not far younger than I learning the ways of large format photography. I observed a young man fleeing from three tired, overweight officers of the law. Finally, as the time came, I approached the parliament of information I might call my place of employ.
The interview itself was mediocre at best. Though kindly and patient, my understanding of the archaic systems in use was far from expectation. Still, after all was said and done, the gentleman thanked me for my time and informed me that as his corporation caught up technologically, there would likely be many places for men like me.
As an aside, despite the wonderful learning experience, the most fortuitous and heinous turn of events fell across my lap. During the interview, a massive accident took place in the street below. Thankfully, there was only one injury and it seemed a flesh wound at worst. Several trolleys belonging to the company I was visiting were damaged in a multi-vehicle crash. My potential employer kindly allowed me to photograph the aftermath, though a gentleman involved was irate at my appearance.
I returned to the countryside post haste and delivered a copy of a documentary I had produced to a gentleman who runs a wonderful little event known as the Big Wheel Rally. Mayhaps upon a visit to their electronic pamphlet will reveal that my work has appeared upon the Internet.
I then returned home and partook of a lovely peanut-butter and jelly sandwich, the likes of which I had not experienced since childhood. Before the crumbs had dropped on the floor, I was on the move again. I joined Sarah briefly to photograph a technical ordeal at her machine shop. Sadly, the event was less impressive than I had hoped and I decided that a return to my school work was a more appropriate use of time.
I returned to my laboratory and joined my two partners already working on our recreation of an old moving picture entitled Godzilla's Revenge. Late into the night I toiled, finally retiring. With one day until the Jewish sabbath, I knew my work would not end.
I awoke early the next morn to attend classroom instruction and continue work in the laboratory. While working there, a thief partook of the contents of my bag, leaving me ill-supplied for my evening's plans. A approximately quarter passed two post-meridian, I found myself scrambling to resupply while organizing my crew for the long journey ahead. An acquaintance of mine known as had informed me many months ago of an irregular sporting event featuring ladies on wheeled shoes. My excitement on the timing could be seen in my initial electronic letters to the organizer of league. The last correspondence with said organizer informed me that she "looked forward to seeing me there." Still, as we hadn't spoken in several weeks, I feared I had been forgotten.
Still, I persevered, expecting my unpaid effort in their honor would be rewarded in kind. Soon, I found myself beleaguered with excess personages whom threatened any acceptance at our distant destination. Already behind schedule, I loaded myself, my equipment, my assistant and his ill-wanted painted Jezebel into my carriage and sped toward my destination, praying the weather would be kind. Sadly, my worn carriage did not fare well in the torrential rains that fell upon us. Twas as if God himself wanted my failure.
My weariness from lack of respite and desire not to attempt such a journey at all was tempered only by the knowledge that success would be more wondrous than words for myself, my career, the ladies of the Pike's Peak Derby Dames, and, most likely, for anyone who partook of the finished product of my work. I stared into the storm and cried that I would not fail and I would not rest until my work was done.
What I did not know is that my work was done before I had even begun the journey.
I arrived slightly over an hour prior to the commencement and found my contact. While waiting to negotiate the terms of our stay, my second companion overheard a conversation between the ladies stating their uncertainty in my presence. She quickly informed them that we would graciously take our leave without any more discussion. This I was not told until nearly an hour past our departure. You see, the venue for the event was nearing capacity in the seats. Despite this, my desire was not to be placated with a ticket and a free show, but rather to work and photograph and record the event for posterity and for advertising of future events of the like. Therefore, our place was not in the grandstands, but on the floor of the course where we could be right upon the action and perform our best for them in return. Instead, we were sent on our way by the tainted words of an unwanted guest.
I returned home with my tail between my legs, deciding that to forget this travesty, it would be best to throw myself into my school work. My moving picture had much to be done and little time in which to do it, so I hunkered down and began my work.
After two days hard work, on both the Jewish sabbath and the sabbath itself, I was nearing completion. With a mere half hours worth of work left to do, I sat in the laboratory hoping for the end and a chance to relax. Sadly, God once again thwarted any chance of my happiness. As I placed musical accompaniment within the final product, inherently the last step in any such endeavor, the storage unit in which my project lay coughed and died. I scrambled for several hours to attempt a repair, slowly coming to the realization that this was beyond my control. It was, truly, an act of God.
I neared weeping several times, my weary head wrought with thoughts of anger and disgust at every curve I endured. Still, there was hope. You see, the device had lost its table of contents–the map to the data within. This meant the data still existed! If there were a way to retrieve the data without the table of contents, the entirety of my work could be salvaged!
I rejoiced in that thought, laying my hopes upon it as a religious man lays his upon idols and meaningless gods. Still, my faith and hopes were outweighed by my prior experiences and I knew my chances were slim at best.
The following morning, I proceeded to a vendor and repairmen with my device. Though cordial, the cost was expensive and results not guaranteed. In fact, I was informed upon my arrival that even knowing the chances of retrieval would be impossible until the following eve. In the meantime, we realized the project, on which we had worked several weeks, needed to be reborn anew in case retrieval were impossible.
That night, I burned candles in the laboratory until the dawn broke through the windows. My only break had come shy of midnight when I attended a questioning at a local pub and tavern. Of course, I exited victorious, yet it was bittersweet in the knowledge that no rest lay ahead for me. As the sun rose into the heavens, my partners spelled me and allowed me time to sleep. It wasn't until early afternoon that I rose and returned to my work. Though the project is being rebuilt faster than one could hope for, the toll on my psyche is great.
And here is where I began this story. Tonight, I return to the laboratory and toil, even as we speak. My sweat and blood have soaked the chairs and tables. I only hope that I can finish before even I expect. Then, I may be able to lay my head down and say, "It is a far, far better thing that I do, than I have ever done; it is a far, far better rest that I go to than I have ever known."