Politicking Gone Right?
I don't know how it happened or why, but Virginia Governor Tim Kaine actually impressed me with his response to tonight's State of the Union address.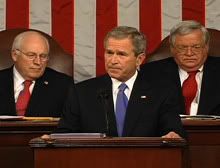 As most Americans seem to be, I'm disillusioned with politics. I'm bothered that my party can't push through the legislation they want to because the other party keeps stymieing each bill before it gets to the table. I'm upset with the fact that despite the knowledge that my morals are taken into account by my party's leaders, there is constantly a threat that those values will disappear at any moment. These are not problems intrinsic to one party or the other, but is true across the board.
When Bush took the stage and spent 30 minutes blah blah blahing about the mid-east, I couldn't care less. I've heard it before. We need to remain invested in the war on terror. We can't pull out. Same shit, different day. Americans agree that we can't pull out and need to finish what we've started. We may not like it, but at least we agree. The one area where he seemed to say something new is in regards to Iran. He stressed the idea that the government of Iran might be separated from the people of Iran and thereby ousted and replaced through non-violent means (i.e. – without another war that he probably couldn't get away with).
And then came the remainder of the speech. Bush didn't even appear to be remorseful about wiretapping, Katrina, or any of the other fuck-ups he's had. Instead, he stressed the same the rhetoric he has in the past: reforming health care and social security via private accounts, attacking Democrats for questioning and not leaving mistakes in the past, supporting the Patriot Act (or in this case the renewal of said act), ending illegal immigration through heavier surveillance and law enforcement, supporting the permanence of his tax cuts, stopping stem cell, cloning and other controversial research, and furthering the war on drugs with more funding. I admit I flipped between the speech and an episode of NOVA on roman baths out of boredom.
There were several new points, one or two of which are actually good ideas. Bush stressed that we are oil dependent and pledged to help the environment and our situation with funding for alternative energy research. He mentioned that AIDS is an issue especially among the black community and funding will be increased via churches and faith-based initiatives. Bush also highlighted two new initiatives that are intended to assist No Child Left Behind by increasing innovation and economic growth in the American Competitiveness Initiative and by encourage youth outreach via the Helping America's Youth Initiative.
Even with the new additions, I question Bush's means though it's obvious his heart appears to be in the right place. If I were doing my own political commentary on his speech, I'd point out that prior energy funding has been given to oil companies, the gay community is generally out in the cold from faith-based initiatives, private accounts are still a bad idea for a number of reasons, and I'm all around disappointed Bush wasn't more apologetic about his mistakes.
Of course, my purpose isn't to remark on the State of the Union itself, but on Governor Kaine's response. My expectation going into the response is that it would be the same old same old from the Democrats as well. There would be some rhetoric, a harsh critique of Bush's speech, some decrying of republican tactics, and a few direct attacks on the conservative populace for being duped by the right wing into voting against their own good. Instead I found something I haven't seen in politics in my lifetime.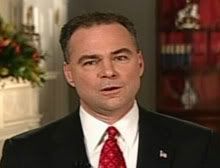 Kaine began by introducing himself and giving a little background on his past, namely that he was a missionary and a man of god, much in the same way that Senator John Edwards utilized religion to win over Southern constituents. After that, he deviated greatly from what Edwards did.
The slogan of the night was "there is a better way." This better way Kaine referred to isn't choosing Democrats over Republicans, but rather compromise. Kaine stressed that our government wasn't built on agendas and partisanship, but compromise and understanding that it's better to work together when you're in the same sinking ship. He called for supporters of both parties to look for compromise. And, perhaps more importantly, Kaine offered up questions for the American public without the same empty rhetoric that constantly divides the country.
"No matter what political philosophy you hold, or what state you call home, you have a right to expect that your government can deliver results."
Rather than push the same agenda the Democrats have been harping on for Bush's entire stay in office, Kaine drew attention to places and movements in which progress has been made. He pointed to projects in which both parties were instrumental in doing something good. This is the right way to change minds.
"The better way is to focus on service. It's about measuring what we do in terms of real results for real people. It's not about partisanship or political spin. It's about protecting the rights endowed by our creator; fulfilling the principle of equality set out in our Declaration of Independence; ensuring that the light of liberty shines on every American."
It's true that Kaine's words weren't perfect. He still pushed a Democratic agenda at the end of his speech that may have alienated viewers, but his message was as clear and well said as any I've ever heard: we can't keep bickering or it will cost us our future.
Essentially, what this comes down to is the difference between argument and understanding. The majority of political writing and speaking is argumentative. The audience doesn't stop to think because they know which way their mind is made up beforehand. Rather than hearing a good point that asks for their thought, political writing beats a point into the audience hoping to change minds. What Kaine did tonight wasn't attempt to change minds but rather attempt to find an ear. To me, that makes all the difference.
I'm still bitter and disillusioned when it comes to politics, but if more people realize just what the difference was in the way Kaine spoke, perhaps someone can make some headway. That's what Kaine gave me tonight: Hope.
Dissecting Respect – Images of Islam and Revolt in the Muslim World »