The Big Entry of Impenetrable Boredom
Cause that really sounds interesting…
I've got to work on those titles…
Luggage Theft
As I was getting off the bus to the airport, something odd happened. My bag disappeared. I stood outside the bus looking for it, but all the bags had been unloaded from the storage compartments and mine was not among them. Instead, a lone black bag quite similar to mine remained. I snatched it and ran off to the concourse, determined to find my bag.
As I came through the doors, I glanced about, searching for my bag and the person who snatched it by mistake. As I came to the escalator, there at the top was a mom and her extremely hot daughter WITH MY BAG! I bounded up the escalator.
"Ma'am! Ma'am!"
"…And don't give me any lip. We're already late!"
"Ma'am! You have my suitcase!"
"Jesus, Mom. I'm not 15 anymore."
"Ma'am! My suitcase!" And that's when she realized it. I was so happy. It had my Xbox in it (since I use it to watch DVDs at home).
Rule of thumb: Don't get your luggage stolen. Ever!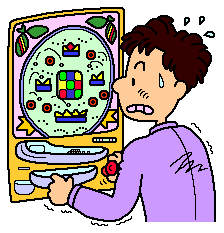 Pachinko
I know you're looking at this title and thinking, "What the fuck? What the fuck is Pachinko?" At least, if you're not thinking that, you're either a) Japanese, b) a Japanese-wanna-be, c) an Orientalist, or d) an insane trivia geek. That's right. If you haven't figured it out, Pachinko is Japanese. Not only is it Japanese, but it's pinball and gambling all rolled up into one. You see, in some parks of the Asian Islands, gambling is illegal. So what do they do? They find a novel way around it.
Pachinko is a little like a vertical pinball machine. You have a small lever that flips little metal ball-bearings up into the machine and lets them drop down through pins and land in various cups. It's kind of like a mini-Plinko from The Price is Right. You can buy balls for a certain amount at a store next door and then you get more balls back when you get one in one of the cups. Then, afterwards, you take the balls back to the other store and sell them back. See? Gambling.
For Hannukah, my dad got me a Pachinko machine. Well, it was a very very early Hannukah. While I was home, and the rest of us were addicted. It was awful. It's unfortunately still in Boston or I'd have it set up here somewhere and my roommates would be bitching about the CLINK-CLINK-CLINK noises.
Virtual Drinking
Yeah… I have no idea what this means. I assume it meant I was supposed to talk about getting drunk while playing video games, but honestly, I don't feel like it. Sorry. Actually, there's not much more than that.
I will, however, tell you of my stop at Lucky Wah's, the worst, but only open-really-late Chinese restaurant in Brookline. We drew. Not much more to it. , who's an awesome artist, asked me for inspiration.
"Draw… a space pirate… from the 21st century."
"That's kind of lame."
"Who's half-man, half-duck."
"You've got to be kidding me… Well, I'll try it."
And so, the Malard Marauder was born: