Behind Locked Doors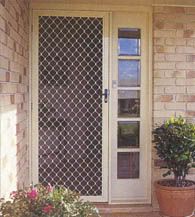 I got lost the other day. I pulled up and found the address I was looking for wasn't there. I knew the fault wasn't mine, but Google Maps, which had sent me to the wrong street by the right name.
The neighborhood was quiet and idyllic. Green grasses gently blew in the breeze in front of ornately decorated houses. Cars without rust or dents parked in driveways before garages. Stone walkways led to the houses. I could feel the safety and comfort radiating from the entire street.
I grumbled a bit as I realized my mistake, crumpling one printout and tossing it in my car. My lack of a cell phone was an unfortunate symptom compounding my sense of misplacement. Still, I was sure I could wander up to a door and be allowed use of the phone.
I jaunted up the walkway to the house on the corner. The lights behind the windows were warm and inviting. I rang the doorbell and immediately heard barking as a small chihuahua ran up to the door, its high pitched yap welcoming me. I grasped the screen door handle to open it so I could talk face to face. It was locked tight. I took a step back, a little agitated and tweaked.
After a few moments, a shadow appeared, picking up the dog and opening the door. "Yes?" she asked through the screen and rot iron security door. Her tired eyes looked at me oddly, a cautious mix of fear and hatred. I took a step back, trying to hide my surprise with a kind smile.
"I seem to have gotten lost. I was supposed to go to 4404, but there's only a 4401 and a 4410 here. Could I perchance use your phone to call and get correct directions?" I swung my hands out front of my and bent slightly to make myself less intimidating. Her expression didn't change.
"I'm sorry. No," she said, her voice wavering as she closed the door.
"Thanks anyway," I called back, maintaining my smile as I turned and strode away.
What could've created this sense of dread in this woman? I thought. Obviously, it's late in the evening. Perhaps her husband is still off at work and she's home alone. It would at least explain her trepidation at a large man randomly appearing at her doorstep. Perhaps there's been some crime in the neighborhood despite its idyllic look? Maybe… maybe it's natural.
I was scared by this thought; by the idea that women could be inherently afraid of men. Certainly, it wouldn't be without reason: we're violent, more often criminals; we're bigger and stronger; we're assholes, much of the time; we lie, cheat and steal; and, perhaps worst of all, we're in control… or at least like to think so.
I approached the next house. After ringing the doorbell, I once again assumed my position a few steps away from the door. Once again, I was greeted by a middle aged woman, her fearful eyes carefully hiding behind her screen door.
God, is it me?
I began explaining myself before she motioned that I needed to speak up. It was then I noticed her screen door was solid plastic with metal bars. I began again, louder this time.
"So I'd really appreciate if I could use your phone for a moment to double check the directions."
She stood there, as if measuring my worth. "Hold on just a moment." She wandered back into the house snatching a cordless phone from what looked like the kitchen area. Upon her return, she grabbed a set of keys from her pocket, and proceeded to unlock her security door from the inside. Maintaining her ability to slam it shut, she handed me the phone, reaching around the door, and quickly closed and locked it again when I proceeded to call.
I stepped away from the door and made the call. It was brief. I could feel the woman's eyes boring into my back, now several steps away. I turned back, a grin on my face and graciously thanked her. "Sure," she muttered, closing the door as quickly as she could.
I couldn't drive away fast enough. Hidden amongst the beautiful yards and lustrous houses was a sense of fear and dread I had never seen before. I've walked through rough neighborhoods in Boston late at night and never feared for my safety. I've sat between thugs on public transport and never worried I'd be accosted. Perhaps luckiest of all, I've sat in my own home and felt secure.
I don't think it's my doing, this fear and mistrust, but overcoming it is as much my responsibility as anyone's.