PS
Sometimes, I get the urge to have a dog. I could run around and go jogging and get slobbered on. I could take her for walks in the dog park, and randomly kick up witty conversations with the other dog owners as my dog bounds among breeds, harmlessly humping without any fruition.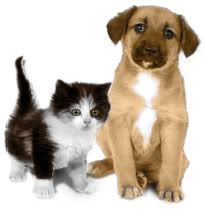 And then I remember what most dogs are like. While I'm lazing about, enjoying my down time, she'd staring and whining and barking, calling for attention I'm not in the mood to give. When I leave for the day, she'd pester my roommates, my friends, and probably the postman because I'm not around. Dogs are attention whores. They're bright, but not intelligent. I could teach her to stay, sit, shake, roll over, and all the other nifty tricks that impress a party. But no matter what, a dog dog is reliant on me.
Sure, a cat won't necessarily come when you call. She won't make the effort to roam about and socialize with the other cat owners. She doesn't really care about anything but lazing about and enjoying herself. When guests appear, she might run and hide, or whore herself out to my friends, or even stick by my side, at least until she gets tired. And sure, I have to deal with being spurned in favor of a nap, or to go chase a mouse, but I can live with that. Cat's are their own people.
My roommate brought home a dog yesterday. When he left today, the dog whined and whined. If I ever get a dog, it's definitely going to have to be a mellow one.
I think I want a Bassett Hound.
« I Was Hep When It Was Hip to Be Hep…
Divorce »