I Was Hep When It Was Hip to Be Hep…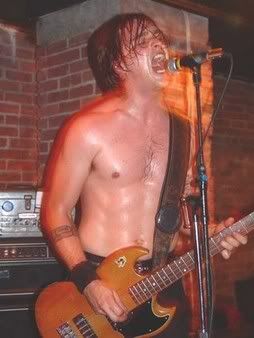 I lack the tight pants; they make my hips look boxy and hurt my nuts.
I lack the nifty slogan splayed across my tight dingy T-shirt; they're so often trite anyway.
I lack the ear spools and facial piercings; I thought about getting my tongue pierced, but I was afraid I'd lose the ability to taste life.
I lack the worn converse shoes with different colored laces; I had them once, but I replaced them when they wore out because I actually used them for basketball.
I lack the massive amount of cryptic tattoos coiling around my arms and neck; maybe someday, but I still need to establish my career before I paint myself fired.
I lack the horn-rimmed glasses; I see just fine out of these, despite how unhip they might seem.
I lack the skinny, heroin addict-like body; I blame bad genes for not being able to wear tight jeans.
I lack the bouncing, eye-covering hair style, just long enough to hide behind; I tried growing my hair once, but I couldn't deal with the midway mullet.
I lack the throwback accessory that just screams 70s loser; I traded my leisure suit for a baseball card cause I never thought it'd be cool.
I lack the uncoordinated, single-leg bouncing dance moves; I can do some ballroom dancing, not that I would in public anyway.
I lack the sense of belonging…
I guess I lack the drive to care.
« Reflections on Actions, Reactions, Refractions and Reflections
PS »