Reflections on Actions, Reactions, Refractions and Reflections
As I pulled off the highway, the gray van tailed me tightly. As soon as the lanes expanded, it zipped passed, whipping into the right lane and then back to the left at an ungodly speed for the stated limit. Sure, the highway is marked 65 MPH and most people drove 70, but just passed that on-ramp was speed-trap central; an immediate and idiotic drop to 45, though everyone drives 60. The van pulled a fair distance ahead, slowly dropping until our speeds were about even and he was seven or eight car lengths ahead.
Suddenly, he broke hard. As I caught up to him, he then sped up again as I broke as well. Before I knew it, there were flashing lights behind me, though I hadn't seen the officer in front of me. Larry turned to me began giving me crap, and considering I was probably going around 60, I knew I was over the limit, but it surprised me that I was being pulled over and voracious van in front of me had not.
SIDE NOTE: Only a few days before, I had paid slightly over $200 to repair part of my oil system. They wanted to repair two more parts, but I couldn't afford it. Instead, I told them to do what was necessary and I'd see how things went. Because of this, I didn't want to push my poor little car to high speeds. In addition, right around 55 to 60, my car begins shaking. It's not very fun. It's not dangerous either, but I can tell when I'm too fast by the shaking. When I was pulled over, there was no shaking. I had intense doubts that I was going very much faster than everyone else.
As my tires passed the line on the side of the road, I turned down the radio and reached into my backpack for a notebook to begin writing down the details of what was happening. "Licence and registration." I rifled through my wallet, accidentally pulling out my insurance instead of registration. I reached for the glove box and dug down to the spare registration, handing it over silently as he walked back to his car.
I snatched a pen from my bag and began scribbling: Time, 3:08 PM; Across from the Flatirons Athletic Club on Foothills Parkway; Overcast and windy, but no rain yet; Other traffic consisted of a large gray van, significantly larger than my car, about 4 car lengths in front of me when I was pulled over; unfortunately the only vehicle in front of us.
"Do you know how fast you were going?" I looked at the officer expectantly. "I clocked you going 76 in a 45." My eyes widened in shock as I forced back the urge to argue. I closed my mouth and swallowed as I waited for his indictment. "I could arrest you for reckless endangerment. That would mean taking you in to the station and locking you up for the night. Do you have $300 on you?"
"No, sir," I said.
"Then you'd have to spend the night in jail." He paused, waiting for a response. I didn't give him one. "Instead, I'll just give you this ticket." He paused again, as if I was supposed to drop to my knees and thank him for his kindness. He seemed to be getting angry by my lack of gratitude. "You need to appear on court on this date here. If you fail to appear, that is a separate offense and you can be arrested. Is this clear?"
"Yes, sir."
"The speed limit is 45 here."
"Excuse me officer, could I get the number of your radar gun?" I asked. He stopped and turned, a scowl appearing on his face as if I had just slapped him.
"It's a laser gun, not a radar gun, and I personally calibrate every morning including this one. The number will be on the back of ticket," he snapped angrily.
"Thank you sir," I stammered, attempting not to make things worse. The officer turned and headed back to his vehicle. I turned to Larry and said, "I may need you to be a witness in court when I fight this."
Playing My Internal SimonTM
I walked through my front door, my limbs and body sore from standing and lifting for three plus hours at the fireworks. My indie sensibilities may have been bothered by the ClearChannel name on the check I was going to receive, but what better way to spend their money than supporting my indie sensibilities? I crossed the room and tossed my weakened frame into a chair at the table. Ironman sat across from me, wolfing down some cereal.
"Got plans for tomorrow?" I asked.
"Gonna sleep in. First time in forever."
"Me too. I'm not even going to bother with first day of classes. I'm so wiped from the passed few days." Ironman threw me a smirk, one eyebrow rising as he looked up from his cereal at me.
"I thought you were missing class anyway?"
"I am?"
"Don't you have a court date?"
"Oh shit! I gotta go set my alarm." I heard him laugh as I bounded down the stairs to my room.
Courtesy and Court Were in a Boat, Courtesy Fell Out…
I could've sworn I was signing my life over to the Devil, but it was only a list of who had shown up. I grabbed a seat at the back and began reading my book, waiting to get called to the podium. Three public urinations, two trespassings, a noise violation, and charges of distributing alcohol to minors and illegal camping, I get called to the podium. I removed my hat as I approached.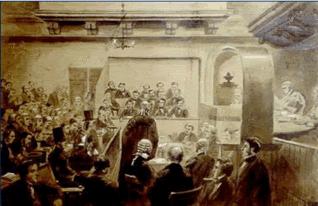 "How do you plead?"
"Not guilty."
"Would you like to speak with a prosecutor?"
"Yes sir."
I was sent down the hall to the DA's office. After another chapter and a half of my novel, I was called in. We went over the report and the officers notes. "Oh, he came and spoke to me specially about this one. He said you had a bad attitude." I recoiled in shock. I was courteous and didn't argue or fight. "He said we shouldn't plea it down." That asshole! "Do you remember what happened?"
"He approached, told me he could arrest me, gave me the ticket and I asked for his radar gun number. He didn't seem happy about that, but I didn't feel either of us were discourteous." She nodded and corrected me that it was ladar, not radar. I asked her how it worked.
"Well the ladar sends out a beam. If it's pointed at a stationary object, it measures distance. If it's pointed at something moving, it measures speed. They calibrate it before and after each shift using two tuning forks, which is a method approved of by the highway board. One tuning for is at 35 MPH and the other is at 55 MPH and the gun has to read at 1 MPH plus or minus that or it's off. The tuning forks are certified and hit against a non-metallic surface and then read. Now, officer Jones usually aims it through his mirror at cars, and it'll only pick up what it's targeting, which means if it's aimed at your licence plate, it'll only be clocking you."
"Ok, but I highly doubt he clocked me."
"Well, that's a viable defense, but it'll be hard to make. Ladar has been found repeatedly to be accurate in court. I'm not saying you can't do it, but it'll be tough. Let's see if we can plea you down. It's a six point infraction… I don't know if there's a five point one I can move you to–"
"Don't worry about it," I said jovially. "I think I can prove reasonable doubt, so I'm just going to request a trial."
She smiled. "Alright, go back into the other room, wait to be called by the judge and request a trial."
"Thank you very much. You've been a big help." I wandered back into the court room and entered my decision formally. The judge informed me I can request a 3 or 6 person jury, or just face the judge himself. My mind flitted about at the thought of running up the court costs, though I'd be paying $25 in court fees regardless.
Physics and the Science of Beating a Bad Wrap
WARNING: The following section is mostly science and how I can actually prove the officer who pulled me over was misusing his ladar gun in such a way that the reading cannot possibly correct. Feel free to ignore it and or skip it if science isn't your thing since it may well be boring.
How Ladar Works: Ladar, or Laser Radar, works very differently than radar. Ladar guns emit a high frequency beam of light that will light up a reflective spot on an object or vehicle. A photosensor than reads back this beams of light and calculates this distance based on the interval of time between when the light is emitted and when it is received back. The ladar then repeats this process to get a second measurement of distance and then proceeds to do a standard distance divided by time calculation to discover the speed of the object. Over the course of a short period of time, the ladar will do many of these measurements and find the average speed, thereby cutting down on errors. Ladar guns even come equipped with software to double check the measurements and make sure the end result appears valid.
Why Mirrors Can Present Problems: In general, it's pretty hard to argue about the accuracy of laser measurements or to claim that the officer had the laser pointed at the wrong object — if the laser gun is properly calibrated, properly maintained, and used in accord with its manufacturer's operating procedures.
Aiming the gun via a mirror, however, introduces an interesting variable to be scenario. Consider the case where the officer is sitting in the police car with the engine idling, ready to spring into hot pursuit at a moment's notice:
Typically, automobile engines idle at a speed of between 600 and 1200 RPM, with most idling in the 800 to 1000 RPM range. Higher performance engines may idle at a higher speed. For the purpose of simplicity, let's use 1000 RPM.
Now let's say that with each revolution of the engine, the car mirror vibrates in such a way as to move about 1.5 mm (about 1/16 inch). That's a change in position of 1.5 mm one way and then back 1.5 mm the other way in each 1/1000 second cycle of the idling engine. — which translates to 30 meters per second.
One meter per second is equal to 2.23693629, so the face of the mirror could be moving at well over 60 miles per hour as it travels through its vibrational cycle. This change in distance is added (or subtracted) from the total distance which each pulse of the radar gun travels from the gun to the target.
Now keep in mind that radar guns are designed to factor out RANDOM movement such as the hand tremor of the person holding the gun and to disregard returned pulses which are clearly inconsistent with the stream of pulses returned over a 3 millisecond measurement. But what happens when the induced error is orderly and periodic as would be the case when shining the laser beam into a mirror which is vibrating at a constant frequency?
If the vibration frequency of the mirror is a multiple of the rate at which the laser gun fires its pulses, the reflected pulses will be consistent with one another and the induced error will appear normal and reasonable to the gun's internal logic circuit.
Keep in mind that laser guns typically fire off 100 nanosecond pulses at a rate of about 250 pulses per second. A car travelling at 60 MPH is moving 88 feet per second. That means that in 1/250 of a second between pulses, the car will have moved only 3.5 inches!
That same car, travelling 10 MPH faster, will have moved 4.1 inches — a mere 6/10 inch more. It's important to keep in mind that we're talking about a technology which uses lasers and computers to measure tiny fractions of an inch in equally tiny fractions of a second. If not used exactly as intended by the design engineers, very small variations can cause very large errors.
And this isn't even touching on flaws in the mirror (see Hubble Telescope disaster) that might cause the ladar to diffuse.
How to Properly Calibrate Ladar: The US courts have consistently ruled that tuning fork verification is adequate to insure the accuracy of a RADAR gun. However, laser guns compute speed by transmitting "Pulsed Wave" emissions of infrared light at a predetermined rate, usually from 100 to 250 pulses per second. These pulses bounce back to the laser gun and the gun's computer remembers each pulse, i.e. when it left and when it returned. This is called "flight time". If the laser gun knows time and distance, it rapidly computes speed of the target vehicle, usually in less than 1/3 of a second. Consequently, the gun must accurately compute distance. Prior to using a laser gun for speed enforcement, the officer should perform a "Delta Test" for distance accuracy using constant distance reflectors at a fixed location. The gun should read the same distance each time prior to use.
The National Highway Transportation Safety Administration offers this document on how a gun should and should not be calibrated.
Official Sources: Finally, I plan on contacting Lasertech, a ladar company out of Centennial Colorado and talking to them about how to properly use ladar. Between these sources, I have enough scientific data to CSI my reasonable doubt in court.
Finely Flawed in All the Right Ways
From here, I have an August 10 trial date. I'll be meeting with campus legal services about representation this week and deciding whether I want a jury trial or just a trial with the judge. Either way, I think I have a strong case. Whether or not I succeed is another question, but my charge carries a maximum fine of $300 plus court fees or 90 days in jail, and I highly doubt I'll serve time if I lose. It is, however, a distinct possibility.
And simply because I could demonstrate with a vibrator, I leave you with…
THE LINK OF THE DAY!: The Illustrated History of the Vibrator
« One Night at the Walnut Brewery