One Night at the Walnut Brewery
She sneezed as I passed, nearly knocking her head into my shoulder. I turned to her and said, "you must be allergic to HOT. I'm sorry. I didn't mean to do that. Please, accept my humblest apologies."

She slapped me.
---
I don't get how Ironman can be less confident than I am. He's better looking than I am, smarter than I am, and certainly has a lot more beautiful lady friends than I do. Somehow, he still can't seem to even have the semblance of relationships. This isn't to say he doesn't try, but he can't even bring himself to ask a girl out. Tonight is a case and point.
Ironman, Little Bear and I went out to eat at the Walnut Brewery. Little Bear is in a committed relationship with his Smurfette, so already he's got a leg up on the both of us. The majority of the evening, we talked about the various staff at the Walnut: who's hotter; who's cuter; who's our type. Little Bear immediately made the statement that the head hostess was by far the best looking woman in the place. Ironman and I both contended that our waitress Ashley was far more attractive.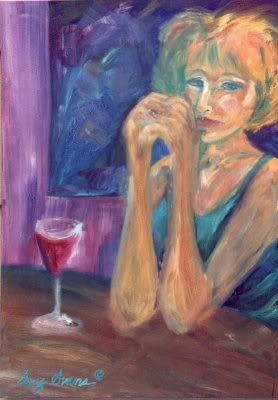 Just to give you an idea of what they looked like (and because keeps complaining I don't talk about women like men normally do), Ashley was about 5'5″, highlighted brown hair, and deep brown eyes. She wore a lot of turquoise jewelry including two necklaces (one with many dangley bits) and earrings. She had a cute, squeaky voice and a brilliant smile. Her uniform didn't really show off her body, but you could still tell she had nice size breasts, not large, but not small, and excellent curves.
The head hostess was about 5'10" with her heels. She had bleached blonde hair which looked to be naturally light brown. She definitely had the figure of stripper or model; large breasts, great legs and ass. Still, there was something about her that made her look just like any other blonde sorority sister. Which isn't to say she wasn't attractive, but that there just wasn't anything setting her apart.
When I expressed the opinion that I found Ashley more attractive than the hostess, Ironman agreed. Little Bear immediately retorted, "you guys are crazy. Our waitress is hittable, but the hostess is PERFECT!"
"She may be hittable to you, but to me, she's a miracle," I said. Once again, Ironman agreed.
Throughout the evening, we continued to discuss and eventually decided that Ironman should ask Ashley out. Of course, Ironman, being the chicken that he is, didn't. Little Bear even went as far as to recommend that he "just whip it out," explaining that it had worked for him in the past (high school). Right… that's just wrong.
Even so, it was quite obvious that Ashley was making far more eye contact with Little Bear and myself than with Ironman. Towards the end of the meal, I decided I'd ask her out, simply because Ironman couldn't. We paid our bill and I headed to the bathroom while Little Bear and Ironman waited outside. On my way back from the bathroom, I glanced about looking for Ashley, but there was no sign of her. Perhaps I should've stayed and asked her out, but I decided just to go instead. Still, I don't understand the fear. What's the worst that happens? She says no.
Perhaps I'll never understand. I, too, was once too afraid to ask a girl out. In some cases I still am. But at least I understand it's an irrational fear and can overcome it when I really want to.
« What if dogs were some of us?
Reflections on Actions, Reactions, Refractions and Reflections »