Grand Theft Papal
There we were, our eyes glaring at the screen in concentration, waiting to see if we could do it; hoping we could, and would, become the next pope.
You remember the Last Starfighter, that phenomenal 80s film in which a small town boy gets to become a starfighter because he got a high score on the video game outside the corner store. It's kind of like that. See, once I defeat the angry hordes of Cardinals and priests vying for the job, the doors would be open to my succession to the Vatican.
Of course, one would assume that if the Catholic faith were going to recruit like using video games, it would be something that tests your faith, religious desire, and knowledge of the precepts of Catholicism. One would be wrong. For those of you who have played Grand Theft Auto, I don't think I really need to describe the game. It was a little like a first person shooter. I was running around Rome, trying to claim territory and kill off my enemies (the opposing candidates for pope) while surviving their counter attacks. Various missions sent me to Michaelangelo's chapel and the Circus Maximus, knocking off the various cardinals, papal hopefuls and all the others wearing their fucking red and blue gang colors.
SIDE NOTE: I never realized it before this game, but religion is just a big gang war. You've got the Bloods (Red/Catholics), the Crips (Blue/Jews), the Militias (White/Protestants), the Mafia (Black/Islam), the Yakuza (Green/Confucianism), civilian casualties (No Color/Buddhists), and a variety of other religious gangs all vying for spiritual territory. You notice that some prefer threats ("you're going to hell") while others attack head on ("NOBODY EXPECTS THE SPANISH INQUISITION!") as their means of gaining territory. Ultimately, it seems as though the majority of people are turning away from belief in God/a greater power due to the scare tactics.

Okay, fine… this theory is a work in progress… give me time.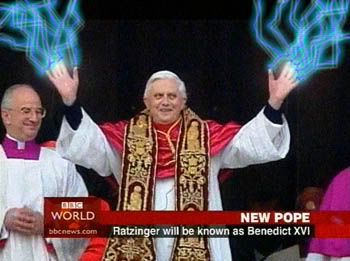 What was even odder about the game is that there seemed to be this magical power involved. All the clergy had lightening shooting out of their fingertips, but their Italian lackeys were still normal people. So I was slamming my fingers on the controller, hopping off water towers and bouncing around the place avoiding these nasties, trying to snipe most of them if possible. Let me tell you, this was one of the hardest games I've ever played, and I've played a lot of fucking games. I mean, who would give the Cardinals super powers?
I imagined that when I finally get the high score, special papal helicopters will appear over my house and robed clergy will come repelling down on ropes and whisk me off to my Vaticastle in the heart of Rome. I'd be hooded and confused, not even realizing what's going on. Then, out of the shadows of this odd little room would Jesus himself.
"Hello, my son."
"Holy shit, it's Jesus! What the fuck is going on here, Jesus?"
"An understandable reaction. You remember that game you were playing? Grand Theft Papal?" I nod my recognition. "Well, it was a papal recruitment."
"Wait, you don't mean…"
"Yes. When it said 'Greetings Pope. You have been recruited by the Vatican to defend the World from Ba'al and the heathen religions,' it wasn't fucking around."
"Dude, Jesus, you just said fucking," I exclaim in disbelief.
"Right, sorry, not in character. You know how pissed it makes me that everyone expects me to act all docile and nice? I mean, you try spending nearly two millenia dead and bored out of your mind. I mean–"
"Jesus, we're in the middle of a story. Pay attention."
"Right, got it. My son, you have been chosen to lead the Vatican and be the next pope."
"NO WAY!"
"Way. And your training starts now. In only a few hours, you're going to be thrown head first into the greatest jumble of religious problems known to man."
"But Jesus, I'm Jewish."
"What??? Shit. Now we've got a fucking Jewish pope. Who the fuck wrote this script? M. Night Shyamalan? What the fuck kind of twist is that…"
Needless to say, Jesus would go on quite irately for a while and then send me home as a disgrace to Catholics everywhere.
Special thanks to for the picture stolen from
Metaquotes
.
« Ten Commandments for Librarians