My Face Keeps Turning Redenbacher…
This week is CU's Conference on World Affairs. The annual conference features panels that discuss everything from abortion to racial divides to the best type of chocolate to use when baking. Every year I attend a few events, but this year, I just don't have the time. Luckily, one of my classes is requiring me to attend at least two events as part of the TV crew.
Today, a panel of Roger Ebert, Molly Ivins, Richard Aregood, and Michael Franc discussed freedom of the press. For the most part, the panel wasn't anything amazing. All panelists agreed that journalists aren't doing their job anymore because they're so complicit in the distribution of manufactured media; that conservatives and the right wing are no longer synonymous; that are a great deal of injustices being committed by the current regime and the media is only making it worse.
The most interesting point, though, didn't come from a panelist, but from a member of my crew. During a brief diatribe on the Bush administration and the greatest faults (and successes) in their interaction with the media, Molly Ivins stated that they "have an almost Orwellian grasp on language."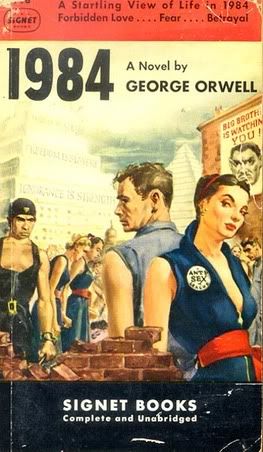 For those of you who don't know, this refers to George Orwell, author of 1984 and several excellent essays including 1946's "Politics and the English Language." Orwell felt that government could position itself differently and abuse the power of language to twist meaning and spin things. I think everyone will agree that's true, even if you disagree and think it's the liberal media doing the twisting rather than the angelic right wing. This alone is a poignant thought that bothers me.
My writing style has changed dramatically due to my training in journalism. I tend not to complicate things with a fanatical attention to word choice, though I certainly could if I wanted to. There's an important reasoning to this: the simpler it's stated, the more people can understand. There's no hiding behind fancy lingual anomalies (big words) or succinct inapplicable euphemisms (random titles). Keeping language simple is difficult, but it pays dividends.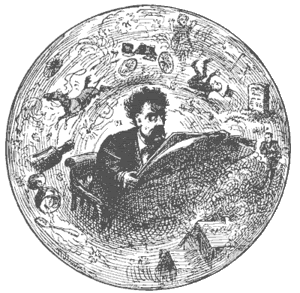 In the modern era, political writing has become a way of dressing up simple ideas so that they're difficult to understand and therefore ignored by the masses. Healthy Forest Act? My ass. Clean Skies Bill? Ha! No Child Left Behind Act? Sure… It's all fancy clothing and there's not a whole lot we can do about it. Journalists aren't helping any by continuing the trend; referring to Social Security reforms as "personal" accounts rather than "private" accounts. I wonder why did Bush and his cronies pushed for this change? Perhaps because the Bush White House found the term "personal" tests better in polls and doesn't offend people by being connected to privatization. What bothers me even more is that journalists aren't fighting this. They're too afraid of losing their press passes, their "inside" connection, and their jobs in exchange for some credibility and integrity.
Regardless, that's a rant unrelated to my original point. After Ivins' comment, I heard someone say, "what does the guy who makes popcorn have to do with it?"
Wait, what? Orwellian popcorn? What is that, popcorn that watches you?
It wasn't until later that I found out the person had confused George Orwell with Orville Redenbacher. How the fuck did that happen? Ok, let's stop and compare:
| | |
| --- | --- |
| George Orwell | Orville Redenbacher |
| White | White |
| Male | Male |
| Dead | Dead |
| Left an indelible mark on society by coining the term Big Brother | Left an indelible mark on society by encouraging obesity |
| Wrote books | Made popcorn |
| Was political and savvy | Was buttery and greasy |
| Had his novels turned into films | Had his popcorn eating during films |
| Had the arch-nemesis of government | Had the archenemies of ho-hos and ding-dongs (surprisingly similar to government) |
Wow. So fucking similar. Way to go American education system. Redenbacher and Orwell, fighting Big Brother in microwaves everywhere.