Of all the things I've lost, I miss my mind the most…
The Art of Being a Grammar Nazi
I've always found it quite interesting that people are able to nitpick little differences. I'm a huge fan of linguistics, where language is always considered changing. Certainly, there is a right or a wrong way of doing things, but in the end, the most common way usually wins out. In this age of technology, more and more people are turning to institutions like the Oxford English Dictionary to tell them right from wrong. Certainly, there's a value to having a convention that makes understanding easier, but when you pick away at understanding purely for the sake of rules, it defeats the purpose.
Recently, has taken up a campaign to end British spellings. I learned to read and write at the French American International School, which teaches many diplomatic children and spends half the day doing French language classes. Many of the teachers, including mine, were European and taught British spelling and grammar. Because of this, I sometimes lapse and write favourite, colour, practise, and other similarly British spellings and uses. It's not my fault, but I'm automatically considered wrong in America.
Grammar naziism isn't just restricted to 's harmless campaign. The other day, I made a quip about an anal probe in a metaquotes thread. The quote, which centered around the purchase of a bra from an unmentionables store, said the inside of the bag was covered in foil to keep the aliens from getting control of our undergarments. The first comment took issue with the fact that bras are not panties despite the fact they both fall under the category of undergarment.
Come on. Really. Does it really matter that much? It's a question of semantics (which I promptly misspelled in my reply) and has no bearing on the meaning. If someone is making a point and flubs a word, makes a grammatical mistake, or stumbles over a sentence, it doesn't matter unless the meaning is obscured. And if there's a question about meaning, ASK IT! Do not assume the person is an idiot and begin ridiculing them!
Don't get me wrong, I need to work on being better about this too, but we need to start conversing rather than interrupting and ridiculing.

The Ultimate Mix Tapes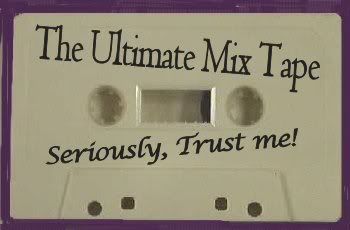 Just before Christmas, the Gay Eskimo introduced me to a few mix CDs his friend had made. Rather than being an incredible mix of music like mine usually are, they had a common sound to them; they flowed. I was blown away. Apparently, all of them are like that. They don't have the tracks labeled either. Merely a title to describe them or their appropriate use.
I really wanted to sit down over Winter Break and make one like that, but I never got an idea or motivation. As Spring Break rolled around, I decided it was time to try. This time, however, the Gay Eskimo gave me a title/topic to go with, simply so I could narrow down my 12000 MP3s to a single CD. He was headed to Vegas for the weekend and gave me until he got back to finish. On Sunday, I sat down to make the Love and Summer Mix.
I both succeeded and didn't succeed. The rules were as follows:
It must be a single CD.
It must flow musically from track to track (not fade between them, but flow, as in the musical tenor of the CD shouldn't change drastically).
One classical piece must be included and it can't be at the beginning or end.
No band or song can be repeated.
Now this was a challenge. I ended up pulling 40 songs and making it two CDs. I was so pleased with it, I've listened to both all the way through multiple times. The play list is posted in this entry.