FOREskin!
Yessir, it seems about that time again. Time to offend the masses with conversation that no one really wants to have and that probably shouldn't be repeated. Yes, today's topic is circumcision. That's right, the act of removing the foreskin from the penis.
[ed. – Why do you talk about penises so much? Is there something latently homosexual about you? Not that there would be anything wrong with that… Nevermind, I don't want to know.]
Now, though I am circumsized, you can rest assured there are no graphic depictions of the act, nor of my penis. Still, it seems appropriate to include the following warning.
WARNING: The following entry contains discussion of a medical procedure that may or may not offend people. If you are under the age of 18, you probably shouldn't show this to your parents or they may get pissed off and send me nasty emails, which I most certainly would not enjoy. If you're over 18, please make sure you're ready for intelligent discussion or an immature flame war in which you write about how I'm an asshole and shouldn't be posting such smut on the internet. Either way, this post discusses the act of circumcision, and may be found offensive. Please Proceed at your own risk.
CIRCUMCISION HAS BEEN PRACTICED IN ONE FORM or another for millennia. Today, it's primarily practiced by Jews, Muslims, and people with medical issues requiring it. The ancient Egyptian tomb of Ankhmahor (6th dynasty, c 2300 BC) has evidence of the practice of circumcision on its walls as seen in the illustration above. Certainly it's taken on a history and mythology of its own beyond the religious connotations it carries.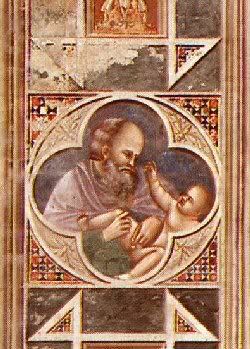 The Jews have practiced circumcision for as long as their written history has existed. Abraham, who made the covenant with god, circumsized himself when he was 99 according to scripture. He hung his foreskin on a string around his neck. His son Ishmael was circumsized at age 13 (one of the reasons Bar Mitzvahs happen at age 13) and his son Isaac was circumsized at 8 days old (the traditional age of circumcision in Judaism). Circumcision must be carried out in the Jewish faith as part of the covenant with God.
In Islam, the Sharee'ah, or holy commandments, require circumcision of both the male and the female. According to this website on Islam, circumcision is part of the beautification process required by God as well as an extension of Abraham's covenant (since Ishmael, the first son, went on to father the Islamic people). The website also cites medical benefits for males, but I'll get to that later. Essentially, the religious reasons for circumcision appear to be traditional and by mandate only. As to female circumcision, the process involves the removal of the clitoris.
SIDE NOTE: No offense to Muslims, but I wouldn't wish that on my worst female enemy. The male equivalent would be removal of the penis. Yeah, not cool. It certainly runs alongside the improper belief that women are inherently evil for creating lust in men, but that doesn't make me any happier about it. I mean, Chinese foot binding, Papa New Guinea scarification, and most body modification rituals aren't exactly kind, but at least they don't take away the Joy of Sex.
---
PERSONALLY, I WAS CIRCUMSIZED. If you don't believe me, you can go check my shaving post in which a picture was included (at your own risk). At the time of my birth, my mother was converting to Judaism, but wasn't Jewish yet, so according to biblical scripture, the covenant did not apply to me. Still, my parents had me circumsized, so this is where the entire discussion stems from.
When I was at boarding school, most of the boys were uncircumsized, and they definitely noticed I was. Occasionally, they made fun of it, so I did some research and ended up with a whole lot of rumors:
Circumcision causes the penis to look or be bigger.
Circumcision takes away the feeling from the penis.
Circumcision is an indication of a sex change.
Those, among others, certainly made me wonder.
In the United States, circumcision peaked in the 1960s with nearly 70% of male children being circumsized. One of my professors claims that circumcision became popular with gentiles because they wanted to be more like Jews, though I highly highly doubt this. Though some sources claim that nearly 90% of American males are currently circumsized at birth, figures seem to be closer to about 40% to 45%. Regardless, many people have taken this up as a controversial and difficult issue.
---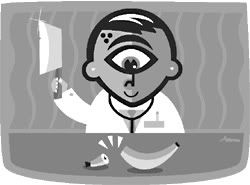 MOST OF THE WEBSITES I'VE FOUND about circumcision are inherently negative. Foreskin.org, run by John A. Erickson (an opponent of circumcision), is often referred to as the authority, but a little research into Erickson's books and it becomes evident that the site is intended to dissuade people through graphic imagery and negative comments. In fact, it's very hard to find a discussion of circumcision that's positive. I can draw one of two conclusions from this: either a) it's a conspiracy meant to detract from those circumsized and make cultures such as Judaism and Islam seem barbaric and inherently evil, or b) circumcision really doesn't provide many, if any, benefits.
Taking a look at Medicirc.org, a distinctly pro-circumcision site, they reference some of the medical benefits for circumcision such as a lower rate of kidney infection among infants, a lower rate of penile cancer, and more recently, a lower likelihood of HIV-1 infection. Detracting sites claim it's a conspiracy to continue the practice.
Since the fight against circumcision seems to take an active role in creating rumor and hearsay, I can only conclude that circumcision isn't as bad as they say. Still, the medical benefits seem much smaller if you compare the arguments.
Hygiene: Circumcision helps keep your penis clean. In some cases this seems inherently true, but many of the anti-circumcision websites claim that if you're diligent, a foreskin isn't a problem.
Health: Circumcision helps prevent disease. There have been rumors that everything from HIV to gonorhea to urinary tract infections are prevented. It seems, in retrospect, that only a few have a lower rate. Please note: lower rate, not absolute prevention.
Visual: Circumcision makes men look like everyone else. The majority of people are uncircumsized. Those who are circumsized are generally for religious reasons, so only in certain circles would this be true.
Now here where some interesting side info comes in. While researching this subject, I came across a website dedicated to nasty stories from piercers about clients who had some… problems. You can read the site here at your own risk. The foreskin allows for the build-up of smegma, which looks like cottage cheese and smells horrific. Regular cleaning should be able to take care of this, but I can guarantee most guys don't stop to clean it thoroughly every day. This alone, gives me reason enough to support circumcision.
I don't expect to get an STD, and as I'm currently clean, I'm definitely careful about using protection. Still, I also came across this article: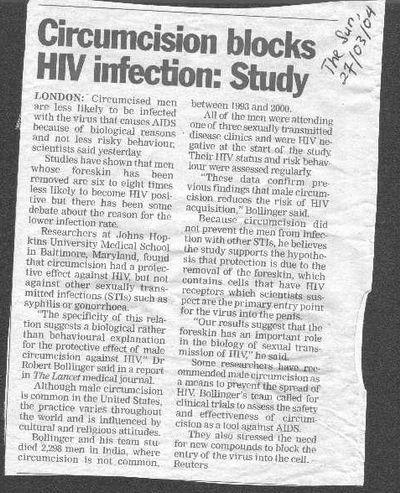 I don't know whether circumcision prevents disease or whether it causes lost sensitivity. Personally, my penis can still feel just fine. Still, weighing the pros and cons based on what I've read, I know that when I have kids, if any are boys, they're getting circumsized.
If I missed anything, please comment and let me know. I know skimmed certain points and could've drawn this out even further, but I chose brevity… mainly because I'm hungry and want to go cook.