Seeing Eye to Eye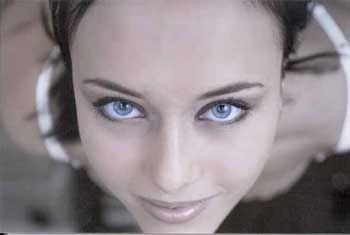 There's something about catching a woman's gaze that sends shivers down my spine. There's a depth to eyes that rivals what's truly inside someone. you look into them and you can see the raw emotions swirling about, even if you can't decipher which emotions they are. When you catch a person's gaze on the street, one of two things happen: either they look away abruptly indicating that they wanted to remain voyeuristically hidden, or they smile, say hi, and perhaps, if you're lucky (or unlucky in some cases), strike up a conversation. This alone is indication of the power of the eyes.
Beyond that, the gaze of attraction, interest, or even passing approval is enough to cause my soul to glow with the brightness of a major nuclear meltdown.
[ed – That's one of the least poetic poetic statements ever made.]
As I entered the train to my terminal at DIA, a lovely young woman caught my eye across the train. Normally, I'd probably just gawk, stare, or look away, but when our eyes made contact, all I could do was smile. She got out of the train and headed towards the escalator, myself in pursuit. Of course, those trains were packed, so I was nearly 20 yards behind her by the time I got to the escalator. Her entire ride up, she kept her eyes trained on mine, only turning away when changing escalators.
When I reached the top, she had turned and was headed towards the other end of the terminal from where I wanted to go. The choice was there. I could follow her, strike up a conversation, maybe get her number and perhaps a date when we both were back. Or I could go to my gate, fly home, and hope for another beauty another day. I think you can guess which I chose.
Regardless, that moment has stayed with me. Her light brown eyes meeting mine. Few memories will stay with me like that has.
« Pope: "My Senility is Clouding My Judgment"