Greater Than Thou…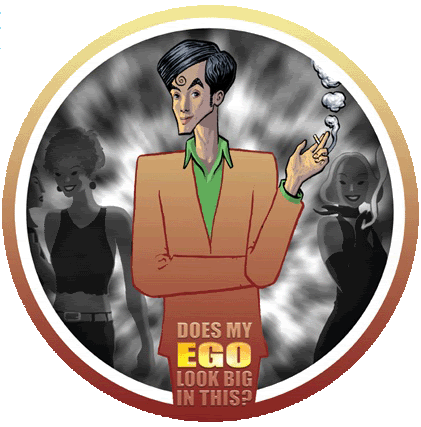 I know I've always had somewhat of an ego. I knew I wasn't stupid and I felt very few things were below my ability. But now, it's starting to get to a whole new level. And what bothers me isn't that I feel as if I'm getting to be an arrogant bastard (I am), but that I feel I deserve to be.
During high school and even early college, I felt most people were as smart as me, if not smarter. I rationalized poor performance on their part on a lack of effort, much like my poor grades. In general, I assumed that intellect was a measurement of willpower and desire rather than a difference in ability or prowess. Certainly, some people were disadvantaged and some were ahead of the game, but when I looked at someone, I tried to see what they could be rather than what they were.
And then came college…
My freshman year, I dove into challenging classes, forcing myself to put in effort just to keep up. Two of my classes were primarily seniors, and I was on the same level with them, but I thought it was merely because I was working for it. My sophomore year, I began to take it easy, challenging myself when necessary, but trying to enjoy the experience instead of driving through it as most people seem to. Now, in my fifth year, I go into even advanced classes and all I can do is dread the imbeciles and their ignorant nature.
SIDE NOTE: This isn't to say there aren't smart people in my classes or than everyone who seems stupid is stupid. On the contrary, I believe many people have latent talents they're not even aware of. For instance, there's this one multi-talented girl in one of my classes who can talk and annoy me at the same time! As long as I'm in a side note, let me define what I mean by ignorant nature. When I go into a class and a question is asked, the same answer will be given 3-10 times in different ways. And it will NEVER be the COMPLETE answer. I understand that it's difficult to articulate ideas you're barely familiar with, but when the question is "why would people be opposed to Eminem's music," people can do better than "because he swears," "because he uses offensive language," "because he's offensive," and "because people are bothered by him." I mean, Jesus, this is a college fucking classroom. I know most of you are hungover and couldn't care less about a class, but it's fucking pop culture that drunkards that couldn't care less should know about…
I really can't tell if I've gotten smarter or if God's playing a bad card game with America's youth. Perhaps I'm a victim of a public university, which is highlighted by overflowing classes filled with undereducated kids who prefer T-shirts saying "2003-2004 #1 Party School" to "2003-2004 #4 Education" or "2003-2004 #2 Paying Graduate Job Placement." Perhaps our motto should be "Logic is for Ivy Leaguers!"
And that's what bothers me. I walk into a classroom where I expect myself to try and participate, but instead I sit around venomously bad mouthing all the ignorant bastards in my head. I should be participating and trying to make things interesting so the class might be useful. I should be challenging and assisting my hard pressed neighbors. But instead, I'm becoming a jaded, bitter, arrogant asshole.
Or maybe I'm just the first official member of Generation What-the-Fuck.
« Things To Do While Held at Gunpoint