Rule of Grenade
The female social structure provides many an hour of contemplation. This evening, as I was being driven home, mere moments ago, we passed a trio of girls. Two of them wore skirts that were far too short and showed off their emaciated legs.
"Those skirts were way too short," I said.
"Yeah, and they had an ugly girl," replied the Gay Eskimo.
"All clicks have an ugly girl."
"No. Some are all pretty ones."
SIDE NOTE: My theory of girl society is based on the premise that in any group or click of 3 or more girls, there is always one girl who is there to make the others look and feel better about themselves. For some reason, this doesn't seem to be true with boys, but in any group of females, I have yet to miss out on the "ugly girl". Now, don't get me wrong, the "ugly girl" isn't necessarily ugly. In fact, my theory relies on the fact that the "ugly girl" could be quite beautiful, as long as she's still a step or more below those of her peers. The reason why it has to be relative like this, is because people aren't stupid. If you're significantly less attractive than the group you're around, you realize it. On the other hand, if you're only slightly less attractive, by being brought into a higher level click, you may rationalize that you belong and you're better looking than you are, thereby making the illusion complete and continuing the societal norm. Obviously, there are exceptions to this. For instance, women's libbers, feminists, and extremely intelligent groups of females generally make an effort to specifically avoid these types of social communities that inherently discriminate based on looks. Still, it seems almost inevitable that girls subconsciously create this type of environment because of the emphasis our society places on generalized external beauty.
"That can't be true," I snapped back. "The entire ugly girl theory is about relative ugliness. Even in a group of pretty girls, one is less pretty than the others."
"But then it's irrelevant. Then they're all pretty."
"No, it's relative. I mean, yes, they're all pretty, but one is still the 'ugly girl', as in the social construct."
"If they're all pretty, then there's no problem. I mean, if you get stuck with the ugly girl and she's pretty, you won't be complaining," the Gay Eskimo hollered.
"But this isn't about us. This is about girl society! There's an entire range of beauty from ugly to pretty! I mean, if you stood every woman in a line from one end of the spectrum to the other, there would be a large area where it could go either way."
"No! Beauty is absolute. I can point to exactly where the cutoff is. On one side, ugly. On the other pretty."
"No way. I mean, add a little liquor and your line is fucked."
"But the scale is drawn when you wake up in the morning."
"Ah, so you're that kind of bastard."
"Yup."
"But we're talking about girl society here, not your individual preference. And if you asked a group of guys, they would not have the same cut off, so it remains that there's a gray area of overlap."
"We aren't talking about all guys."
"Right, we're talking about how even in a group of pretty girls, there's an 'ugly girl' who's not as pretty as the others."
"But if she's pretty, she's not an ugly girl."
"It's relative, you cock! She's still the ugly one by comparison!"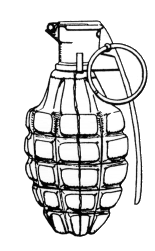 "Bullshit! If they're all pretty, the Rule of Grenade does not apply!"
"We're talking soc… rule of grenade?"
"That's what I said." I paused, perturbed by the sudden shift in topic.
"What's the rule of grenade?"
"You haven't heard of the rule of grenade?"
"No."
"Jesus. I thought everyone knew the rule of grenade."
"Yeah, well, I don't," I said, my voice equal measure intrigue and embarrassment.
"It's the rule of grenade. If there are 3 or 4 guys AND girls, and there's an ugly girl, the rule of grenade applies. One of the guys has to throw himself on the grenade in order for the others to score. If one guy gets the grenade one night, someone else takes it the next."
"But the ugly girl theory isn't about who you'd screw."
"Damn straight it is," the Gay Eskimo said. "And if she's pretty, and I'd fuck her, there's no ugly girl."
So here I am, perturbed by this new Rule of Grenade theory. Personally, I can see how it would come about, but I've never seen it put into practice. I've heard of the Wingman theory, in which a guy gets a friend to take the girl he's seeing's friend out on a double date in order to perform necessary social function, but nowhere does it say the Wingman has to bag the girl's friend. And even then, it simply seems wrong to divvy up the action like that. Besides the fact that I believe there must be some attraction, to delegate the "leftovers" like that is such a demeaning decision. Officially, the Gay Eskimo has taken a step down in my book.