Good Deeds?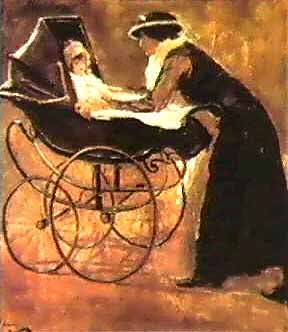 This morning, my first day of semi-health back, I biked to the bus stop and caught the bus to campus. While waiting for the bus, a young mother and her child arrived at the stop as well. When the bus pulled up, I carried the stroller (pram for you Brits) up onto the bus for her and then went back out and put my bike on the rack.
Why?
I like to think of myself as a good guy. I try to be helpful when I can, but I don't understand why I do random acts of kindness. Sometimes, I do good things because it makes me feel good to do them; sometimes, because I feel it's my responsibility; sometimes, in order to receive a reward. Today, though, there really wasn't any reason to help out.
When the bus stopped at the Pearl Street Mall, I helped the lady off and then returned to the bus. As I sat down, it shocked me to think that I had no reason to do that. Aren't I supposed to be a self-centered bastard? Why do I hold doors, or even assist in things I don't need to?
Even beyond that, how come some people see me as an offensive asshole and others as a sweet, nice guy? I know I'm an asshole at times and I'm nice at times, but it bothers me that people pigeonhole me into one category or another.
So let me ask you? Why are you nice to people? What do you get out of it?