The Best Bad Decision I've Ever Made
Before I begin, I'd like to to point out that the title of this entry is "The Best Bad Decision I've Ever Made." I like that title; it's apt, humorous, and I actually said that to Jason, the artist who worked on me. God that sounds weird. Someone worked on me. It's almost like plastic surgery, except not. Anyway, I'm about to go into a long, detailed, in-depth look at my tattoo, so if you're not ready to see or hear about what it was like avoid it.
There were butterflies in my stomach when I went to bed last night. I tossed and turned and didn't sleep very well, but I did sleep until 10 this morning (when I was woken up by a telemarketer, the asshole), which gave plenty of rest. By noon, I had settled into my state of calmness.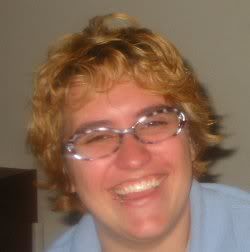 SIDE NOTE: For those of you who don't know, I have three possible reactions to fear. If someone jumps out at me, all my muscles tense up fast, just like almost anyone who isn't expecting it. If I'm anxious or nervous about something I don't know the outcome of or don't understand, I throw myself into a project head on. That way, I distract myself until the worst is over or until I know what to expect. Finally, if I know what to expect, like when I play a big game or do radio, I get deadly calm about 30 minutes before showtime. With the tattoo, it was like that, only 6 hours before showtime.
I sat around surfing the web, chatting with friends, and was completely disassociated with myself. I mean, I was there, but I wasn't. Around 3, I started cleaning up and getting ready, even 3 hours before I would actually get the tattoo done. Shortly thereafter, psychotik called. Her plans for the evening had fallen through, so she would be joining and me on the journey. We sat around and played a game of Simpsons Monopoly in which she thoroughly trounced me (her 9 Free Parkings to my 7 times in Jail). As the time rolled around, I still hadn't heard from . I gave her a call, but she had been hung up a work and couldn't make it. Definitely disappointing, but probably more so for Dixie than for me (you'll see why).
Shaking and Shivering
After a quick stop at the bank to take out far more money than I hoped to spend, we headed towards Denver and Twisted Soul Tattoos. We got there just in time. I had 5 minutes to spare before my appointment, so it was cutting it a little closer than I wanted to, but not too close. I announced my presence with typical royal fanfare, trumpets spewing ghastly orchestrations into the air as the doors swung closed behind myself and my royal caravan… That doesn't sound right… I wandered over to the reception desk and told them I was there (which I thought was obvious) and that I had a 6 o'clock appointment with Jason.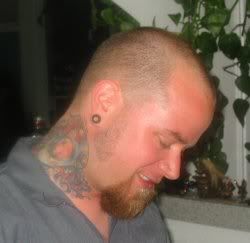 For about 10 minutes we waited. I flipped through Jason's portfolio, showing Dixie all the pieces I really loved. There's one piece he did of a tiger that is just stunning. Let me say that again for Dixie's sake:
IT WAS STUNNING!!! STUNNING!!! HAHAHAHAHA! I SAID IT AGAIN! STUNNING!!!! AND THERE'S NOTHING STUNNING YOU CAN DO STUNNINGLY ABOUT IT!!!
It was also elegant, beautiful and swanky (I hope that's a little consolation, Dix). There are very few pieces of art that make me stop and stare, but I couldn't stop staring at that. It alone was the reason Jason was my choice. If he could make a tiger that beautiful, an owl would be nothing.
When Jason finally came out, he had a lovely sketch of an owl, which I didn't want changed a bit, in front of a circular moon. I was a little surprised at how large the design was since it was still missing the moon underneath. We deliberated for a few moments before I conceded that the design with the moon would be far too tall and that if we did size it down, it would lose too much detail. As a compromise, we turned the circle behind the owl into a crescent moon. I was a little unsure of the decision, but Dixie said she liked that design better. I couldn't complain. It still had the same symbolism as before; it was an excellent drawing; and I was very happy with the way the owl looked.
I was still shaking a little, but already Jason was wooing my confidence back into form.
Print, Press and Go
It's sort of depressing that I lay there like a queen. Dammit. I think I've just resurrected one of my high school nicknames: Benny of Dubious Masculinity.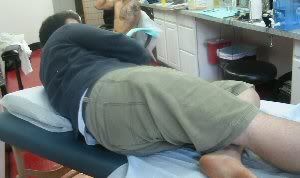 No design is without risk, so it's easier if it was already on my leg before we began. Using an old mimeograph (it's a 19060s-70s photocopier), Jason copied the design onto carbon paper. Though I never realized it, the use of this carbon paper allowed the carbon to come off on the skin when wet, so he wetted it down and pressed it on my leg, planting the image. I think it's tremendously cool that old school technology like that finds such interesting new uses. I did have to stand up and model the design to make sure it sat properly and that my leg wasn't warping the image when reclining.
Regardless, I was set to begin… except for the nerves.
The Process
For two and a half hours I lay there; hemming and hawing; cringing and crying; moaning and whimpering. Actually, that's not true. It was definitely painful at points, but not nearly as bad as I thought. At worst, it felt like being stung by a bee over and over, except without the swelling and dull throbbing from the venom. Perhaps a better analogy would be to say it was like having a radial sander taken to my leg. I'd give you some of the others I came up with while trying to distract myself, but they weren't very good. Trust me. It's amazing how poorly your mind works when you're avoiding pain.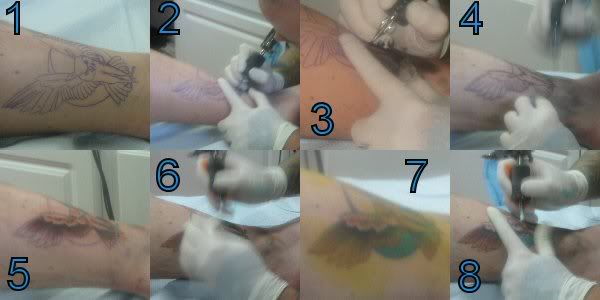 Step 1: The application of the carbon paper. This gives the artist an outline of what's to come.
Step 2: Start filling in the outline. The first few lines weren't the most painful. In fact, they felt fine… that is, until I realized it got worse. My leg kept tensing up of its own volition. Terrible etiquette if you ask me.
Step 3: Clean the workspace. It gets messy quickly. Every once in a while, Jason would stop and take a damp cloth to my leg to clean off the excess ink. The breaks were so nice. I really do wish they came more often.
Step 4: I asked Jason if he was planning to outline the moon, and he thought it would be cool to just do the moon in blue. I was wholeheartedly for that suggestion. Once the outline was done, it was time to start adding color. I had told Jason I wanted a kind of brown and white owl, so he started with a deep brown and red.
Step 5: Once the red was done, my leg had begun to fall asleep and I was feeling pins and needles. Unfortunately, he was working on the awake one so I had needles in both. I got up and walked around, stretching and grabbing a glass of water. I needed it bad. I also took the time to glance at how it looked in the mirror. Even just this far, it looked good and I would've been happy.
Step 6: Jason began filling in the wings and the moon. By far the most painful point were where he came up onto my shin and into the crevice between the muscles. The consummate professional, he added details I couldn't be happier with and colors I couldn't have seen myself. I especially liked the deep turquoise of the moon.
Step 7: Jason began to fill in the little details. He added yellow to the wings, making it look like aged feathers. Of course, I couldn't actually see this, since I was busy talking to the other tattoo artists and Dixie. It's kind of sad how little attention I actually paid to the process after the first 15 minutes of asking everything under the sun.
Step 8: With everything almost done, Jason's food arrived from a local Chinese place (he ordered the teriyaki chicken), so I offered to let him take a break to eat. He said he was almost done, a mere hour and a half after the ordeal began, and that food could wait. With just white dabs left to tack on, the tattoo was basically done.
Post-Partem Impression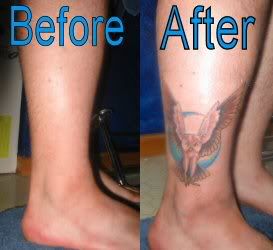 I am so pleased with the way it turned out. My leg stung slightly and I had to leave the bandage on for two hours, but other than that, it was much easier than I could've hoped. I can't swim for at least a week, possibly two, but other than that it was totally worth it. The tattoo ran me a fair bit more than I had expected, but Jason even gave me a discount when I explained my financial situation. And all the while, with my back turned to her, Dixie stood there and took pictures. As Hadji would've said if Dixie were in Bannon Custody Case, "I owe Dixie very much big time."
As you can see on the right, the difference is impressive. The tattoo is actually about six inches high (I measured tonight) which is nearly twice the size I originally planned. I apparently am "sexy" with shaved legs, so I may need to try shaving the rest of the way. I'm not sure about that, since I think the only way it would work is a full body shave, but maybe that's a discussion for another entry. Regardless, there's still a bunch I need to do to care for it:
For the first two days I need to wash it with antibacterial soap and apply Vitamin A&D ointment 4 times a day. I just finished my first application. After that, I need to apply skin lotion to it for another week and a half just to keep it moist. Perhaps the trip home to more humid climes will assist with that, but then again, who knows. I also have to stay out of the sun, but that shouldn't be a problem. And finally, I can't pick any scabs. They say the healing process takes two weeks, but I've always been a quick healer, so I'm estimating a week; just in time for my trip home.
Dixie keeps telling me this is my "first tattoo," but I can almost guarantee it'll be my only tattoo. Then again, you never know.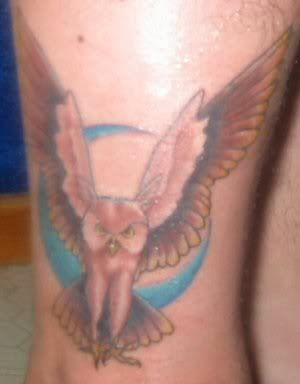 And with that, my tale it through. I highly recommend that any of you considering tattoos consider them thoroughly and carefully before getting one. If you do decide, I definitely say go down to Twisted Sol Tattoos in Denver. They may cost a little more, but they treat you right and their work is second to none.
If that's not enough for you, perhaps you should chew on this for a little enjoyment.