The Tale of the Suicidal Motherfuckin' Bee
The Tale of the Suicidal Motherfuckin' Bee
as narrated by Eddie Murphy
Once upon a time, there was a bee. His name was Harold. Harold had always been a hard worker. He would go out and collect pollen for the honey factory and come home to mate with the queen like a good drone does. He even won drone of the week once. Everything was going well for Harold.
But Harold wasn't a happy bee. Harold suffered from clinical depression. Can you say clinical depression, boys and girls? Very good! When someone suffers from clinical depression, they start taking drugs. Drugs make everything all happy inside, but they make people look like shit. Unfortunately for Harold, there's no pill-popping solution to fix his problem. He couldn't start abusing Xanax or Paxil like we can. Bees don't have pharmacologists.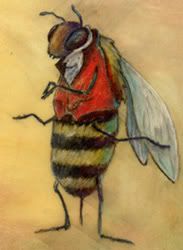 As Harold got older, he started getting arthritis. That's when your fingers get really sore in the joints, and not even joints can take the pain away. This made Harold a bad drone. The mean old queen bee put Harold on administrative probation and wouldn't let him mate. Harold was angry and depressed. He began drinking heavily. Soon, Harold was stricken with cirrhosis of the liver and kidney stones. One day, Harold found his stinger wasn't as stiff as it used to be. Harold was suffering from erectile dysfunction. Can you say erectile dysfunction, boys and girls? Very good! Harold spent all day in front of the TV very depressed.
When his administrative probation finally ended, Harold was happy. The queen bee called Harold into her chamber to mate, but Harold was flaccid. His stinger was so limp and soft, it made the queen very mad. The queen was so mad, she demoted Harold from drone to worker bee, taking away his mating rights. Harold was sad. He was so sad, he went and got shit faced. Can you say shit faced, boys and girls? No, shit faced. One more time. Shit faced. Forget it. Harold got drunk.
Harold was so depressed, he decided he wanted to die. Harold became suicidal. He decided he wanted to go out with a bang, but he didn't know how. Then he saw a commercial with Bob Dole. Bob Dole said "Harold, you don't have to have a flaccid stinger. All you need to do is believe!"
Well, Harold was overjoyed. He rushed outside and looked for the first thing to sting. He zoomed over the grass, but there was nothing to stick his stinger in. Soon, he was above the pavement. Harold was flying so fast, he ran right into a poor young man walking to class. Harold immediately thought it would be good to sting this young man. Harold believed his poisonous stinger could kill this man. What better way to go out than as a giant killer, thought Harold. And so Harold stung him.
"Ouch," yelled the innocent young man. "That fucking hurt!" The poor, innocent, young man turned around and saw Harold's body lying on the sidewalk behind him. "You motherfuckin' bee! You fucking stung me!" he yelled. "You suicidal mother fucking bee!"
Harold smiled with his last gasp. He drifted off into the depths of hell where he burned for all eternity for stinging the poor, innocent young man. The young man jumped up and down on Harold's body, mushing it into the sidewalk. Just as he wished, Harold was dead.
The End.