Short Skirt, Long Jacket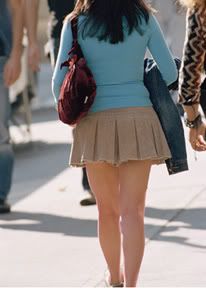 Today was unbelievably gorgeous. It meant the women were out in force, simply a pure joy to watch. But something really got on my nerves. I saw ten or twelve women, every time I went outside, holding their skirt down. The point of wearing a short skirt is to show off. I know that. You know that. They know that. We all know that. I really do enjoy when a beautiful woman shows off, but there's a point where it's too much, and I'm not talking for me. I'd be happy if clothes were abolished for beautiful women. If they're walking around holding the skirt down, IT'S TOO SHORT! I just don't find an uncomfortable woman attractive (hence my problem with stilettos on women who aren't enjoying them and pointy toed heels). If you're going to show off, be my guest, but please don't make yourself uncomfortable doing it. I've seen women in sweat suits look better than a short skirted woman who's freaked by how short the skirt actually is.
And while we're on the topic, where the hell did those frilly bottomed short skirts come from? Those things are one of the most awful trends I've seen. Next to Capri pants, it's the worts fad ever. Of course, just like with Capri pants, some people can make these skirts look good, but how rare that is. Even good looking women look stupid in them. I feel weird and prudish saying it, but I just don't think less is necessarily more.