A Lonely Jew on Christmas
It's that time of year again; that time of year when we Jews trade in our menorahs for hanukkiahs and our guilt for gelt. Welcome to eight nights of lots of latkes and scads of soufganiot… or it would be, were I keeping up with the Cohens.
This year, I get to play Passover's four children with my holidays: How is this Hanukkah different from all other Hanukkahs? On this Hanukkah, I'm spending Christmas with my Christian side of the family.
Of course, I say this with a grain of salt. My grandfather remarked earlier today that he thinks the world would be a better place if all religion had never happened. It's not exactly the right wing ideology I expected, but my grandfather is full of pleasant surprises.
To be honest, I've been so focused on my epic fail at finding a job in this magnificent economic time that I didn't remember what time of year it was until Guillaume dropped me a note with a picture of his beautiful hanukkiah (pictured above). As he was so gracious to host me in Belgium, I want to wish him and his family a Happy Hanukkah, especially since Fortis is slowly causing the collapse of the Belgian government.
So in honor of these strange and wonderful days following the winter solstice, I'd like to wish everyone a merry Christmas, a happy Yule, a less grouchy Festivus, a bodacious Bodhi Day, a happy Hanukkah, a killer Kwanzaa, and a glorious snow filled December by treating you to the following exchange with the always excellent Dixie: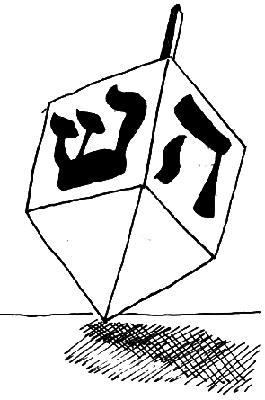 Dixie: I think Joe Biden and Dick Cheney should be on Celebrity Death Match.
Ben: That show is still on the air?
Dixie: No, but it SHOULD be.
Dixie: Because claymation is win.
Ben: Claymation does kick ass.
Dixie: I could never make anything out of clay.
Dixie: Even making a Gumby was beyond me.
Ben: but we have Moral Orel…
Dixie: I don't like Moral Orel.
Ben: I made a little dreidel once.
Dixie: You made it out of clay?
Dixie: Oh FUCK YOU for getting that in my head.
Ben: hahahaha
Ben: Point to me!
Dixie: First star wars1 and now this?
Ben: It was necessary!
Ben: Tonight is the first night of Hannukah!
Dixie: No. It wasn't.
Dixie: Die.
1From a previous exchange found in comments here on this Worldwide Ace post.