Brave New Media
The flashing neon reflects on the street as we pull up. It always does when it's this cold and every crevice in the road is iced over. I have no worries about that, though. I've got media on my mind.
—
On Wednesday, I stumbled into a strange little event called Ignite Boulder, my never-worn pinstriped suit separating me from the crowd of stylish hipsters and styleless techies. I knew only three things about the event: it was supposed to be fun; it centered around slideshows in which the presenters had to keep up with the slides; and it was attached to that magical word that sets my Jew senses tingling: free.
The stench of thumb sweat and beer wafted through the heart of the Atlas building as geeks, nerds, and hipsters swigged free swag (thank god for corporate liquor sponsorships) and punched their iPhones and Blackberries into submission as a projector threw their tweets and photos across the white screen up front. "We are all cyborgs," Amber Case would say later in the night, eliciting nods and chuckles from audience members attached even then to their portable internet.

At one time, I was near the cutting of technology. I was given my first portable computer at the age of four in 1985, albeit the portable edition of the Commodore 64, which was as cumbersome compared to laptops as those brick cell phones were compared to the cell phones of today. Before the World Wide Web" was more than 50 pages, I played with a beta of the Mosaic browser at the library at MIT. And my father and I wired a home network on coax many years before tearing it out and rebuilding it using CAT5.
Seeing all those little machines made me a bit envious and a bit annoyed. I don't like cell phones and being connected 24/7. It's too easy to say or do something stupid and regrettable in the spur of the moment. It's too hard to escape for a few moments of respite. And here were all these smiling faces clicking away in messages that would mainly reach other people in the same room. We all stood only feet apart, yet we were connected by wireless threads and separated by the void of technology.
"How many tweets could a twitterer tweet if a twitterer could tweet tweets?" GalacticDev joked at the break.
"You're not on Twitter?" the Pug of War (@PugofWar) chimed in.
"No."
"You should get on it. It's epic," he said with a grin. "I bet @BenRoberts isn't taken yet."
"But why do I want to be on Twitter?" I asked.
"Because it's cool?" His answer was tepid, as if he were surprised that anyone would ask such a question.
"It's just like that presentation," I laughed, referencing Brandon Geiger's discussion of swarm intelligence and its relation to the future of media. "Why do I want to be involved with this new media? I simply don't see the point of spending an extra fifty dollars a month on cell phone data use for something that's just cool."
My answers belied the interest. I was merely rationalizing. As my Motorola Krave was still fresh off the presses, I had more than a week of free data use left to test out these recent pieces of internet wonder. After all, I had joked about getting Twitter before entering Egypt as it had already saved one journalist from the hands of tyranny.
—

Hot IQs FTW!
You know I used to work with Elaine at 1190.
@ Bluebird Theater (3317 E Colfax Ave, Denver, CO 80206, USA)
The last thing I wanted in a phone was a camera, yet here I am snapping a photo of the Bluebird Theater's marquee and slapping it up on my newly created BriteKite account (which I linked to my Twitter account, which I could crosspost to here using LoudTwitter, which would automatically crosspost to LiveJournal using the WordPress plugin LJXP as well as going out via Feedburner using RSS, creating a very integrated web of oddity; it's mind-boggling).
Despite the exclamation point, I'm not nearly as excited for the show as I am to play around with my cell phone. After all, while the Hot IQs are a great local indie band, my only real draw to them is that I used to work with Elaine at Radio 1190. Well, that and I enjoy spending time with Bekah and her sister and this is their sort of show.
We congregate in the middle of a pathway, chatting and leaving the hipsters annoyed and trying to decide if they should push past or go around. It brings a little bit of joy to my heart. The bright flashing light behind me is hard to ignore. When I turn to look, three things strike me: there's a camera and projector set up; there's a giant robot; and there's a cute girl running the show. Now that's how to grab my attention.
I get the four of us to duck in for a couple pictures amid protest and ask the young woman what it's all about. Gigbot is a local web startup dedicated to networking shows. The site provides a list of shows in the area and allows you to connect to photos from the show and find other people headed to the show. They also have contests to win tickets and, like tonight, sometimes set up photo booths at shows. Ali, the master of ceremonies for Gigbot tonight, is gracious enough to pose, though the bright projector makes everything else terribly dark. It makes me wish I had my SLR.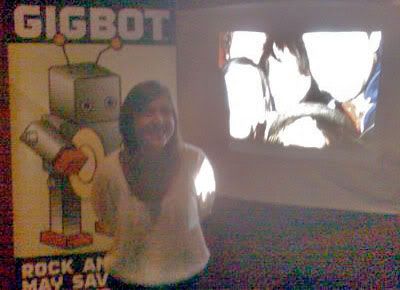 Ali from Gigbot. What's Gigbot?
Photos and local music apparently.
@ Bluebird Theater (3317 E Colfax Ave, Denver, CO 80206, USA)
SIDE NOTE: It's impossible to get a phone without a camera these days. At least it's impossible to get a good phone without a camera. Trust me. I've tried. I don't like having a camera because often phone with cameras aren't allowed places, like gym locker rooms, or press briefings, or Iran. But I'm finding that it's really convenient to be able to pull out my phone, which I keep with me anyway, and snap a picture. It means I don't have to lug my SLR around. I adore my SLR, but it weighs a ton and is huge. Admittedly, my phone only had a 2 megapixel camera, so I shouldn't expect great pictures, but it's depressing to see my standards of photography drop so significantly simply because I'm not using the right tool for the job.
The opening act is the Young Coyotes. They're not really my thing, but I try to concentrate on the beat and bob along. In my down moments, I fiddle with my phone and drop another BriteKite post. I'm surprisingly entertained tapping away, even though I know Jen is the only one aware of my Twitter or BriteKite feeds. The idea of live blogging an event is pretty neat. It would be even neater if my notes during an event were as polished as my final product, but you can't have it all; even if you're live blogging a child's funeral (a round of applause for stand up publication The Rocky Mountain News and its editor, John Temple).
Between acts, the gigbot photobooth goes nuts with activity. People are definitely having fun with it. One guy's girlfriend even fixes his hair in devil horns for a picture, the styling taking about a thousand times longer than the photo. The Bluebird is beginning to fill up, though there can't be more than a five hundred here tops. I wouldn't expect much more for a local band, even one as good as the Hot IQs, especially given that today was graduation day at CU and everyone's headed out for the holidays.
The marquee only had the Young Coyotes and Hot IQs named, so I'm a little surprised when another duo walk on and start blasting retro thrashy dance music. The Chain Gang of 1974 is pretty slick, and the singer moves almost identically to Mick Jagger. They play with so much energy, it only takes a couple songs before the whole place is bouncing and laughing raucously. I duck up front and snap another dark picture to remind myself of this band.

The Chain Gang is wicked awesome!
Think My Robot Friend plus Felix da Housecat.
@ Bluebird Theater (3317 E Colfax Ave, Denver, CO 80206, USA)
We all move up front for the main event. A dance troupe in 80s lycra come out, throwing everyone off their game, but as soon as the Cyndi Lauper medley begins, I'm rapt. It's not the greatest dancing, but it's not supposed to be. That leads into a new music video for the Hot IQs, complete with a limited edition seven inch being sold at the show. The video, too, is totally 80s in all the right ways.
The Hot IQs, as expected, kick it pretty well. Everyone gets excited for the old songs, but the newer stuff is better musically. A couple drunk assholes in the front spill beer all over three of us. This after annoying the hell out of us for several minutes while stumbling over and running into people. I'm tempted to slug the prime douche.
The high point of the night was the encore, where they covered "I Think I Need a New Heart" by Magnetic Fields. It's a song near and dear to me, as it was on the first compilation CD given to me in college (thanks Amy!). The others with me seem not to know who Stephin Merritt's band is, but it makes no difference to me.

Kick ass!
They covered Magnetic Fields's I Think I Need a New Heart!
@ Bluebird Theater (3317 E Colfax Ave, Denver, CO 80206, USA)
The place clears surprisingly fast. It's freezing outside and I smell like beer despite not drinking. I drop one last post to BriteKite before spotting the jackass who spilt beer on us across the street, sitting on an electrical box. I try to hit him with a snowball, but I throw too low, smashing it against the box.
I'm unsure if I'll keep up the BriteKite and Twitter usage, but it's been an interesting first experiment. I can say that my camera isn't good enough to warrant that much posting from dark theatres, but I guess it's the same for everybody. In the back of my mind one question remains: Is enjoyment a good enough reason to do it? The hedonist in me says yes, but the rest of me isn't so sure.
« Getting a Little Facebook Time