Forget Paris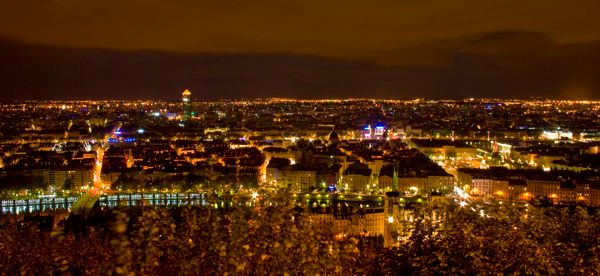 Lyon sparkles at night beneath Fourvière.
For more sparkly, glowy pictures of France, click here.
It may be hard to believe given that I don't believe in free will, but I don't believe in fate or destiny either. It simply doesn't make sense to me that our lives are truly in our own control, yet it makes even less sense to think that the future has been written. In the end, it comes down to a belief that nature is the primary force imposed on our lives, with a huge dollop of chance tossed in for good measure.
So many things seem to have worked out by chance for us on this trip, both positively and negatively: It was by chance that we were caught in the torrential downpour in India, soaking our clothes and leaving us smelling slightly funky for weeks; it was by chance that we ended up staying at the hostel in Wurzburg and finding that delectable little winery; it was by chance that we arrived in Athens on the weekend in which the national museums and monuments were free; and it was by chance that we ended up at Oktoberfest with Damien and Marina, two Frenchmen from Lyon who graciously offered to put us up while we visit France. Leaving Belgium, we had our share of failures, only to find lady luck shining on us upon our arrival in France.
The train to Lyons left Brussels a mere 30 minutes after Matt's train in from the UK was slated to arrive. The train getting to the UK was perfectly on time, so we assumed the train coming back would be to. Unfortunately, the Europe bound side of the Chunnel had recently received some damage, causing a long delay. By the time Matt arrived, our chance to reach Lyons had evaporated for the day. We chose to stay in Brussels instead of moving onto Paris for the night. We have both been to Paris previously, so neither of us was that gung ho to go. Unfortunately for us, Brussels was playing Spain that night and every hotel and hostel in the city was full of greasy Spaniards—they weren't actually greasy, I'm just bitter we had to walk for over an hour and pay a hefty fee to get a room.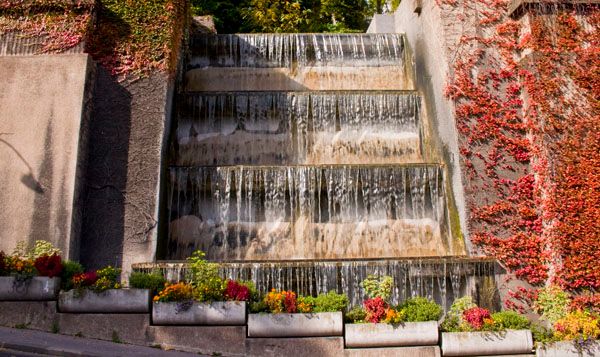 The following morning, we had a complimentary breakfast with a large group of high school kids from France. It was strange to see such baby faced youths decked out in their finery and acting so refined. As we stood in line, waiting to slip in before breakfast closed, one boy came out, said goodbye to some of his classmates who were in line and proceeded to go down line of a dozen cute high school girls exchanging kisses in that high brow way. Instantly, I felt a combination of envy and disappointment wash over me.
SIDE NOTE: Don't get me wrong. I have no desire to wander around exchanging smooches with 12-14 year olds. I do, however, envy the European sensibilities when it comes to physical connections. It's been said before, but Americans are fucking puritanical. Hugs and kisses have fallen out of favor with acquaintances, though most people would agree that such physical greetings are warm and comforting. I sometimes wonder if my lack of desire for physical intimacy both with friends and with significant others is simply a cultural reaction. If I had grown up in Europe, embracing my friends with regularity, how would I be different? At the very least, when I return to the states, I'm going to attempt to be more emphatic about giving hugs and being physically close.
The following morning, we took our time, slipped across the metro and grabbed out train to Lyon. It was an all-day affair, putting us into Lyon late in the evening. Damien surprised us by meeting us at the train station and taking us down to the Metro. The Lyon metro, like the Paris metro, is interesting in that the trains have tires rather than rails. Matt says it's supposedly to keep the noise down, and the trains were certainly quieter than I expected.
As I climbed on the packed train, I barely squeezed into the edge. The train lurched forward, send me sprawling sideways, one leg reaching toward the ceiling as I slipped past a young lady found my right arm and head spanning across the closed doors to hold me up. Damien and Matt were forced to grab my leg and pull me back upright. Despite years of subway surfing in high school—the kind where you try to keep your balance inside the train, not the kind where you ride on top—my sense of balance on trains has left me.
"Hold on," Damien told me at the next stop. "You might fall again." The group of people near me shuffled slightly further away.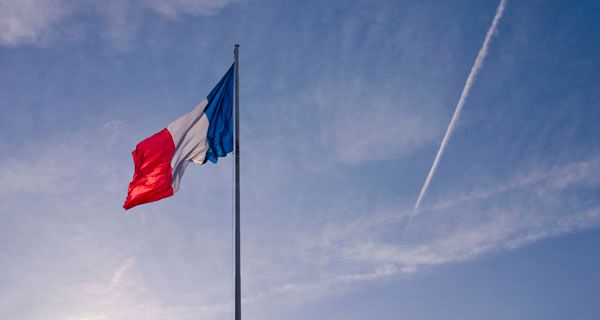 Though it felt as though our arrival was tempestuous, Damien and Marina were absolutely gracious hosts. Marina's sister Elodie was visiting with her newborn daughter, so the apartment was certainly brimming with happy faces. We enjoyed a lovely dinner of beef and green beans with some wine and an ouzo-like liquor.
I can't say enough about how nice they've been. Despite an early morning job, Damien drove us around Lyon showing us the sites late the first night we got in. Though the tour was whirlwind and more of a brief overview, we still saw much, from the peak of the Cathedral crested hill of Fourvière to the magnificent opera house to the central square, which Damien insisted was generally crowded with people but for the construction currently. By the time we got back at midnight, we were all bushed. Matt and I collapsed onto the couches in the living, grateful for everything.
—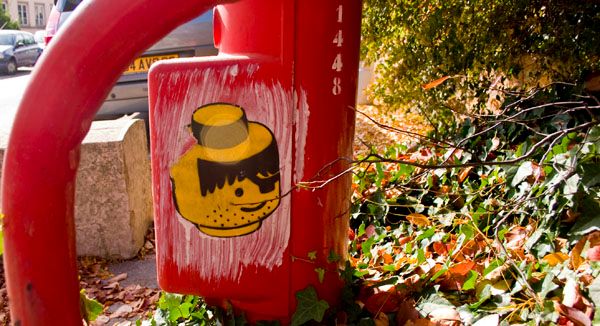 The guide book I have isn't exactly the most useful thing. Despite being entitled Europe on a Budget, its suggested options are hardly cheap. Perhaps that's a commentary on Europe or maybe it's a commentary on how to sell things to cheap Americans. Matt's older book even gives advice on campsites and where you can sleep in public if you need to. In all, it seems far more attuned to the budget side of it.
Still, there are certainly upsides to having the two books to compare. Mine has nice maps and more recent information while his book deals with the nitty gritty. And sometimes, between the two, we have more ground covered and better descriptions of locations that I could've hoped for with just one.
In the section on Lyon, my book says that it's a quieter city than Paris, and that travelers often come find that it's a much more interesting city when they come here after. So far, the book seems right. I thoroughly enjoyed Paris when I was there, but it was loud and obnoxious and covered with tourists. It is, after all, the most touristy city on the planet. Lyons, on the other hand, is quieter, just as elegant, and features some of the finest cuisine I've had.
Lyon boasts the best French professional soccer team and is the home of Vivendi SA, the parent company of Vivendi Games, now part of Activision Blizzard. It's also home to the French Resistance Museum, a destination I'm determined to see.
After swinging by the train station to reserve seats on the TGV to Nice tomorrow, Matt and I wander into Vielle Lyon (Old Lyon). The cobbled streets and old style store fronts give the area a charm I want to call rustic, but this is hardly the countryside. Lyon, even Old Lyon, is a bustling city. It's population of 500,000 makes it smaller than Paris or Marseille, but there's no discernable division between Lyon and the surrounding towns, making it a large metropolitan area. As Damien explained, one moment you're in Lyon, the next you're in another town without even realizing. It's not quite a sprawl in the sense of L.A. or even Denver, but Lyon spreads itself comfortably over the rolling French hillsides.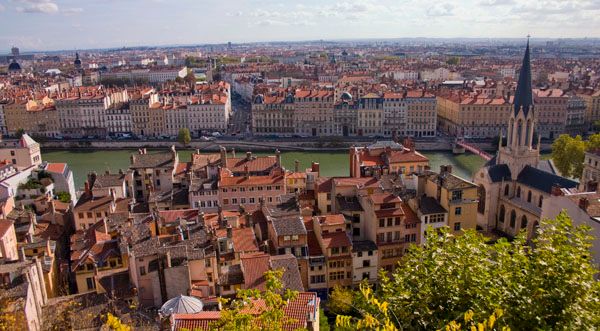 Cathedrals and churches punctuate Vielle Lyon, their spires and steeples rising ever so gracefully above the small streets. The restaurant we stop to eat at is packed with old Frenchmen jabbering away over a bottle of Beaujolais, the local style grown in the vineyards around the Rhone and the Saone, Lyon's two rivers. Though the glut of cheap Beaujolais wines have hurt the regions reputation, locals here swear by it because it's traditionally Lyonnais. The food is delicious, though Matt seems a little put off by the simplicity.
Fourvière Hill and cathedral beckon to us after lunch. The march up is surprisingly curvy, though the rose gardens offer shelter from the heat. I'm not sure what students do here, as most seem to be milling around outside their school, each carefully uniformed with small baubles the only differentiation besides natural ones. It leaves me feeling very strange, as I remember the days at boarding school when the dress code required a complete loss of self in the name of tradition and order. In a culture as obsessed with individuality as American culture is, it was a truly strange dynamic for me. Here, in France, where individuality has more to do with intellectual pursuits and opinions than haute couture, I'm not sure it has the same effect.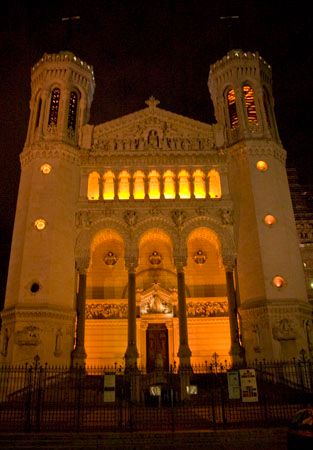 The Basilica de Notre Dame de Fourvière towers above the gardens, the hill, and everything below. The view is spectacular, though it's odd that the sole tall building in the valley below is distant and doesn't even reach the height of the hill. All through Europe there have been but a few small areas with skyscrapers and true urban design. In Asia it was rampant, but here it seems missing. Yet it's not a detriment. Instead, everything seems proper sized. There's no overpowering heights or penthouses mocking us from above. It's simpler and cleaner, offering a far more utilitarian view of modernization than the complete restructuring major urban centers demand.
Matt and I discuss video games the entire walk back. He's anxiously awaiting Fallout 3. It's a series near and dear to him and it releases the day we return to the states. Even though we have almost two weeks left, he's already counting down the hours. I can't blame him. I want to stop moving. I'm burning out. And it's not that it isn't amazing or enjoyable, but rather that I've reached my saturation point. What more wonderful things could I see without turning them aside with a new-born memory from the last five months? What great experiences might I shirk to sleep a few extra hours? I guess I'll find out soon enough.
We have a few hours to kill before heading back to meet Damien and Marina for dinner. Only a few blocks from the apartment is the Museum of the French Resistance. A stop there should put us back at the apartment perfectly on time.
The museum is strange. They don't allow cameras, which saddens me, but they provide audio guides in multiple languages. The museum follows a time-line through several different subsections of the Resistance before leading in to a series of dioramas, video presentations, and rooms made up to resemble those of the World War II era. Some of the audio tracks are merely music or sound effects, giving a wonderful feel to the strange broken walls on which everything is displayed.
It comes as a real surprise to me, but the museum says more about propaganda and how much the resistance was really just a war of propaganda than it does about the people and the battles. In the end, it's a question of winning the hearts and minds of the Allied forces rather than simply fighting. It's almost disappointing to me. When I visited Dachau, the most interesting portion of the displays was the one dedicated to the prisoners resisting and their attempts to survive mentally. It was still depressing and sad, but it made me want to see some of the success. The French Resistance was supposed to be that success, but instead it merely reinforces that nothing truly good can come of war; only things that resemble good on the surface, born of necessity and pain.
Damien and Marina treat us to dinner at a local restaurant. The four of us share an aperitif Damien called a communis which is a decadent cherry liquor. It's sweet, but has a solid kick. Matt and I both get Suissons Lyonnais (sausage in the style of Lyon) made with a delicious mustard sauce. By the time we're picking our teeth, I'm stuffed solid.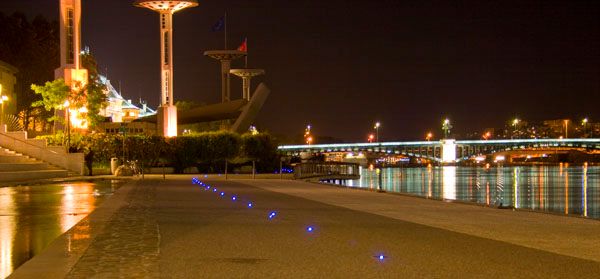 We walk down to the Saone where boats moored at the side are used as night clubs. Several run over multiple decks, though all are covered and closed. The place we go into is packed, the DJs playing the best hits of the 60s. Frenchmen in mod gear dance like crazy. I, as usual, pin myself to my seat and people watch. You know, who am I kidding; I was straight up ogling. French women are gorgeous and the mere hint of beautiful women with intellects turns me on.
Tomorrow will be another early morning for Damien, so we can't stay long. After just one beer, we're off to bed. Matt and I head for Nice and the Cote d'Azur tomorrow. One thing I can promise: I won't miss Paris.