Land of a Thousand Sauces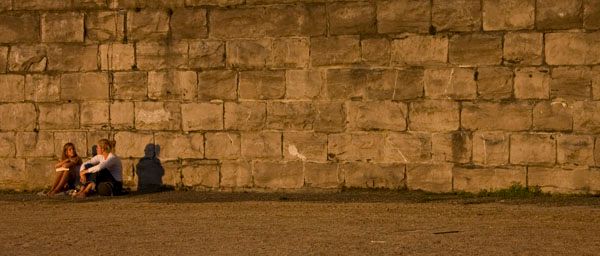 A couple girls relax in the waning summer sun at Cinquantenaire Parc in central Brussels, Belgium.
For more golden pictures of Brussels, click here.
"Belgium should be known as the land of a thousand sauces," Guillaume says, dipping his pomme frite into a concoction he's created. The restaurant he, his wife Martine, and his young daughter Nouria have brought me to is a small hole in the wall local joint. "Places like these are the reason why Burger King and McDonald's can't gain a foothold here."
Burger King was everywhere in Germany. It barely missed beating out Dunkin' Donuts in Boston as most prevalent chain in a given city. Florian said that Germany has a growing weight problem and the rise of fast food coincided pretty tightly with that. So far, Brussels is a wealth of local flavors second to none, yet the people seem much healthier than Germany.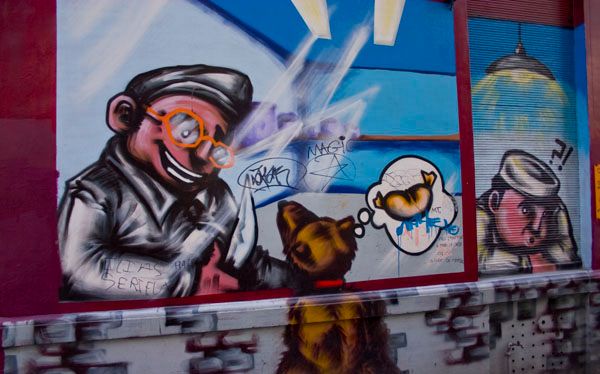 A sizzling cauldron of hot oil sits in the middle of the table, our trio of forks sticking up ominously while gripping slowly cooking meat. This is Fondue Bourguignonne of the most traditional sort: no chocolate, no cheese, just oil and meat. Admittedly, fondue, even Fondue Bourguignonne, is a Swiss dish and not Belgian, but there's no doubt that the Belgians have perfected the science as I cut into the delicate cube still sizzling on my plate.
The banzai sauce stares up at me, beckoning. Unlike Guillaume, I'm sticking with the stock sauces, leaving me to choose from a mere two dozen, though I can ask for ones made to order as well if I know their names. Rather than serves fries as a side for each of us, it's served as a plate to the table. Fries in Belgium are similar yet strikingly different from the fries we're used to. They're not thick cut or homestyle, but they're not as skinny as your average burger joint fry. They're boiled, then fried twice, the boiling to cook the inside and keep oil out and the double frying to leave them crispy without becoming hard. They're first rate.
SIDE NOTE: The origins of foods are strange and often lost. In Belgium, Fondue Bourguignonne is considered a standard Belgian dish and a specialty of the house (along with steamed mussels) despite its origins lying in Switzerland in the 1950s. Cheese fondue is considered Swiss despite it being referenced in Homer's Iliad. French Fries are called pommes frites in most of Europe, which literally translates from the French as "fried apples," but is understood because potatoes are known as "pommes de terre" or apples of the earth in French. Of course, in Britain some fries are called chips (there apparently is a difference in size and cooking style according to some Brits) and no one but Americans seem to think French Fries are actually French. They're Flemish (a region of Belgium and the Netherlands) or Belgian if you ask food historians and simply julienne fries according to professional chefs. So who should we credit with fondue and fried potatoes? Does it matter when it tastes this good?
Every meal I've had in Belgium has made a solid case for best meal of the trip, from the Mediterranean restaurant specializing in Israeli and Moroccan cuisine to the tiny hole in the wall kebap place I stopped at to the corner restaurant tonight. None have quite upset the reigning champ in Würzberg, Germany, though Belgium now holds spots two through six.
Belgium is known for chocolate, beer, mussels, endives, and the trademark waffles, called as Brussels waffles rather than Belgian waffles within the borders. Much like its culture, Belgian cuisine seems a perfect mix of French simplicity and German indulgence; though for all I know it might be Dutch indulgence. Many people say that French cuisine is the pinnacle of food, concentrating on bringing out the natural flavors of the food with simple techniques that can be hard to master and emphasizing a single flavor over the vast tapestries preferred in American food. In Germany, it's about the richness of flavor, favoring sauces that turn the most basic dish into a succulent masterpiece that any cook could make. Belgian cuisine brings the two together, matching the simply divine dishes of France with the ubersauces of Germany.
The tiny plate before me holds three sauces. I've found myself enamored with the banzai sauce I mentioned above, one of three spicy sauces that take their name from Japanese culture. The other two names are lost on me. The restaurant isn't quite a fritterie, a specialty stand that deals almost solely in fries and sauces, yet it has more than two dozen sauces to choose from. It's overwhelming.
Of course, my wonderful gastronomical adventures couldn't have come to such a wonderful fruition without my gracious hosts. Had I been wandering on my own, I'd likely have picked the cheapest and simplest restaurants. There would've been no chance of my ordering mussels or eating traditional Israeli style couscous with a Belgian twist. Even the meals Guillaume and Martine have prepared at their apartment have overwhelmed me with their quality.
"Do you want some more?" Guillaume asks me.
"Oh, no," I say. I've already stuffed myself to the gills with the Fondue Bourguignonne.
"It's not good?" He smirks, known the answer already.
"Oh, non. C'est parfait!"
And perfect it truly is.