Old World Pragueress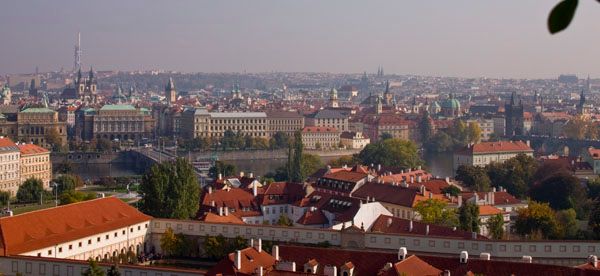 Prague from the heights of Prague Castle.
For more fortified pictures of Prague, click here.
Growing up, veal paprikash was one of my favorite foods. My grandparents used to make it once every visit. My grandfather traces his roots back to Czechoslovakia, now the Czech Republic and Slovakia thanks to the velvet revolution. For him, the dish wasn't just delicious; it was a piece of history.
I could never say no to veal paprikash, no matter how poorly treated the calves seem to be. Even when I gave up red meat for five years, I made my only exception for the delicacy of my childhood. It's true that my stand against red meat was primarily because I didn't care for the flavor-a taste I've since returned to-with just a dash of desire for a more healthy lifestyle-a want I've long since abandoned-but  I couldn't resist the dripping stew served over traditional eastern European bread dumplings.
"There isn't any Czech food," the boy says to one of his classmates. "You go to Prague and get German, Hungarian, Romanian, but no Czech. They have no food of their own." I seethe at the statement.
Of course there's Czech food. At the very least, there's Czech food in the same way that Baklava is Turkish, Greek, and Middle Eastern. Any one of those cultures can claim it. Burgers are an American thing, but burgers are also a German thing. And they're both similar and different. Everywhere I go, I find foods in variants. The meatballs in Munich were as delicious as the meatballs in Italy, simply different. Tom Yam soup in Thailand is just another variant on pho from Korea or ramen from Japan. Bread is bread and noodles are noodles and it's true no matter where you go. To claim that a culture doesn't have its own food simply because it plays on a regional theme is absurd and insulting.
The boy's tour group is laying waste to the train, every cabin overflowing with loudmouthed German teens headed on a class trip to Prague. For half the train ride, Matt and I had perched on foldout seats in the middle of our car. Only after Dresden were we able to slip inside. Even here, in the comfort of a quiet cabin, I can hear them. It's enough to drive a man mad.
Every few minutes, I step outside the cabin, walk down the packed aisle to the bathroom and squeeze my nose into another sheet of toilet paper. The cold I picked up in Munich is on its way out. Mentally, I feel better than I have in several days. My body's winning the war, but it doesn't show on the outside. My nose is running more, my throat is sorer, and it's all because the gunk in my system is being ousted.
The countryside is beautiful. I simply can't get over the autumn colors in this part of the world. It's a taste of New England that I haven't had in years, having only visited home in summer, spring or winter. It's soothing and I can feel homesickness like I haven't had since grade school welling up.
Eventually the glory of autumn is replaced by the urban sprawl that makes up the edges of Prague. The former communist state certainly influenced the area, its drab architecture lining the tracks the last few miles on our approach. It's not the image of Prague I expected.
The station we arrive at isn't the main central station. It's off toward the edge of town, several subway rides from where we're staying and just about everything of note. The escalators to the train give me vertigo, the posters on the wall perpendicular to the steep grade of the handrail further exacerbating the feeling.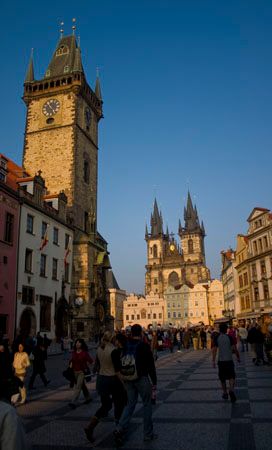 It's raining lightly as we step out onto the street. A large red and white railing lines the edge of the sidewalk preventing people from jaywalking. We head down toward where the hotel is supposed to be, but within fifteen minutes, we're lost. I pop into another hotel to ask directions despite Matt's assertion that we're fine and he doesn't mind walking. I'm definitely the woman in this relationship.
The buildings here are glorious. Each and every one seems indicative of a different era, a different style. Unlike the war ravaged cities of Germany where only a few classic structures survived, Prague seems untouched and glorious. Even in New Prague, the district we're staying in, far from the old world antiquities that draw tourists to the city, the streets feel older and more walked than any place I've been.
When we finally track down the Albert Hotel, we find that we've been given a lovely suite. To be honest, it seems more like an apartment complex than a hotel. With Krista (who we met in Munich) supposed to meet us and it already late, we duck down the street to a local pub and get some fantastic Czech dumplings for dinner. The night clerk at the hotel called in sick, so we stick a note to the door and Matt opens the window, hoping that Krista will call up to have us let her in. By 3 AM, we give up.
I'm still battling the last remnants of illness the following day as I begin researching temples for Yom Kippur. Between me not being 100% and Krista still being missing in action, I figure its better to stick around the hotel and take in Prague in all its glory our last two days instead.
Most of the day, Matt plays Open Transport Tycoon on my laptop while I lap up CNN Europe, the only English language channel on TV. In the early evening, Matt takes a walk and gets some ramen and canned soup for dinner.
Tonight, we're staying up for the presidential debate. It goes on at 3 AM. Tomorrow, I will attend Yom Kippur Services. Hopefully, Krista will show up somewhere in there, but I can't say I'm optimistic.