A Place of Minoan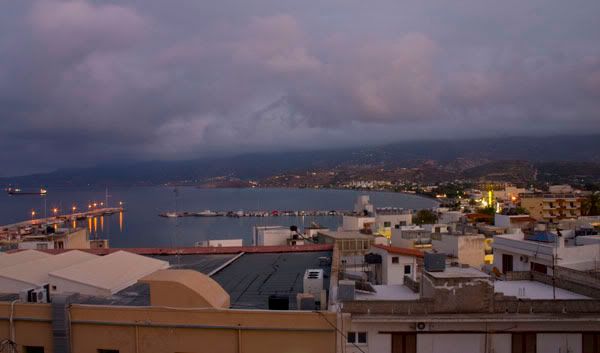 The sleepy town of Sitia glows in the dusk light from our hotel window.
For more wispy photos of Greece, click here.
My bag rattles on the cobbled streets of Sitia, a sleepy town on Eastern Crete. Matt's told me he finds the sound annoying and, to be honest, I do too. One of my favorite things about my bag is that I can convert into a backpack, something I've done several times this trip. Currently, though, I'm carrying too much weight. My laptop case is easily 25-30 kilos, my suitcase about the same.
We find our way to a hotel. Tourist information said it's the second cheapest in town and much closer to the city center than the cheapest. The owner quotes us a price of 35-40€ for the night. I ask for a student discount. He says that is the young persons' discount. After we check in, the sticker on the back of our room door confirms this.
Our view is stunning. The balcony overlooks the rooftops and from here I can see the other side of the bay. A beach runs along the front, lined by restaurant, café, and pub tents so that patrons can sit along the waterfront. Sitia itself really only has 8 blocks worth of things to see. There's a castle further up the hill, but we aren't here for castles. This is our fourth city in four days. Tomorrow we go to Iraklion, the capital of Crete, and catch an overnight ferry to Athens. That will be six cities in six days. Today, we relax.
We wander down to the waterfront and grab some food. Crete offers its own variation on the Greek Salad with a sour cheese that's softer and tastier than feta. The olives are a deep red instead of black and actually taste ok to me. The vegetables are so fresh and crisp, it's as if I can taste the farm still on them.
The breeze is cool and the day is overcast as we leave the tent. Sitia boasts a beach nearby that is lined by palm trees and supposedly beautiful. We've missed the last bus. Instead, we're going to the town local beach.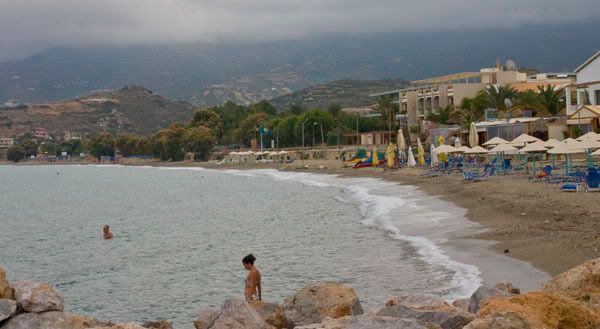 Matt stops at a phone to try and get his phone card to work. It didn't function in Turkey. It seems to work fine here. It's too cold to spend a long time at the beach, so I wait for Matt. He talks to his family for a half hour. I get up to head to the beach as he hangs up.
"Can I have some privacy to call my girlfriend?" he says picking up the phone again.
"Of course," I say and go to the beach.
Though we're further South than Rhodes, the water here is colder, the waves are stronger. It's hard to stand in shallow water. It's hard to float on my back in the deeper areas. I swim out quite a ways, but turn back before I get too far. I skip rocks for a while. I sit in the sun. No one harasses me about using a beach chair.
I'm just about ready to dry off and call it good when Matt comes over.
"The water's cold," I say. "I think I'm going to head back to the hotel."
"Okay. I'm going to sit in the sun and swim a little," responds Matt. That's always been the plan. I'm a little worried he's angry with me. All of his comments have been snapped at me today.
After a long shower, Matt arrives at the hotel. We wander down to the waterfront and enjoy swordfish. I can't say enough about how good the food in Turkey and Greece has been. Our waitress gives us ouzo and a cake free at the end of the meal.
"I like this free stuff at the end of the meal," Matt says, smiling. Dessert does that to him.
"Me too," I say, though I'm wondering if it's a symptom of the high prices. When I worked as a waiter, we would give things out for free because our manager knew things there were expensive. Sometimes we'd give out things that were about to go bad. Other times we'd give out things we were phasing out. The cake doesn't taste like it's about to go bad. It's delicious.
We call it an early night. The bed is too small for me, but it's only one night.
We wake up early and catch the bus. I buy some breakfast and a couple sandwiches at a bakery around the corner. I don't know what breakfast is. It turns out to be a cheese danish with fresh and warm cheese. The bus ride to Iraklion is 3 hours and the station is right by the waterfront, allowing us to drop our stuff off at the ferry before hopping a bus to Knossos.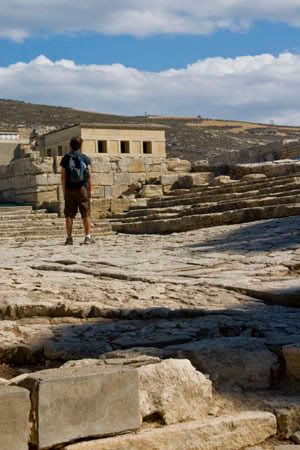 Knossos is the famed Minoan palace just outside of Iraklion. The Minoan civilization, named for the mythological King Minos, dominated the Mediterranean during the 19th-12th centuries B.C. In legend, it's the location of the famed labyrinth, built by Daedalus for King Minos, home to the Minotaur. In reality, it's a ruin of such grandeur that it's difficult to believe it's as old as it is.
"This doesn't seem as old as the buildings we were in Göreme," Matt says.
"I would think that a dominant civilization in the 14th century B.C. would have better architecture than a motley group of persecuted Christians hiding in the hills a thousand years ago. After all, they were trying not to be found."
"Fair enough, but it's still hard to fathom."
Arthur Evans, director of the Ashmolean Museum at Oxford, began serious excavations of Knossos in 1900. It's from him that most of the rooms and locales derive their names. Each portion got its name from the function it performed, but most of his theories have been disproven. During the 20s, he reconstructed portions of palace based on his theories, and these reconstructions can't be undone at this point, despite the fact they may well be wrong.
The sign detailing the excavations bring up the same conversation Matt and I had in Rhodes: how can one be sure of what things were used for? It's a long conversation that leaves neither of us happy with the lack of answer.
We sit off to the side and eat the sandwiches for lunch. Italian and German tour groups are everywhere here. I don't get to see the throne room because it's too packed. I don't really mind.
It's still early in the day when we leave. We hop off the bus early, pick up a coffee, and sit in a park talking. I'm too tired to walk very far and we've seen so much, I'm starting to feel inundated with history. Downtime is good.
We discuss attractiveness and image. We talk about how long it should take someone to get ready on an average day and try to set standards for cleanliness. We discuss the definition of a douchebag and the way that such an image is created and broken down. Eventually, our coffee is cold and then gone.
I feel like a member of the walking dead as we get to the ferry. I had a soft bed in Sitia, but it wasn't big enough. I slept alright on the ferry to Crete, albeit on the floor under a stairway and on a box of life preservers on the deck at different times of the night. I've built up a sleep deficit I'm unsure how to bail out.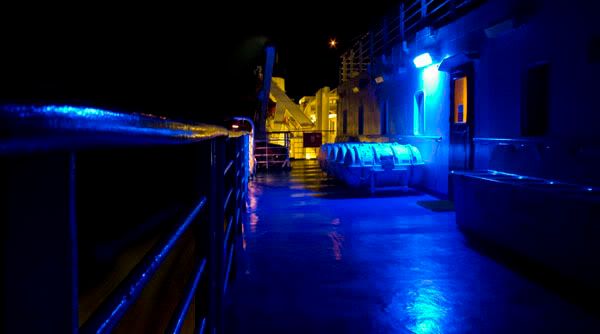 The Greek Ferries are strange. If you haven't paid for a sleeper cabin, the rest of the ship is simply up for grabs. People pile bags on couches to claim the entirety. They glare and stake their territory. Open spaces on the floor are hard to come by too, though if you know where to look, it's not too hard.
Every good spot is taken by the time we get there. The chairs that are designed to recline are empty. The floor space in between the rows is filled by already sleeping bagged people, completely invalidating an opportunity to sit. The lounge is packed, though a giant couch is claimed by a small woman sitting dead center. We consider strong arming her out. Instead, we settle on a stairwell. It's directly below a speaker for ship announcements.
Crete seems to have gone by so quickly. It was relaxing and calm and we saw some great things, but we certainly didn't use our time as efficiently as possible. I consider titling this entry "Isle be Back," simply because my desire to spend a month or so in Greece touring the islands is so strong, but I know it's a silly idea. Maybe when I come back I can do that. For now, though, we sleep.