Among the Clouds

Gina, wrapped in a scarf to ward off the cold, sips tea at a cafe literally inside a cloud.
For more chilly pictures of India, click here.
It's cold in the Himalayas. I guess that's an obvious statement. I expected it to be cool, but not cold. Dharmasala and McLeod Ganj don't even reach 2000 meters above sea level, yet it's palpably cold.
When I wake up on our first morning, peeling myself out of bed late in the morning, Matt's gone and I'm cold. I contemplate going back to sleep, but I take a shower instead. There's no hot water. I'm cold when I get out. I dress as warmly as I can: long pants, socks and shoes, a flimsy T-shirt-I left my sweatshirt back in Delhi and my long sleeve option is still wet from the rain on the bus.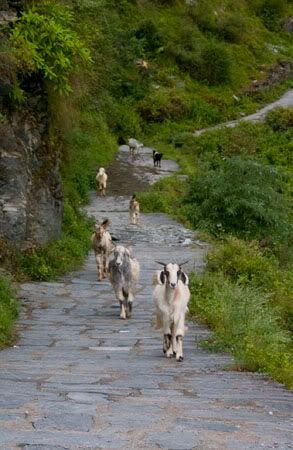 It's cloudy out on the porch, but the view is stunning. McLeod Ganj is literally built along winding pathways into the side of the mountain. I can't see the peaks through the clouds. I can see eagles flit in and out of the airy condensation.
While I sit and get my bearings, laying my clothes out to dry as best they can given their soaked condition, Gina arrives. The girls were unhappy in this hotel, its small room apparently smelly and bug ridden. I think Gina's a little paranoid, but I was the one to tell her about the bed bugs, reveling in her revulsion the night before. As always, I'm an asshole and, in this case, I enjoyed it.
She tells me about the sweet new digs, a fancy hotel that's Richard Gere's choice in McLeod Ganj when he visits his friend the Dalai Lama. It's expensive, but very nice. I feel a little guilty since I took the more expensive of the two rooms at our hotel, though there was little practical difference besides the porch and the TV. Maybe if I had given it to them, she wouldn't have shelled out for the nice place. Or maybe nothing I did would have mattered. Gina's too intelligent and whimsical to be predicted.
It's early afternoon when Matt returns. We meet the girls upstairs and have Italian for lunch. Emilie says it's been a long time since she's had non-Indian food. It's not the best Italian, but it's not bad. The Tibetan butter tea I order on a whim tastes like we're drinking butter. It's awful.
We walk up the mountain to a waterfall. The steep grade of the steps wears on me in the altitude. It doesn't look as imposing from afar, but up close, it's quite a hike, despite the paved pathway. The waterfall reaches twenty feet up and the water is icy cold. Up above are a series of pipes bringing fresh running water down to the building below. I'm saddened by the amount of trash everywhere, though it's far less than many parts of India we've seen. I'm pleased by the amount of goats. Goats kick ass.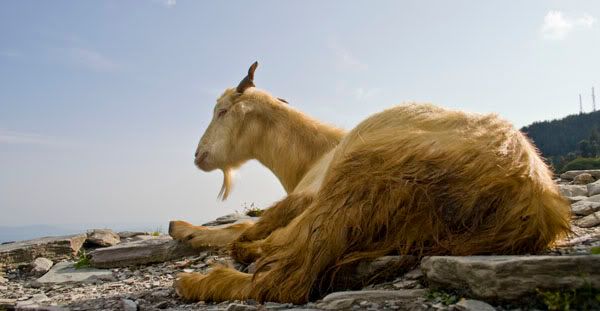 On the way back down we run into another Boulderite. None of us have met her before. Her name is Emily, oh my god, just like Emilie. I leave the others to do the talking. It feels awkward to run into fellow Boulderites while traveling. I'm not exactly a traditional Boulderite. Neither is Matt or Gina. This Emily seems to be the prototypical CU student, though I'm sure that if I gave her a chance, she'd turn out to be a nice enough girl.
I buy a fleece-lined jacket in the city while I wait for the others to catch up. There's a bunch of yelling going on, and when I follow it, it's a cricket game squeezed into a small schoolhouse playground. The sun is shining and it's too warm for my new coat, though I'm excited to use it.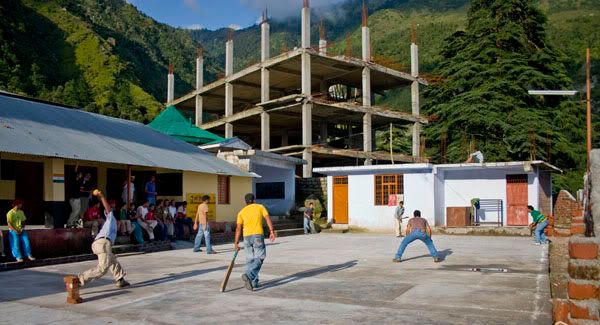 When the others finally catch up, we're all getting hungry. Matt tells me that he visited the Buddhist temple in the morning. It's home to the Tibetan government in exile. The dalai lama's office had a pair of guards with guns right beside posters preaching non-violence. There was a truck with a turret out front, he tells me. I plan to go the following morning, as the sun is already going down.
The Temple isn't much to look at, but you can hear the chanting from several hundred meters away. I get lost in the mists trying to approach it. I end up on private property, following a cow as it bounds down the mountainside. Eventually, I begin to feel uncomfortable trespassing and loop back around. Once I find the entrance, the temple is full of praying monks. The guards and truck Matt mentioned are gone. Tomaz and Moitza said they spent a couple hours there, but after 15 minutes I leave. Unlike the Sikh temple, I feel uncomfortable here.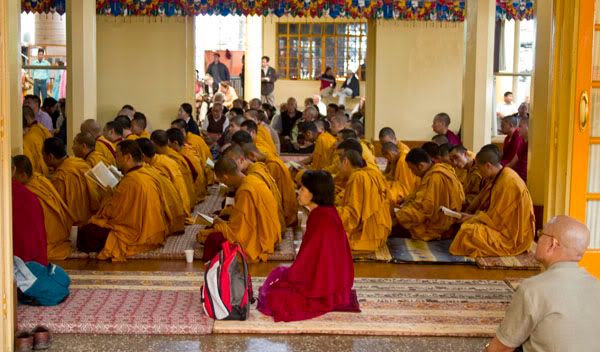 We have a nice quiet dinner in the same restaurant as the first night. Pierce Brosnan smiles at me, miming his love for the restaurant as I order.
"It feels like Christmas in here," Matt says, the colorful star-shaped lights mimicking the festive holiday spirit. Kenny G and Transsiberian orchestra play on the overhead. Dinner is good, as always.
Our plan is to head down to Pathankot and meet up with Sean tomorrow. It's a plan that won't come to fruition. For now, I'm content with another night is this very strange mountain town.
It's not quite the India I expected. As Matt described it, it's more like the Vail of India. Between the Tibetans and the glut of Westerners, it feels like the Indians are more tourists here than we are. Then again, everyone has to vacation somewhere. If I were an Indian, McCleod Ganj seems a pretty good choice.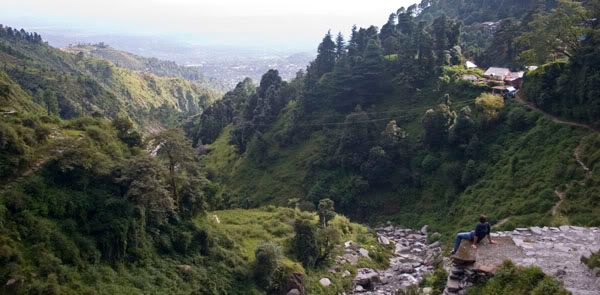 Matt sits overlooking the verdant Himalayan valley below as we take a break from hiking.
« Everything's More Fun With Trouble