Heat of the Moment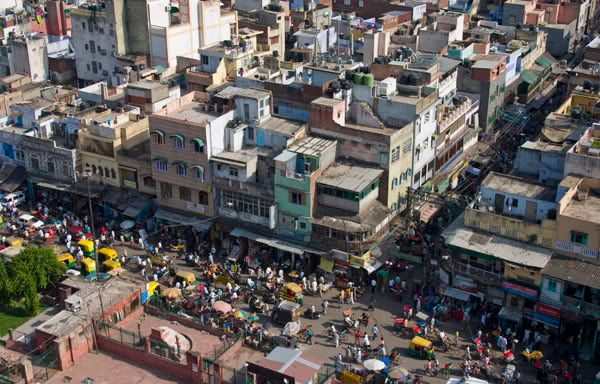 The busy streets of old Delhi bustle all kinds of traffic at all times of day.
For more hotheaded photos of India, click here.
The streets of Delhi are paved, if you can call it that, with shoddy asphalt and broken cement. Stretches of dirt, deep potholes, and trenches filled with liquid I can only hope is water abound. Wear and tear isn't simply a passing problem but a fully functioning characteristic. Heaps of trash lie in places, their parts splayed across the streets like the victim of a horrendous hit and run.
Trashcans are virtually non-existent and requests for one are met with a collection of looks including but not limited to: deer in headlights, scoffing disdain, amused derision, and complete ignorance of the concept. Those that are available, usually in newer public parks, are marked USE ME in bold colorful letters generally reserved for witty sayings on bumper stickers and hospital balloons.
The entirety of Delhi smells, though it ranges from the smattering of divine Indian spices outside restaurants to the stench of stale urine near walls on which everyone from beggars to businessmen relieve themselves. The people don't seem to notice the smells, or if they do, it's processed and passed from their mind too quickly for me to notice. Walking among the various mystery liquids that cover the street, occasionally punctuated by a steaming holy cow patty, is an exercise in deft agility and sublime ignorance. It's no wonder feet are considered rude and dirty objects here.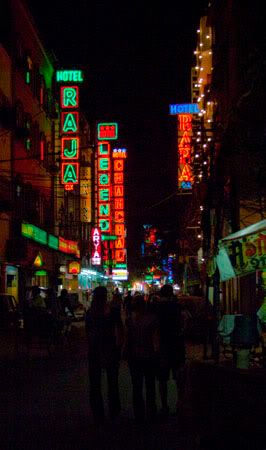 The Hotel Ajanta seems at once a dirty shell of the old style architecture it sports and a classy well-kept relic of British imperialism. Its price, while wholly reasonable in American dollars, certainly seems to say the latter in comparison to its competitors that line this street of hotels and guest houses. It's likely the nicest place we'll stay during our time India, and likely the most expensive.
Despite my protests of needing the exercise lugging all 50 kg of luggage up three flights of stairs, a small Indian man wrests my large suitcase from my hand and drags it, red faced and struggling, into the lift.
SIDE NOTE: I have a motto: only pack what you can carry. That means no more than 4 bags tops: 1 backpack, one satchel, and two hand bags. If your luggage is too heavy to walk up 10 flights of stairs without having to take a break, pack lighter. I usually pack two bags and leave room for a third, though I've never been able to pack a bag heavier than I can carry. Still, my luggage this trip is heftier than I expected, and brimming despite leaving items behind along the way. It seems for every square inch I save by leaving something behind, I gain something that takes up 2 square inches. Most recently, it's a small canon camera case, complete with lens cleaning kit and table tripod, that Kirk, Matt's dad, gave me. This is why I'm sending postcards instead of buying gifts.
Matt's been led off to Emilie's room, leaving me to sheepishly stammer annoyed thank yous as service I really don't want is thrust upon me. As soon as my things are in the room and the little Indian has shown me how to lock the door, I look away, stash the key, and mutter something about having to meet my friends. Without tipping the man for services not wanted, I bound down the stairs while he swears at me under his breath. I feel guilty and angry at the same time. It's a combination of emotions that will come to haunt my stay in India.
Gina doesn't arrive until tomorrow, so we plan a day of seeing sites we don't think she'll be interested in seeing, according to an 8 year old guidebook we snagged in Singapore, and call it an early night. The bed is comfy, the room cool and clean, and yet I hover on the edge of the bed uncomfortably flitting in and out of sleep, one bad roll from falling onto the carpeted floor below.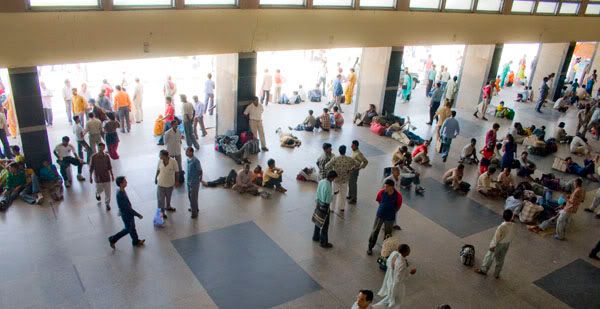 Our first stop in New Delhi with the daylight is the train station, conveniently located only a block away from our hotel. The division between Delhi and New Delhi is a slight one. When Britain decided to move the capital from Calcutta, it picked the long high spot, a small hill, and began building New Delhi, helping the city sprawl even more. Delhi has its own archaic rail station, though New Delhi's is hardly new now. The place is packed. Several people attempt to bar our entry, but after some finagling and a complete lack of respect for these so-called touts, we push into the upstairs office.
I sit down and enjoy the fan cooled room, which is still percolating in a dry upper 80s. Our plan for India requires a train to Amritsar, a train or bus to Pathankot, a bus to Dharmasala and back, a train back to New Delhi, and another set of train to Jaisalmer and back before leaving at the ass crack of dawn on day 14 in India. Needless to say, visiting the train station is a very necessary stop.
We swing into Café Coffee Day, which boasts 100 locations across Delhi, and grab some breakfast in the center ring of Connaught Place. A local named Sameer, who claims to be fasting with his friend for Ramadan, which just began, chats us up and tells us about Delhi. He, like every Indian we meet, knows someone from Los Angeles, New York, or Montreal. He recommends getting a metro map, but when we pick one up after breakfast, there's no English on the map.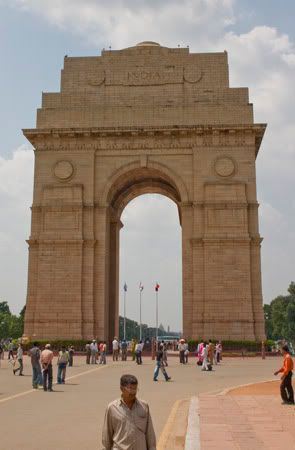 After a little bit enjoying Centre Park, its trees barely nubs compared the grand greenery of Singapore's streets (though Matt thinks those were planted a mere fifteen years ago), we grab an auto rickshaw to the India Gate. Auto rickshaws look and sound nearly identical to boring colored tuk tuks. The term rickshaw makes a certain sense in my head as I recently read that the rickshaw was invented by an Englishman in china for his infirm wife.
The India Gate looms over New Delhi like a mix of the Arch de Triumph and the Washington Monument. It's sand-colored walls are lined with names of men who died during World War I. In the center stands an eternal flame, six guards vigilantly preventing anyone from entering the chain demarcated circle in which the arch and the flame stand.
The India Gate marks one end of India's mall, the President's complex at the other end barely visible from here. Reflecting pools line the elongated park, the nearest of which plays host to a group of boys seeking refuge from the heat. We walk the length of the mall, passing governmental buildings, their pith helmet domes distinctly British to my eyes, though Matt tells us the style is supposed to reflect that of the Indian dynasties. Men study, sleep, and wander through the park, idly enjoying the respite from the oppressive midday sun.
As we near the seat of government, the heat seems too much to take. We sit down beneath a tree to play some cards while a soccer game and a cricket game squeeze themselves onto the playing field in a show of camaraderie and space conservation indicative of India's roadways, sidewalks, and trains. With a population constantly threatening to overtake China as the most populace country and three of the world's most populace cities, the premium of space isn't taken for granted here. And though often a fielder has to make a leaping dive over a soccer player to try and catch the hastily swatted tennis ball, the two games never quite collide despite my expectations.
We continue our journey around the premises, admiring the architecture and history. The President's complex is closed, but Parliament's flags fly starkly against the sky indicating they're in session, likely discussing the heavy flooding in the Uttar Pradesh region and the emergency status of Bihar. Large signs deny us entry, so we head for the forest, hoping to walk up to a well-known Hindu temple back towards our hotel.
With the sun slowly sinking, one would think it would cool down. Instead, even in darkness, Delhi's populace masses and lack of vegetation help hold the temperature in the high 80s late into the night. We pause to enjoy a vibrant discussion of sexual perversion in a public park. I say we, but I, as usual, am the primary culprit, commenting on the often odd sexual proclivities of the Japanese. Matt and I argue about how a Japanese wife would react to her husband utilizing a prostitute, the two of us agreeing to disagree in the end.
My legs are sore and my body ready for sleep when we decide to forego the cool forest in exchange for an auto rickshaw back to CP and a quick and dirty dinner at a greasy restaurant called All Vegetarian. The majority of Indian food seems to be vegetarian friendly. At the very least, you can't get beef. I devour the food, thankful for such tasty dishes. Emilie remarks this food wasn't the best she's had, making my mouth water anew at how delicious good Indian food must be.
Matt spends the evening napping as I try and catch up on my Singapore pictures. Singapore was so overwhelmingly relaxing that I feel as though I'm now weeks behind in my work and possibly never able to catch up. If I'm lucky, I'll be able to use train and bus rides in India to make up for lost time.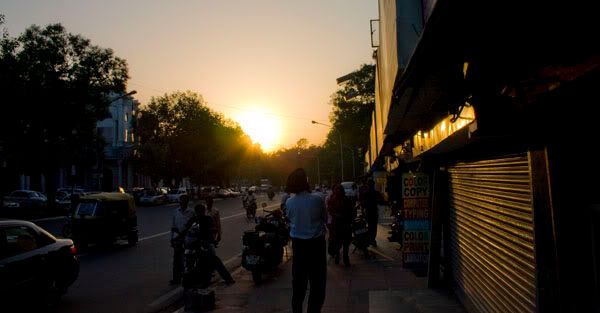 The darkness is only broken by the screen of my computer and the glimmering pixels of the muted BBC on the TV when a knock comes. Matt rolls out of bed and I suddenly find myself face to face with Gina, a face I haven't seen since leaving Boulder. Her resemblance to her younger sister Emilie is suddenly evident. We sit around and plan the following day around getting tickets to Amritsar, seeing the Red Fort, and wandering to the Friday Mosque. Neither Matt nor I have ever been inside a mosque, my entry denied at the Dome on the Rock in Jerusalem. In the meantime, Gina wants to wander the town.
The city is no less filthy, smelly or hot at night than it is during the day. Every scab-ridden dog left to fend for itself on the streets seems to find its way to Gina who, bleeding heart that she is, strokes them and mimics their sad puppy-dog eyes without thought to disease, fleas, or other afflictions. Though it's not common in the states, humans can actually get mange from an animal, and as bad as I feel for them, their sheer numbers helps numb my empathy, logic wiping away the rest. Twice we turn down a wrong alley trying to get back, all the shops closed or closing, though a neon sign shop blinks as if it's a small corner of Vegas open 24-hours and transported to New Delhi.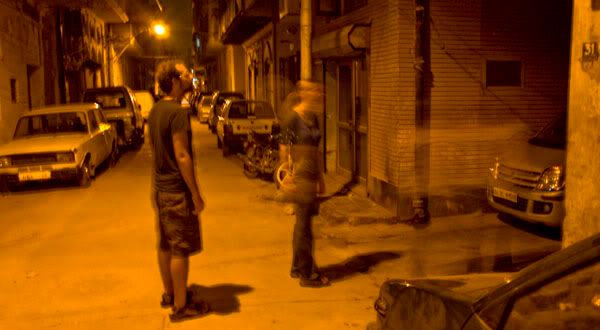 When we get back to the hotel I set our alarm for the next morning, making sure to set the clock right this time. Gina, despite traveling nearly 24 hours straight, claims she'll be up by 5 AM. I'm skeptical, but Matt assures me it's true and that she's a freak of nature that way. I feel bad for Emilie, who will share a room and a bed with her.
The Red Fort was, at one time, a glorious testament to the beauty of India's gardens. Britain, in their utilitarian rape of India, tore out the gardens that made this seat of power such an alluring spot and installed huge barracks. The sprawling complex still features beautiful architecture and incredible history including mass deaths during a veritable slaughter-ridden coup and a market that once served most of the city and now serves tourists obsessed with tiki tiki crap.
According to the guidebook, the entrance fee is ½ a rupee, though the sign has been whited out with a fee of 250 rupees when we get there. We wander through the complex, trying to stay in the shade. Eventually we hide from the blazing sun in a fan cooled museum of artwork, pottery and letters from the history of the fort. The Red Fort, which was commissioned by the same man (Shah Jahan) who built the Taj Mahal, no longer has any architects listed. It makes me sad as I wonder if anyone will remember the man who built Trump tower or will Trump get all the credit generations from now.
Outside the fort, masses of hawkers and stands sell all sorts of goods. A man selling fake beards tries to put one on me.
"I've already got one, see?" I say, though I must admit the idea of a fake beard over a beard is slightly amusing, despite the obvious ploy to sell it to me or my friends. Another man selling extremely cheap postcard books gives me a plethora of advice and follows us blocks trying to hard sell me. I continue to politely decline, and, as the Red Fort fades from view, he gives up.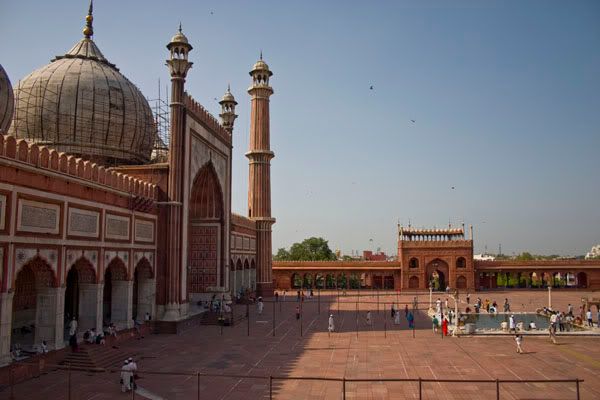 After a strange lunch of greasy Indian food, we walk up to Jama Masjid, the Friday Mosque. Matt and I both have long pants and I have my yarmulke with me, though I'm unsure how they'll react to a kippa in a mosque. Gina, meanwhile, is chided as we go to enter. She's made to wear a strange and heavy frock to cover her low-cut shirt and revealed upper shoulders. Emilie, meanwhile, is prepared with a shawl.
Jama Masjid is said to be able to hold 25,000 of Islam's faithful, though there can't be more than 1000 people here currently, several of the tourists like ourselves. Matt and Emilie leave their shoes outside the front door while an attendant demands 200 rupees a piece to bring a camera in. We scoff at the price, but I cave and pay it.
Inside, the large empty wall marking Mecca is topped with a towering set of spires and domes. It's lovely. The open courtyard is built around a large pool in the middle where worshipers wash themselves. Long stretches of carpet are laid out across the scalding stonework. It's still hot in my socks, but the barefoot girls run for shade.
The southern tower, called a Minaret, allows guests for a fee of 50 rupees. Women and children are only allowed accompanied by an adult. Emilie refuses to go on principle and Gina, in a show of solidarity, agrees. My yarmulke blows off during the ascent and I stuff it in my pocket. The stairwell is narrow, my shoulders brushing both walls as we climb. It's pitch but for a few small slits carved into the thick wall. Nearing the top, we run into a group descending. They squeeze against the wall as we slide by on the inside, my feet barely finding a berth on the slender inner steps of the parapet. I apologize as chest belly and knees claw at my statuesque opposites despite the fact that my back is scraping against the wall behind me.
The view at the top is incredible, the breeze airy and sweet. There are a dozen people crammed into a circle 6 feet in diameter, the walls an iron mesh overlooking the city. A third of the floor is missing where the stairwell rises from the depths of the parapet. It's a strange dance as we twirl and dodge, each of us seeking a spot by a new wall, a view of a new eighth of the city. I recognize a Japanese man, one of two other tourists up there, from our stop at the Red Fort. He descends soon after almost dropping the European tourist's camera, its wrist strap saving it from a terrible demise.
I could spend an eternity up here, the peace and quiet. No one is talking, outside of the occasional smattering of excuse mes and do you minds. I can see birds circling the dome, both pigeons and eagles. The pigeons seem to know better than to fly with the mass of raptors circling. They hop toward the edge of the roof below and swoop into the city away from the high flying predators.
After 20 minutes, we descend. On the way down, we run into the Japanese tourist with a flashlight. Apparently he lost his wallet. He's searching everyone as they come down. I feel terrible for him. As I walk down in my stockinged feet, I attempt to feel for a fallen wallet to no avail. I slip my kippa on when I reach the roof proper. Halfway back to the last stairwell down, it blows off, landing precariously on a lower roof, cracked and seemingly ready to fall. I hesitate as I try and find a way to grab it. Matt comes to the rescue, doing a Last Crusade style grab for the just out of reach holy hat. I have to hold on as he throws his weight further over the edge, but he's able to rescue it.
As we take one final walk through the mosque, most of the people are napping or chatting. It won't be prayer time again until sunset, when visitors aren't allowed. As we exit the mosque, Emilie's flip flops are gone. Matt, who hid his shoes behind a sign, has no trouble finding them. With the hot stone and several miles of city to traverse, Matt and I run across the road and pick up a cheap pair of sandals for Emilie. When we return, several of the locals are chiding Emilie for leaving her shoes outside. It's as far from helpful and kind as I've seen here, the near polar opposite of the friendly exchanges I've had with a half dozen strangers in Delhi.
With the day waning and a train to catch, we grab our gear and head to the train station, our time in Delhi essentially at a close. The smell of urine permeates even the train tracks as rats run along from tie to tie. The looks on my companions' faces say everything. Like me, they're glad we're leaving Delhi behind, no matter how much the massive sprawl has to offer.