Why You So Lie Dat One Lah?

A skyscraper towers above us on the other side of a clear glass roof near Raffles Place.
For more imposing images of Singapore, click here.
"Why don't we try looping around that way," I suggest helpfully. Matt and I have been wandering around this maze of a mall for nearly 15 minutes, trying to find our way into another labyrinthal shopping center in the heart of Singapore. He's scheduled for a dentist appointment in an hour and we still need to time for lunch before that.
"Yeah, ok," he says.
This is Matt's stomping ground, or so he says. It's been two and half years since he's been back and seven years since he lived in this metropolis. Things have changed. His parents moved into a new house in a different part of town, and though he's stayed there before, he's never actually lived there. His favorite museum, a tribute to the history of the Singapore Port, one of the largest in the city, has been demolished to build Vivo City, an elegant and sprawling mall we visited our first night. Newton Centre, the famed food court, is now a mash of expats, with hawkers incessantly troubling you to buy their wares even if you've already ordered from elsewhere. Even Sim Lim Square, a tech-happy mall of computer gear and electronics that once blasted techno music all day and featured back alley stalls of black market games and movies, is now a bright, legal and on-the-level place of business.
Singapore, like any major city, is constantly changing and adapting, just like we are. Going back is always strange. My return trips to Boston are very similar, the familiar blending with the new, leaving me with innate knowledge of where I am and definitive sense of being someplace completely alien.
We cut up an escalator and duck out an exit. Matt leads me left.
"I think it's this way, but we might just be looping around in circles," he explains.
"I wouldn't be surprised."
Matt prides himself on his ability to navigate, and already he's proved himself multiple times in cities we were both new to while leading us unfailingly to our destination.  I do fine when retracing my steps, but trailblazing has never been my strong suit. Here, in Singapore, I wouldn't even think of questioning Matt's expertise, no matter how lost we might seem to me. Lo and behold, the MRT station we came out of looms around the corner, just as Matt predicted. "We could go back in and do some more circles." Matt hates sarcasm, but it's out of my mouth before I have the chance to think better of it.
"There's the City Link," he says, ignoring my smarmy commentary.
Singapore isn't merely a city. It's the ultimate cyberpunk setting. Its bright lights and neon send illumination pouring throughout its hundreds of towering maze-like malls and crisscrossing network of tunnels. With only a few moments outside, and an occasional jaunt across the river via a bridge, you can leap from one tunnel to another, traversing the city without exposing yourself to the elements. The MRT and readily available taxis mean that waiting is essentially a thing of the past.
We cross through the City Link, crawling through the long lines of people, everyone is moving steadily, as if slowing down is a crime. Despite Matt's knee injury, I'm having difficulty keeping up. He seems hell-bent on going faster than the flow of traffic.
Our destination, Suntec City, isn't just a mall. It's a lifestyle. The complex is a large three story building with five towering skyscrapers leaping off, one shorter than the rest to make it appear to be an open hand. In the center of the palm sits the Fountain of Wealth, the world's largest fountain and a site of pilgrimage for business people the world around. By running your right hand around the center while circumnavigating the impressive bubbling water a magical even number of times, it's said that you will gain wealth and insight and luck in business. The complex around the fountain, meanwhile, is feng shuied to draw the good chi into that well of water and success.
This is Singapore's legacy, Matt tells me. It's the ultimate business; an entire society designed around and working toward making money. Time is money, so the airport has your bags waiting for you not more than five minutes after you arrive. It barely takes that long to walk the terminals and pass through customs. The buses come regularly, but they're packed at all hours, the city running exactly the number of buses needed to comply with the needs of the people, even if it means jamming the buses far past the official capacity. The entire city is a well oiled machine, and it feels that way.
We lunch on chicken, rice, and a local variation on potstickers. Matt tells me that this is expensive, running us nearly $15 US. We're running late for the dentist, but when we arrive, the receptionist says that he tried to call since they were running late too. An hour later, Matt's chompers are pearly white and we've got a few hours to kill before meeting his dad and his brother at the Ritz Carlton and riding on  the Singapore Flyer.
We wander down past Boat Quay, and through Raffles Place. This is the heart of Singapore, the city divided by the Singapore river, which, oddly enough, is rumored to be locked off and made fresh water in the next few years. On each side sky scrapers alight to heights unknown. If it had been up to the architects, Singapore would've had the tallest building in the world. City ordinance prevents that, setting a standardized top height which a half dozen building stand.
The city, as always, is immaculate, and a band is setting up in the park, part of Singapore's many social programs intended to improve the welfare of the people through arts and exercise. We pass business people and Muslims, school children and healthy old men out walking. The teacher of a class gives a lecture using a headset connected to a waistband amp, her voice echoing loudly in Chinese. The children are all rapt and listening carefully. If this had been the US, half of them would be running around careening off walls.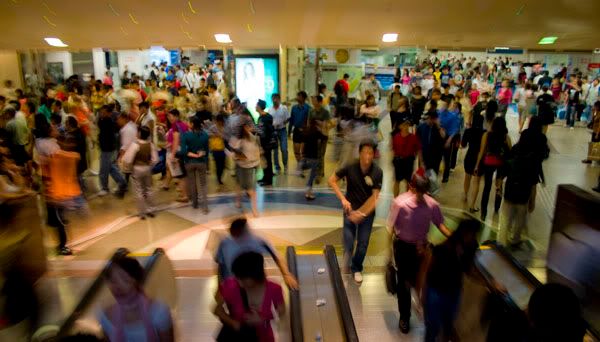 We duck into the subway and head over to the Ritz. It's a 5-star hotel, Matt tells me. It's a 5-star hotel back home, I say. The lobby is impressive, marble and a grand fountain three stories high, a huge piece of art hanging from the ceiling. I curl into a comfy couch and pull out my book while we wait. It's not long before the rest of the crew arrives.
Singapore is hosting a formula 1 race in September. Kirk, Matt's dad, and Mitch have tickets. Already, the lights are getting strung up along the road, cement barriers waiting idly to be placed with finality for the upcoming race. It's all they can talk about as we walk over to the Flyer.
The Singapore Flyer is a miracle of modern innovation. It's a glorified ferris wheel, offering an enclosed tube in which a dozen people are placed for a thirty minute rotation above the center of the city. None of the Hulses have ever ridden it.
The lines are immense, the advertisements promising a perfect business-length trip and a fascinating private party spot for those successful deals. They offer champagne and liquor as well, assuming you pay for bar service. Currently, it seems as though there are only tourists, and the employees are offering green screened photos of us with Singapore imposed. I wave my camera at them, declining.
We're finally shuffled into our own private tube. And by our own, I mean Matt, me, Mitch, Kirk, and ten or twelve other people we don't know. There's plenty of space, three benches, and a TV screen to advertise even more. I notice the tube behind ours is filled with flowers, and as we begin our ascent, I see a bride in a haute couture dress wander off smiling.
"It's tradition in Singapore to get wedding photos months in advance, often in different settings," Kirk explains.
I've never been a fan of ferris wheels. They seem so slow and mundane. But this one rises and rises until it feels as though we're on the top of the city. We can see the prospective track, an integrated resort in progress, a soccer field built on the harbor, and every other nuance of the city. Our tube slowly rotates, counteracting the tilt we would feel if we were directly attached to the wheel. Occasionally we feel the jitters, but mostly it's smooth and lovely, our tube climate controlled at a perfect 72 degrees Fahrenheit.
As we leave the Flyer's compound, we find a live band playing a weekend festival along the river. They're your average pop fare. Not bad, but nothing to write home about.
Kirk gives us a ride to another mall where we plan on grabbing dinner and catching a movie. Movies here are intensely regulated. It's not simply from a censorship perspective, but also from a ticketing perspective. Ratings are strictly enforced, seats are assigned, and previews intermingle with a glut of ads for nearly a half hour before the film. All the seats except the front row are sold out for shows prior to midnight when we arrive. We decide to try another theatre.
The wait for a taxi is brief, the shuttle between malls not running at this time of night. The radio in the cab is playing oldies. Matt says that they have radio personalities, the Flying Dutchman most prominently, but no shock jocks or Howard Stern-esque free speech advocates. I'm a little sad, though it's really no surprise.
The theatre at the other mall is also lacking in any worthwhile seats, so we head home, stopping at the infamous Newton Court for dinner. Some sting ray, chicken rice, and ice kachang later, we're on the road again, bussing it the rest of the way home. The bus is packed brimming, despite the late hour. I'm forced to stand on my tip toes every time the driver wants to open the door, not that there's room for any more passengers. Matt and Mitch are back toward the middle of the bus, having chosen the better line to get in.
This is Singapore in a nut shell: beautiful, clean, impressive, and heavily regulated. It has its charms, such as chili crab, and its faults, such as freedom of speech, but for all of these, it remains an amazing little corner of Asia.