Black Thai Affair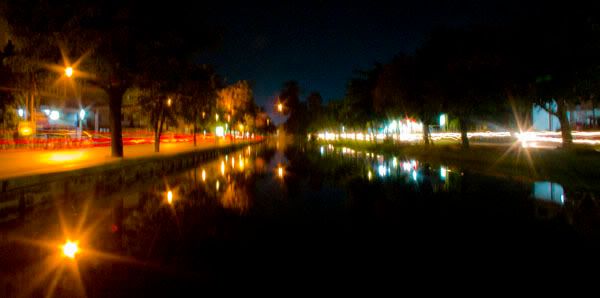 The moat around the old city in Chiang Mai glows late at night.
For more brilliant pictures of Thailand, click here.
I guess it's simply the luck of the draw that no matter how good a time we have in our destination, our travel between places just doesn't quite work out.
Standing in the train station, our journey back from Chiang Mai finally come to a close, I'm struck with a sudden appreciation for solitude during my sleeping hours. The train itself had been moderately comfortable. The beds were just large enough to wedge my feet against one end and the base of my neck, my head crooked painfully, against the other. Were it not for the Lawnmower man across from us buzzing loudly and forcing me to utilize earplugs just to avoid murdering him in his sleep, I would be far more rested now that we've arrived.
The train station, even at this early hour, is bustling. People headed to all corners of Thailand and the surrounding areas are streaming across the tile floor. We, meanwhile, are done with trains and buses and traveling across Thailand, today our final full day here before flying to Singapore tomorrow. Matt seems happy to be off the train, and I can hardly blame him. I, meanwhile, have grandiose thoughts of running across Bangkok, visiting the floating market, picking up postcards, and making the most of the day ahead. I can't help but know in my gut that we're both too tired to fulfill these wishful thoughts.
The cab ride to our hotel is metered, for the first time my entire trip. We traipse up four flights of stairs to our room, the window overlooking the dense city below.
"It's amazing how spread out the skyscrapers are," Matt remarked, staring out the window of our elegant Best Western accommodations. I join him, throwing my bags beside his on the divan. Bangkok is interesting that way. In Boston, the city is a central core, growing smaller the further from the city center you go. Bangkok, however, is a sprawl, with intermittent juts of steel filled phalluses peppering the thick growth of three to six story buildings.
I begin flipping through the room's user manual. It has a menu for room service, a list of amenities offered, and, to my pleasure, a wep key for free wifi. There isn't a listing for TV stations, but given there are only 12, 2 of which broadcast in English, it's not as though we need it. The second night of DNC is just starting, and Matt and I are excited to see Hillary speak. CNN keeps telling us that Hillary is coming up next, but the truth is that it's nearly two hours before she comes on.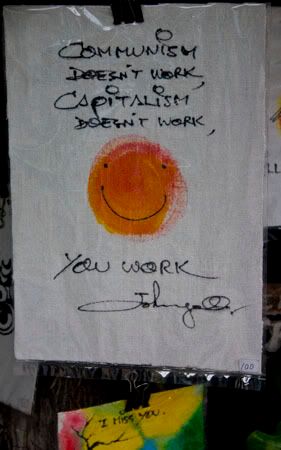 Bangkok seems old hat to us. If this had been our first days, we never would've waited to romp through this foreign behemoth in favor of CNN's DNC coverage. But this is our last day, and trips to the islands in the South and the jungle of the North have given us perspective. Bangkok is amazing, no doubt, but it doesn't hold a candle to the quieter corners of Thailand.
I catch up on my internet addiction while Matt watches the analysis. Scrolling across the bottom is a headline about protests in Bangkok. The People's Alliance for Democracy, an anti-democratic party according to the BBC's website, have taken over the Government House. They're demanding the current prime minister Samak Sundaravej step down and the old prime minister Thaksin Shinawatra, who has been on the verge of being pardoned for corruption during his reign, face charges.
Everywhere we've gone in Thailand, except the small mountain villages, has been littered with shrines and images of the revered royal family. For all the worship, however, they're merely a figurehead these days. The parliament runs the show and Samak is the man in charge. Many Thai feel as though Samak is merely a puppet of Thaksin's. In Chiang Mai, as we sat in the lobby of our hotel and watched the news, Matt had discussed this with several of the (albeit drunk) Thai who joined us. When Thaskin was ejected from office in a bloodless coup in 2006, the Thai felt they were headed for more prosperous times. Instead, it's been more of the same under Samak. At least that's how they feel.
The People's Alliance for Democracy thinks that Thailand is not ready for complete democracy. After all, many of the countries around them, including Burma, Singapore, and even the Constitutional Monarchy of Cambodia, offer less control to the people and seem to be thriving in comparison.
I'm struck with pangs of jealousy of the people on the front lines and my curiosity drives me to suggest we go down there. Right now. I mean it. Matt, ever the level headed one, says no. And though I'm disappointed, I don't push the issue. I know better than to show up at a protest with a camera and no credentials and expect to run around willy nilly without consequence.
As soon as the Hillary's speech ends, we discuss a plan of attack. It's still only 11 AM, but I've started to feel the brunt of my sleep deprivation. "If we aren't going to the protests, I think a nap is in order," I say. And so, in lieu of a dull drab afternoon at what might be the beginning of an all out revolution, we take a very exciting nap.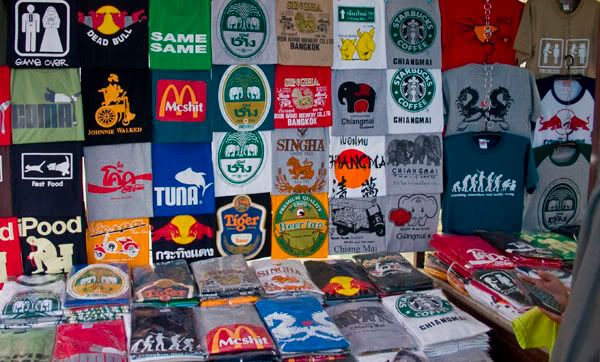 When we awake several hours later, the rain is pouring down at an alarming rate, nearly as hard as during the fiesta mass in Guam. Our large window was apparently not sealed fully and the rim is pooling with water, little bits overflowing down the wall and onto our floor. I grab some towels and begin to soak up the mess, pulling the divan away to make sure our luggage doesn't get any wetter.
I glace out the window and notice the rain has slowed to a trickle. We walk down the road toward the river, our plan to catch a ferry, buy some postcards, get some dinner, and head back up to the hotel for an early night. Unfortunately, my sense of direction causes some issues. Though we reach the waterfront, passing a police station where officers are milling about half-shorn in riot gear, the spot beneath the bridge doesn't go anywhere but right up to the water. Gone are the requisite ramps leading along the water front.
We double back, loop through some alleys filled with deep puddles, and finally find our way to the dock. We just miss the boat, but given Matt's knee and our time frame, we're in no rush. The King Rama VIII bridge looms above us, a single pillar offset to the far side of the river splitting a series of support cables unevenly. The far side sharply dive in a single row while the near side splays two rows down the sides of the bridge, lofting its car riddled plane in a soft curve. I'm suddenly angry at myself for leaving the camera in the room for the first time this trip. Several express ferries pass our station as we wait.
When we finally disembark near the grand palace, the rain has stopped completely. The streets are still emptier than I remember, the rain likely driving many of the vendors home. For nearly an hour we wander up and down the streets, slowly making our way back toward the hotel. When we first came through this way, there was a rack of postcards in Thai. They were pictures of shoes and telephones with the strange foreign script of Thailand instead of touristy images of temples and monks with Thailand written in bold English. No matter how hard I look, I don't see the stand this time.
It's well after dark by the time we stop at a corner stall for some noodle soup off Khoa San Road, the main tourist thoroughfare. Matt is very excited for our Singapore trip, though it's unclear what activities we'll get up to. Mainly, he tells me about the food and how wonderful it is. I have a hard time believing the food could be better than Thailand, but Matt hasn't let me down yet.
SIDE NOTE: In fact, though I may not say it often, Matt is more than I could ask for in a traveling companion. He's adventurous in his food selection, allowing me to try the most outrageous dishes and encouraging my desire to try everything. He moves at a quick pace, allowing me to see more when I might dawdle at a single site. He's organized, which is an excellent balance to my copacetic nature, making sure we know what we're doing and forcing me to actually do research before finding myself in trouble or lost. I'm really grateful he's joined me.
I've always had an excellent automap, leaving me able to retrace a route I've taken only once months later, but this automap function is only useful when retracing steps. For the second time in Bangkok, I find myself wondering if we're going the right way, and for the second time in Bangkok, Matt's exactly right and leads us unfailingly back to the hotel. We watch the tail end of the Wicker Man with Nicholas Cage followed by The Sentinel. Our clock reads 12:30 and our alarm is set for 6:30 when we finally get to bed.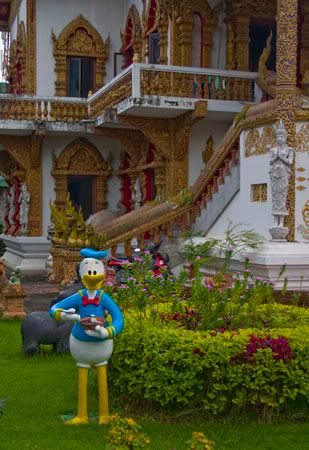 When the alarm finally goes off, my dreams have already fled screaming into the morning. For the first time in two weeks, I shave. It's incredible how much better I look with a well kempt beard. It's also amazing how much worse the bathroom looks after I get done. We pack our things up and head down for a complimentary breakfast. It's pretty good, though once again the orange juice here tastes like Tampico and not OJ.
It's only 8 AM when we walk into the lobby. Noting the TV, I request they toss on CNN. To our luck, Bill Clinton is just coming on. We sit there rapt until 8:30 before realizing our cab is late. I hastily ring up the travel company, receiving a thousand apologies before a cab is sent right over. Before we know it, we're halfway to the terminal.
Suddenly our time here feels short. I can see it in Matt's eyes. He, like me, is perusing the skyline, taking in every detail, excited for our next stop yet in mourning over the end of this one. From this rear compartment in the cab zipping along the top of the highway, we can see tenements, skyscrapers, temples and malls. Bangkok, for what it's worth, is exemplary of Thailand; A mix of old and new, tradition and commercialism. Thailand is a country rife with culture clash, the meeting of global consumerism with old-world religion and values.
Despite the strange country we've wandered through, I'm not sitting in this cab, awed by the majesty. I'm not thinking about the wonderful food or the beautiful temples, the sprawling metropolis of Bangkok or the quiet mountain towns above Chiang Mai. Instead, I'm thinking about the people, and how much of me I see in each of them, their hopes and dreams just like mine. No matter where I go on this journey, this commonality is what I'll find. And all I can do is smile. It's just that amazing.