36 Hours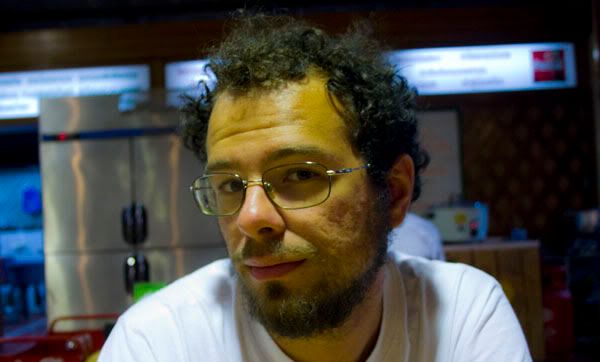 Matt rests after chowing down during a stop in the port town of Champorn.
For more gluttonous pictures from Thailand, click here.
What a difference a few days make.
I'm currently in the midst of 36 hours straight of travel from the Southern island of Koh Samui to the Northern jungle city of Chiang Mai. Only a few short hours in the early morning separate 17 hours of ferry and bus to Bangkok from 12 hours on a train to Chiang Mai.
The past few days have offered surprising insight into Matt's inner workings. I'm not sure I've ever seen anyone more relaxed, more at peace without a steady morphine drip. And yet some moments have featured, as Matt put it, "enough worry for 20 pairs of us." Admittedly, the sheer absurdity of our journey down was enough to make even me fret, despite my eternally copacetic outlook on travel.
Yesterday, armed with only a small paper voucher, Matt attempted to call and confirm our passage.
"All full," said the voice on the other end.
"Yeah, I know it's full. We have a ticket."
"All full," he said again before hanging up on us.
The aggravation was plain on Matt's face. Assuming everything went wrong, we'd miss our ferry, miss our bus, miss our connecting train, and miss our tour of the North, in that order. Still, we were in the midst of an island paradise, and I'm not one to worry.
"Relax," I cooed. "You're on vacation. Let me handle this."
"Fine," said Matt, rolling his eyes and holding out the slip. "Handle this." In a matter of moments, the stress was gone and we were enjoying the last remnants of our final full day on the incredible Koh Samui.
—
I awoke long before our alarm went off, the tender sting of my sunburns no longer encompassing the glowing sense of accomplishment it had emitted the night before. I tiptoed into the shower, basking in the soothing cool water for what felt like eons. I'm unsure if my early morning antics roused Matt, but he was soundly sleeping when I returned to my bed refreshed.
Our ride to the ferry arrived early, though we were packed and waiting well before, sitting in the lobby watching BBC World News. A German couple from our hotel joined us in the large van, and we picked up another set of passengers along the way.
SIDE NOTE: When I was attending indie shows with regularity, I would often play "Guy or Girl," a gender guessing game based on the androgynous style popular among indie and emo kids. Bekah hated this, and I can understand why. It can be insulting, demeaning, and rude. Just gawking at these young men and women merely attempting to express themselves could be seen as cruel. For the most part, I've let this game fall by the wayside, though there's a distant relative I've begun playing with regularity during my travels: "The Nationality Game." Matt and I have engaged heavily in the Nationality Game whenever we find ourselves surrounded by Western faces, carefully placing bets and guessing what country the couples and families hail from. It's surprisingly hard to tell a Dutchman from a Brit or a German, and even harder to tell a Brazilian from a Grecian or Spaniard. It is, however, tremendously fun to try.
When we picked up the others in the van, Matt identified a family as American and I thought the olive skinned couple was Israeli. We were both wrong. The family was German and the couple Italian, though we didn't know until they spoke their native tongue.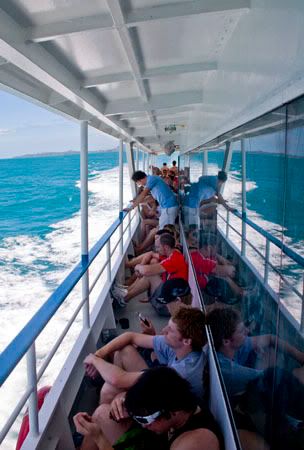 Arriving at the docks, a crowd was already forming. The ticket office was a mess, only two clear lines marked: Tickets to Koh Tao and Koh Pha Ngan. Bangkok being our destination, I asked a guard where we should check in. The man just smiled and pointed at the two lines saying, "ticket." Not wanting to rock the boat, I got in line, a brief queasiness passing through my stomach as I stifled a moment of worry.
I passed the paper voucher Matt had entrusted me through the window marked Tickets to Koh Pha Ngan. The woman paused a moment, a look of confusing passing over her face, before responding, "oh, Bangkok." She handed me two tickets with a smile.
"Bus and boat?" I asked, making sure we were good all the way.
"Yes. Bus and Boat," she confirmed. Just like that, it suddenly seemed clear sailing.
We snagged two good seats in the upstairs air con cabin while the 3-D pages of Sports Illustrated's Swimsuit Issue boarded around us. Rather than blast local advertising at us the entire trip, we were treated to the first 15 minutes of the Simpsons Movie followed by the entirety of Stephen King's The Mist, a mediocre movie with a twisted ending that impressed us more than we expected.
Our transfer to bus was quick and easy. We stopped for a little over an hour in Champorn, enjoying a bite of local cuisine, a short stroll down the road, and a few moments of internet before launching into 8 hours of non-stop busing to Bangkok. I didn't even notice until reboarding the bus that were was no downstairs seats to get banished to, an omen of good luck. In fact, we got front row seats with extra leg room, a view of the road, and a spot next to the TV, assuming it worked.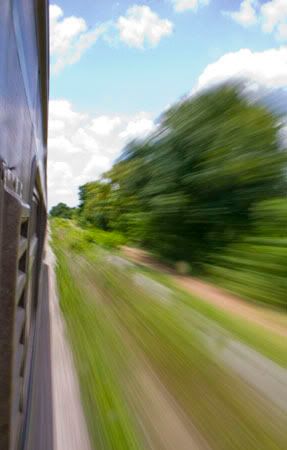 The good luck continued as the TV not only functioned, but they had a movie up for us. The audio system had a short in it, causing the sound to come and go like a squirrel crossing the road, never quite sure which side to stay on. Fortunately, the picture was The Condemned with Vinny Jones and Stone Cold Steve Austin, a movie whose plot and dialog were about as integral to the enjoyment of the film as Mickey Mouse hats are to the enjoyment of Disney World: sure, it's nice, but it's definitely not necessary.
By the time we reached the rest stop of lost souls, I was pretty tired. Despite comfortable accommodations on the bus, the combination of my still hurting sunburn and the snoring of the Israeli behind us prevented me from getting any sleep.
Upon our arrival in Bangkok, we offloaded, ducked the rabid taxi drivers and walked two blocks the Hotel Vietienne, whose lovely lobby featured soft couches, cool conditions, free wifi, and an unexpected throng of mosquitoes, who promptly devoured my legs like a Bulemic on a binge.
We're now on a comfortable air conditioned train enjoying the rustic scenery of Northern Thailand on our way to Chiang Mai. There we'll explore the mysteries of the jungle, play with sacred elephants (that means no Babar), and careen down a river on hand-made bamboo rafts.
Right now it seems as if everything's going our way. I'm sure this streak of luck won't last forever, but when it ends, no worries. After all, this is an adventure.