Many Faces of Bangkok
While I'd love to dive right into my entry tonight, Matt has told me that some of you have complained to him that there aren't enough pictures. I'm taking well over 30 a day, so if that's not enough, either you're too demanding or you haven't realized there's a link beneath the first picture on each and every post that takes you to my photobucket album. If the former is your issue, I apologize. I only have so much battery for my camera. I did upgrade my storage, so that's no longer an issue and I plan on picking up a spare battery in Singapore. Until then, you will have to bear with me and even then, not every picture will turn out. I am, however, improving, getting more good photos from fewer shots, preserving that battery and capturing more things in quality images. If the latter is your issue, you can see photos from the Philippines, Guam, or Thailand in their respective folders.
And now, without further ado, tonight's entry: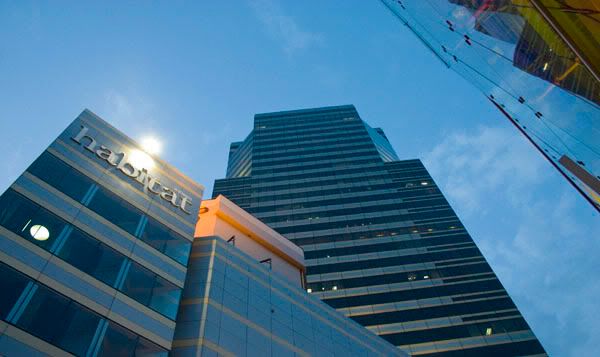 Skyscrapers tower above us in Siam Square.
For more OBVIOUSLY LINKED photos of Thailand, click here.
The city of Bangkok isn't actually a city. It's rather two cities separated by a river, much like Minneapolis and St. Paul. On the East is Bangkok proper. On the West Thonburi or Bangkok Noi (either name is appropriate). While Bangkok was made the seat of power and hosts the grand palace and most of the modern sights, Thonburi is the older city, housing government and most of the people long before the capital was brought South from Ayutthaya.
Like nearly every metropolis, Bangkok is a sprawling web of what New Yorkers refer to as Burroughs and most of the rest of us call districts. The first few days here, Matt and I remained safely within the confines of the tourist district. After a while, all those round-eyed pale faces seem to grate, and off we were to explore the larger confines of Bangkok.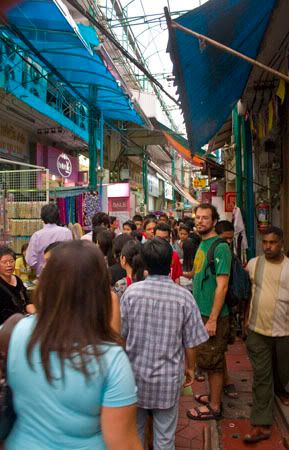 Last night we found ourselves in the midst of Siam Square, the central shopping district. Our mission was to find an alarm clock and maybe some boxers (as I couldn't bring myself to drop $10 on two pairs of underwear in Guam). We succeeded at neither, but enjoyed a lovely evening lounging by the fountains and exploring the many floors of fine, overpriced workmanship. We did not, however, choose to make the requisite stop at "Berger King."
This morning, our need for an alarm clock still unsated, we hopped a ferry and headed for Chinatown. Deep in the maze-like jungle of market stalls that criss-crossed the alleyways between packed building lay a mecca of cheap watches, cloth, and anything you could desire. Certainly, the market is getting cushier by the year. We even found a stall that featured tiled floors, air con, and multiple stories of goodies.
Eventually, we bought ourselves a small alarm clock for just over a dollar featuring the English flag and simple alarm mechanism. Matt still wanted to find some cheap T-shirts, so we wandered off in search of more stalls before finally pulling into the train station around noon.
Hua Lamphong Station is a beautifully arched menace sitting across the street from the nearest Metro station. With trains North and South nearly every hour of the day, the place was packed with Thais and foreigners alike. The food court, which came recommended in the guide book, was a difficult little piece of work requiring the purchase of coupons from a central desk before being able to choose dishes at the myriad stands.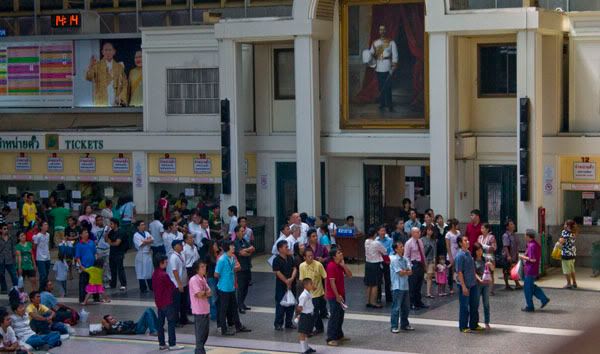 The rapt masses stare at at boxing match featuring Thailand.
We chose, after some deliberation, to walk upstairs and get a smoothie at a small cafe overlooking the main atrium. In one corner of the atrium, a large TV broadcast music videos and Olympic matches to the captive masses. When a boxing match featuring the Thai representative appeared on screen, the entire hall seemed to come to a standstill, save a few foreign faces sliding between the cracks.
Matt, of course, wanted to see the trains, so we paced along the platform as people came and went, waited and embarked. In a few days, we too shall be taking a train and making our way North to Chieng Mai. The only question is what to do during the 12 hour trip.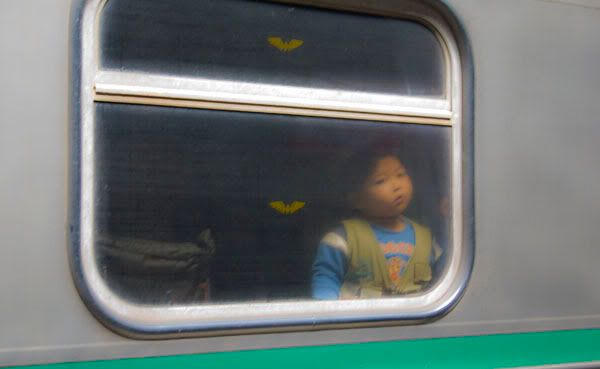 With our hunger temporarily sated, we left the confines of the station and hopped the metro, marking our passage on the third of the holy trinity of transit within Bangkok: the BTS Skytrain, the Metro, and the ferry.
Our plan for the afternoon was a peaceful visit to Lumphini Park, Bangkok's equivalent of Central Park. In addition to free aerobics classes, Lumphini Park features plenty of benches, tents, performers and activities. At all times of day, joggers pass through with such regularity that Matt queried whether we were interrupting a marathon.
We parked ourselves on a bench by the water and played cards for quite some time, a small turtle our ever-present water-based companion. After a hard won game of Mate, we continued around the pond, past a multicultural kids activity bus (featuring a shawled Muslim girl among the children, a sight unseen in America as of yet), past a playground and active basketball court (where I wanted to join in, but didn't think I could handle the towering Thais), past a tent promoting active health and offering free weight checks (I swear the two ladies hollering into a microphone said something about the fat white man passing, but my Thai is terrible and I'm a ham for the spotlight anyway).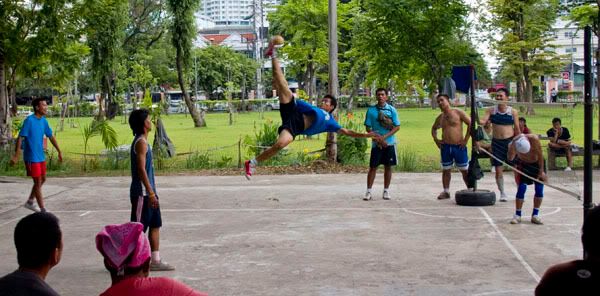 As we neared the midway point of our circuit, I spotted a game of Takraw happening. Takkraw is like volleyball, but played on a hard court. Players aren't allowed to use their hands, instead slapping the ball around like a hackeysack using their head, legs, and occasionally their chest. The wicker ball, which is similar to a wooden wiffleball, clacks with each solid hit. The players swing their legs high in the air, perfectly arced like ballet moves. Occasionally, a player will take flight, performing acrobatic kicks that putt soccer phenoms to shame.
I sat there entranced for what felt like ages before moving on and returning home via the BTS and the ferry. Tomorrow, we rise early and make our way to Kanchanaburi where the Kwai River Bridge (or rather the remains of it) lie. From there, it's a straight shot South to the island beaches of Thailand before turning ourselves around and traveling nearly 24 hours straight to reach Chieng Mai and the jungles. We'll have one last day in Bangkok before heading off to Singapore, and thought we've spanned much of the different cultures available here, I'm hopeful to see a few more on our return.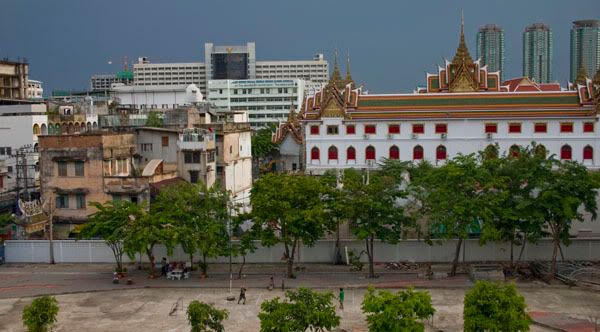 The many faces of Bangkok intersect, from tenement, to temple, to tall skyscrapers, to a game of Takraw in a parking lot.