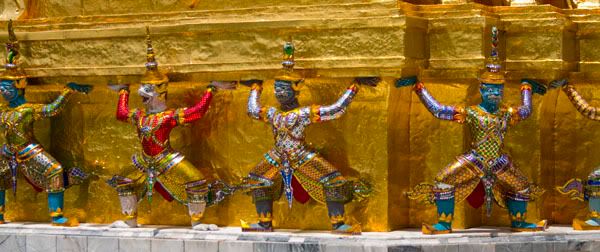 The monkeys of the Grand Palace, complete in their modern excuse for modesty.
For more historically reinvented pictures of Thailand, click here.
The monkeys stood stalwart, a rainbow of emotion carved onto their faces—happy, sad, scared, excited—their hands stiffly holding the golden spire they surrounded. their bodies glistened in the afternoon sun, the gaudy stage jewelry they wore as an excuse for clothing refracting their bright hues in every direction.
"They didn't look like that before," Matt said to me. "When I came here as a child, our guide asked my mother if she knew how to tell the boy monkeys from the girls. He said it was because the boys had penises." I did a quick double take, looking for the phallic reminder that most ancient art was, in some way, obsessed with sex, reproduction, and the phallus. The glimmering faux clothing, however, left no hint of what hung from the crotch of select monkeys.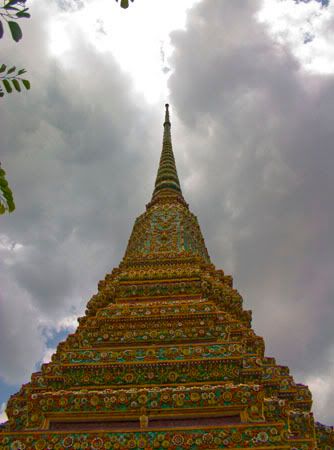 "You mean the penis sheaths weren't part of the original installment?" I queried partly in amazement, partly in disgust.
"They used to be stone. I should see if I can find that picture of me here."
I shook my head as we wandered further into the grounds of the grand palace, a 17th century concoction of King Rama I that's still used ceremonially today. Thanks to the conservative dress code, Matt and I were weighed down with long pants. The front entrance of the palace has an entire building dedicated to changing rooms and clothing rental so that tourists and visitors can be puritanically appropriate, a change I suspect happened under more recent regimes.
The monkeys were not the only sign of change planted on the seemingly ancient core of spires, temples, and art. A young man, ipod blaring, touched up the painted walls surrounding the main complex. For a while, I had wondered why the gold looked so bright, so new, and yet the paintings seemed so out of place. But it remains to be seen whether this was mere restoration.
In one corner of the paintings, a young man hunched over a young woman, the anguish apparent on her face. Yet despite several minutes of examination, there was no sign of contact between the two, their clothing pristine, a guitar like instrument separating them. What may have once been an image of rape and tawdry sex had now been cleansed like the monkeys' genetalia.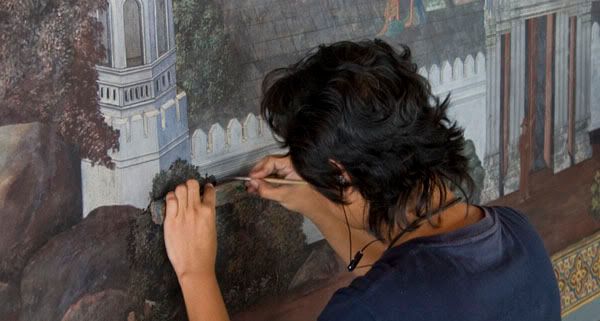 Bangkok has been a wealth of gold and gems flickering in the heat. It's featured tall spires and deep temples. Yet I can't get past the fact that something seems wrong and out of place. It's unclear how much change has been forced upon the unchanging stonework of the past, but it's obvious that the changes have happened, for better or worse.
Perhaps our trips outside Bangkok proper will reveal the true nature of Thai art and architecture. Or maybe the true nature is what we're seeing now. Whatever the outcome, I'm hopeful that not every stop will be covered by this thin veneer of propriety and puritanical maniacy. After all, somebody out there must've preserved some culture properly.